The Best Way To Rock Your
LLC Operating Agreement in Missouri
Making a limited liability company (LLC) in Missouri requires numerous steps that may confuse you if you don't have experience with similar ventures. What matters the most is to fortify your business with an appropriate legal document, such as an operating agreement. 
If you are wondering what the best way to compose this contract is, we can solve your dilemmas. Read more about the LLC operating agreement in Missouri and get the best tips for writing your agreements in less than five minutes!
LLC Operating Agreements in a Few Words
An LLC operating agreement is a contract that lays out all responsibilities and expectations of the LLC owners. It also outlines the general characteristics, management structure, finances, and internal operations of the company.
There are two types of operational agreements:
Single-member LLC operating agreement

—When an LLC has one owner

Multi-member LLC operating agreement

—When multiple owners run one LLC
Signing such a contract brings numerous benefits. Among others, it:
Prevents disputes by determining the exact ownership percentage

Minimizes confusion by establishing clear rules and regulations

Protects the owners from personal liability

Represents valid evidence in court if there are any conflicts or rule violations
Do All LLCs in Missouri Require Operating Agreements?
Missouri is one of the six states requiring every LLC to have an operating agreement. All applicable rules are described in Section 347.081 of Missouri Statutes. 
Steps To Take Before Creating an
Operating Agreement for LLC in Missouri
Before you start drawing up your LLC operating agreement, you must get acquainted with the necessary steps preceding the contract creation:
Determining whether your LLC will be domestic or foreign

Naming the LLC 

Registering basic details about your business, such as purpose, effective date, etc.

Identifying a registered agent

Determining LLC organizers

Reviewing all information provided

Paying the filing fee—from $50 to $150
Once the filing is complete, you can start drafting your operating agreement. 
What Disclosures Should Your
Missouri LLC Operating Agreement
Have?
The list below shows the basic provisions you should include in your LLC operating agreement:
Legal name and physical address of the owner and registered members

Legal name and mailing address of the registered agent

Information about the particular company (name, address, purpose, duration of the LLC, etc.)

Date of founding the LLC

Business purpose

General business overview (type, term, etc.)

Capital contribution of the members

Details of the internal LLC management (structure, procedures, job titles, roles of the members, etc.)

Allocation of profit and losses among the members

Ownership percentage details

Compensation

Bookkeeping and tax treatment

Resignation and retirement procedures

Voting rights

Potential agreement alterations

LLC dissolving procedure
Not all of these sections are required. You can leave out the ones that don't resonate with your LLC or add others that aren't on the list if necessary.
Use DoNotPay as Your Legal Document Creator
Drawing up a valid LLC operating agreement is challenging and can take a lot of time. If you aren't familiar with legal terms and local legislation, your attempts to write a proper contract will fail. Professional services are the most suitable solution, but they can cost you hundreds or even thousands of dollars. 
Unreliable online templates and overpriced drafts become obsolete once you sign up for our service! DoNotPay came up with a practical product named Standard Legal Documents. This service helps you create a professional agreement in a split second by modifying one of our customizable templates. 
To get your personalized contract, follow the instructions below:
Sign in to DoNotPay

in any web browser

Find the LLC operating agreement template by entering the keywords in the search box

Enter the details our chatbot requests to complete your document
All that remains is to download your brand new contract, sign it, and have it notarized in our app! Our Notarize Any Document tool helps you book a video meeting with an online notary and obtain their signature, avoiding crowds and exhausting procedures. 
Do you want to know more about other agreements? Explore our amazing learning center and find great tips on creating: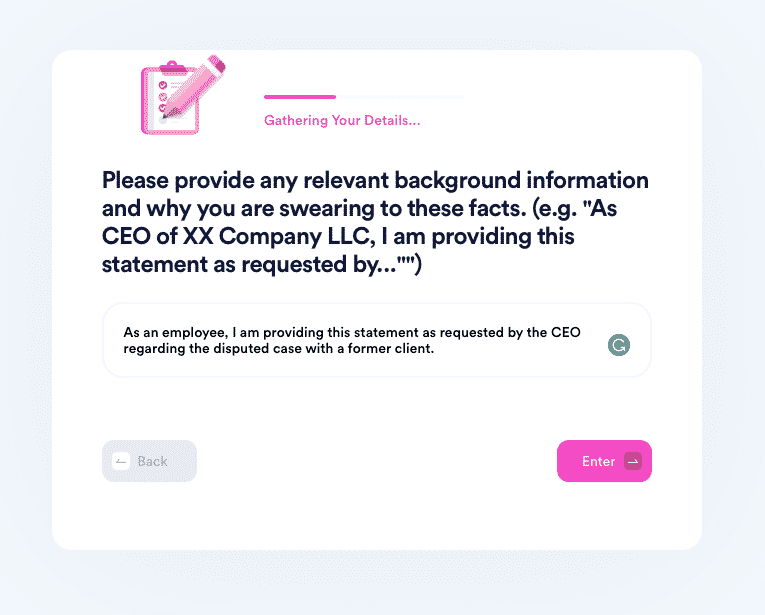 Can DoNotPay Generate Other Legal Documents?
Our database currently offers 15 document templates. Sign up for DoNotPay and generate:
Business Contracts
Personal Contracts
Real Estate Contracts

LLC Operating Rules Document

General Business Contract

Promissory Note

Child Care Authorization Form

General Affidavit

Intent To Purchase Real Estate

Quitclaim Deed
DoNotPay Offers a Variety of Services
DoNotPay is the ultimate virtual assistant that takes over all those annoying tasks you don't want to deal with!
Need to schedule your DMV appointment? Want to get your college fees waived? Have to draft a legal doc quickly?
We can do all that and much more!
Our app waits on the phone line with customer service of any company for you, reports robocalls, and helps you file lawsuits in small claims court. 
We can also help you deal with your parking tickets, get rid of spam emails and texts, or find and sign up for reputable clinical trials!
Keep Your Money in Check With DoNotPay
How often do you sign up for a free trial and then forget to cancel it before it expires? Unexpected charges are the worst, but you can prevent them if you use our free trial card. DoNotPay's virtual credit card is not connected to your bank account, which means that no money can be taken from it. 
We can also help you get refunds for unsatisfactory purchases or compensation from airlines for delayed or canceled flights.
In case you are struggling with warranty claims, bill payments, insurance, or tax reduction, DoNotPay can solve these issues as well. 
Our app also has the largest database of unclaimed assets in the United States, so you can find and claim your lost funds quickly.