Get the Know-How on the
LLC Operating Agreement in Georgia
If you're planning on creating a limited liability company (LLC), you should consider writing an LLC operating agreement. While filing an LLC operating agreement in Georgia is not mandatory, this legal document comes with many benefits for your company.
Drafting this or any other contract can be quite daunting, especially if you don't have any legal experience—but not if you use our app!
Sign up for DoNotPay and generate your LLC operating agreement in minutes.
What Is a Georgia LLC Operating Agreement?
An LLC operating agreement outlines the operational procedures, structure, and responsibilities of the LLC members, such as:
LLC management

Decision-making

Profit sharing

Ownership division 
This agreement is legally binding, which means that all LLC members should make sure that they completely agree with its terms before signing it. 
What Makes an LLC Operating Agreement Important?
Even though the state doesn't demand you to file this document, if you run an LLC, you'll want to have it. A Georgia LLC operating agreement helps by:
Separating the member's business from personal assets

Providing tax benefits 

Protecting the company's finances and limited liability status

Resolving potential conflicts stemming from unclear responsibilities and roles of the members
An operating agreement can also be requested by third parties. Any potential partners or investors who show an interest in your company will want to know how it functions. Lenders can request this document to ensure that a member has the authority to borrow money on behalf of the LLC.
The Structure of an LLC Operating Agreement Isn't Fixed
While drafting an LLC operating agreement can be challenging, one positive aspect is that you can decide on what to incorporate. You don't have to follow an exact pattern when writing an LLC operating agreement, but there are a few basic elements that should be included:
The details of your business, such as the name, address, and the purpose of the LLC

The address and the name of the registered agent

The date of the agreement

The names and roles of the members (there can be four with the possibility of adding more) and their share of the LLC ownership

The details about the management and the authority of the manager

The financial contributions of all members

Compensation details for each member 

Taxes and bookkeeping details

Retirement and resignation protocols

Possible changes to the operating agreement

Meetings and voting procedures

Rules for adding or removing members

The procedure in case of dissolving the company
You should keep a signed copy of the agreement with your company records, and each of the members should keep one as well.
Types of LLC Operating Agreements 
There are three types of LLCs, and your operating agreement should be drafted according to the type of company you are creating. Your LLC operating agreement can be:
| | |
| --- | --- |
| Type of an LLC Agreement | Description |
| Single-member | The agreement meant for the company run by a single person |
| Multi-member | The document should outline the procedures in an LLC jointly managed by members |
| Multi-member with an external manager | The operating agreement used when a company is managed by one or more managers |
Draft an LLC Operating Agreement With the Help of DoNotPay
You can download one of the online templates to simplify creating this contract, but that is not smart. Templates are often not specific enough and fail to include all mandatory sections.
Hiring a lawyer is often the right call when handling any legal matters, but it comes with a hefty price. 
DoNotPay can help you cut the middle man in many bureaucratic scenarios, including drafting documents. Sign up for DoNotPay and draft your Georgia LLC operating agreement in three easy steps:
Enter

Operating agreement

in the search box on our website

Type in the information requested by our chatbot 

Download the document and make sure all the members sign it
LLC operating agreements are not the only legal docs we can help you create. There's a bunch of other agreements up our sleeve:
General affidavit

Intent to purchase real estate

Quitclaim deed

Child care authorization form

General business contract

Promissory note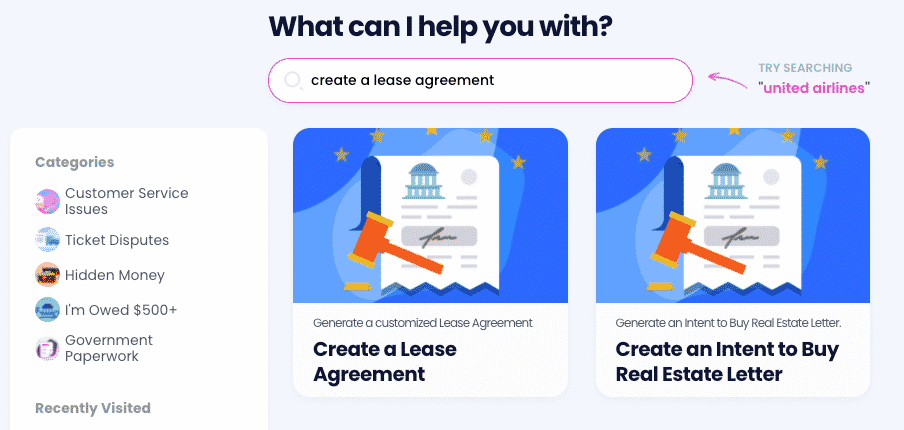 Get Your LLC Operating Agreement Notarized Using DoNotPay's Remote Online Notarization
DoNotPay is a swiss army knife when it comes to administrative issues. Most documents require notarization to be valid, and we can help with that too. After you finish drawing up an operating agreement, you can use our Notarize Any Documents product. Our app will help you book a notary and get a notary signature fast.
We will direct you to an online notary that can notarize documents for you in Georgia or any other state.
DoNotPay Can Help You Solve Pesky Issues Stress-Free
Dealing with everyday issues can become overwhelming, especially if they include bureaucracy. DoNotPay can help you handle numerous problems in a few minutes. With us, you can schedule your DMV appointments, get documents notarized remotely, and create various legal documents—including child travel consent statements and demand letters for neighbor complaints—in a snap.
Do you need help paying your bills, disputing parking tickets, or getting cash back for your gift cards? Once you register for DoNotPay, you'll be able to manage all of these and many more issues in no time. 
What Else Can You Use Our App For?
Besides helping you handle tedious administrative hurdles, DoNotPay can do much more for you! You can use DoNotPay to:
With us, you can send online faxes or mail letters from the comfort of your home. Do you have friends or family members who are serving time? We can help you connect with inmates in a flash by enabling you to locate them and send them letters.