How To Create LLC Formation Documents in the Blink of an Eye
Are you planning to start a limited liability company (LLC) but don't get the process of creating and submitting LLC formation documents? Don't worry because DoNotPay has the answers!
In this text, we provide all the information you need to create and file LLC formation documents. You can also discover how to write contracts and other legal documents and learn more about contract templates by !
What Is an LLC?
An LLC or a limited liability company is a business structure protecting the owners from any personal liabilities. If anything goes wrong, the company will be held accountable instead of the individuals owning it. 
What Are LLC Formation Documents?
LLC formation documents are forms that the business founders file with the state government to establish a company. 
Every state has a different set of required forms. You should check your state government's official website to figure out the requirements.
Different states have different names for LLC formation documents, but the common ones are:
Certificate of organization

Certificate of formation
Details of LLC Formation Documents
There are several LLC formation documents necessary to create a company, including:
Articles of organization

Operating agreement

Employee identification number

Business licenses
Articles of Organization
Before starting an LLC, you must collect the following information to include in the Articles of organization:
Information

Explanation

Company name

The company name should be unique and not in use by another business

The business should have LLC, L.L.C, or Limited Liability Company incorporated in the name

It is up to the state to approve the name, ensuring it is not similar to another company. In some states, even the plural form of an existing company name is prohibited

Business purpose

Reason for company formation

A statement of purpose confirming the business is legal and lawful

A more specific statement regarding the business details, as well as the products and services they intend to market

Management structure

Member-managed—management structure similar to

partnerships

Manager-managed—involves shareholders

Business location

The state where the business will operate

The physical address of the business

Duration of LLC

Some states require you to mention the duration of your company and set limits on it (usually decades)

Effective date

The effective date of company formation

Registered agent

A registered agent will prepare and collect all your company documents to file them with the state on your behalf.

The agent can be an individual or a company, and their details and signatures are mentioned in every document they file

The agent must have a physical address in the same state where your business will operate
Operating Agreement
The purpose of the operating agreement is to establish the duties and responsibilities of all LLC members. The main points in the arrangement are as follows:
Ownership of key business decisions

Member's percentage of ownership

Profit and loss percentage

How to add or remove members

Voting rights

Conflict resolution

Termination of the LLC
All members must sign the document to ensure its validity.
Although this document is not mandated by law, you should still create it to establish your company's governance and compliance policies.
Employee Identification Number
Every business should have an Employee Identification Number (EIN) used in business-related documentation and mandatory for opening a business bank account. Consult an attorney and fill out IRS Form SS-4 to get an EIN. 
Business Licenses
Based on the nature of your business, you will need business licenses, such as:
Home occupancy permit

Permits for the alarm system and elevators

License for specific industries like architecture
How To File LLC Formation Documents
There are two ways to submit your formation documents:
Send the documents via mail 

Submit them online
You should submit your documents to the Secretary of State where your business is located. If you're operating in Arizona, Florida, or New Jersey, you will need to file your documents with a designated state agency and not the Secretary of State. 
LLC Formation Fee
The LLC formation fee is a one-time expense and varies from state to state. You are required to send the fee, by check or money order, with your formation documents to the state government. If you're submitting your documents online, you can pay with your debit or credit card. 
DoNotPay Is Your Legal Document Generator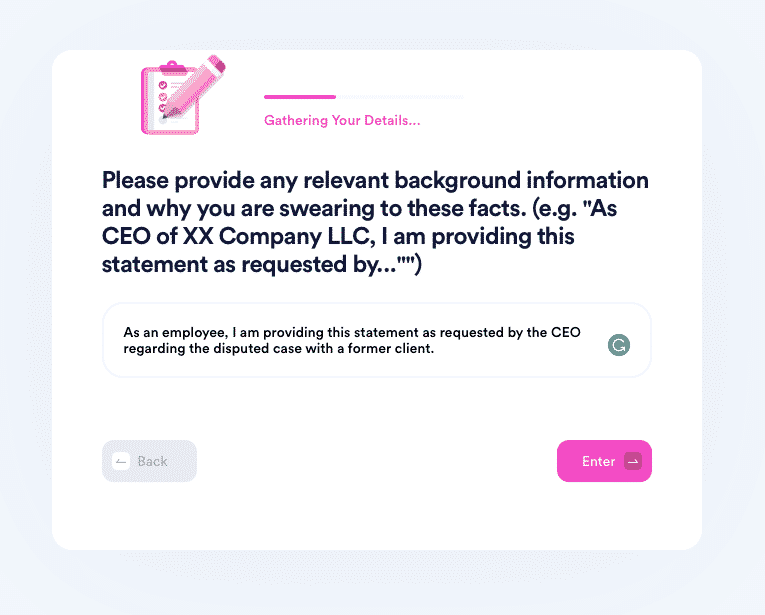 Creating LLC formations documents can be a daunting task. Consulting an attorney to create a contract is your safest bet, but attorney fees can be ridiculously high. Why break your bank when DoNotPay can be your hero? For a small monthly fee, we can generate an LLC operating agreement for you and make the LLC formation process a little easier. 
All you have to do is follow these straightforward instructions:
Select the document you need to generate

Provide further details to our chatbot (your name, address, and all other necessary info)
We will draw up the document for you! All you need to do is download, print, and sign it.
DoNotPay is an expert in creating the following documents: 
General Business Contract

Intent To Purchase Real Estate

Child Care Authorization Form

Quitclaim Deed

General Affidavit

Promissory Note
Easy-Breezy Ways To Deal With Not So Breezy Issues
Administrative and similar tasks don't have to be as complicated as we've known them to be. With DoNotPay, dealing with paperwork and companies is done in a few clicks. Let the world's first robot lawyer help you:
Money Troubles? I Don't Know Her!
As our app's name says, DoNotPay's mission is to put a stop to losing money and overpaying. We will help you get your hands on free trials and snatch free raffle tickets. DoNotPay can also provide solutions for you to get help covering bills and reduce your property taxes.
If you want to get some additional funds, use our app to sign up for clinical trials. You may also take our practice tests to ace a government test and land a better-paying job.
It doesn't hurt to check whether you are owed some unclaimed money, and we can help you with the application.