Everything About the
Living With Parents Tenancy Agreement
Is your child well into their thirties and still living under your roof? If so, perhaps it's time to consider creating a living with parents tenancy agreement. DoNotPay makes creating legal documents a piece of cake. In this article, we will explain how to draw up a great living with parents tenancy agreement without hassle.
Why Is It Important To Create a
Contract for Adults Living at Home
?
At a certain point, adults who still live with their parents become their roommates in a sense. As a parent, you may not be able to set a curfew anymore, but you have the right to set some rules. If your child has a job, you should start asking them to participate in paying rent and utilities.
Having a contract that clearly defines their responsibilities and obligations will ensure a better relationship between you. If you look at yourself as a landlord and your child as a tenant, a simple agreement will help prevent potential disagreements.
What Info Does a Contract for Adults Living at Home Need To Contain?
As a parent, you have the right to offer better conditions to your child than the ones they would have if they were renting an apartment from a stranger. You should look at this contract as a lease agreement and provide them with all the necessary info. 
Here's the table with detailed explanations of what you should include in this contract:
Make Sure To Include:
Details:
Personal Info

Child and parents' names

Phone numbers

The address you reside at

Payment

The amount they need to set aside for rent

Clarifications on utility payments

Interest for late payments

Chores

Cleaning schedule

Cooking

Dishes

Laundry

Guests

Parties

Noise level

People sleeping over

Agreement Terms

Length of the lease

Lease termination

Family Meetings

Regular meetings to ensure all the rules are followed

Complaints

Suggestions
It is crucial to explain to your child that this is a legally binding agreement and that the rules are not to be taken lightly. Not keeping to the terms will have consequences.
Can You Evict an Adult Living With Their Parents?
If you have a contract for adults living at home, you have the right to evict the child if they do not follow the agreed-on rules. This could involve not paying the rent regularly or not performing assigned tasks.
The court will treat them as any other tenant who breaks the rules of a lease agreement. It is always better to try and resolve the issues with your child before taking legal action.
If they still don't do anything to fix the problems, you may serve them an eviction notice that states that their lease is terminated.
Use DoNotPay To Make a Legal Document Easily
Dealing with legal documents can be a stressful and time-consuming ordeal. This is especially true if you don't have the proper legal knowledge and can't afford to pay a lawyer to help you. You shouldn't rely on generic contract templates—your contract should be unique to your situation.
DoNotPay is here to ensure that your document meets all the important criteria. You only need to complete these three steps:
Open DoNotPay

in a web browser

Tell us what document you need help creating

Answer a few questions about yourself
Whatever the document you create, you will need to find out whether it should be notarized. Sometimes, both parties signing the document will do the trick.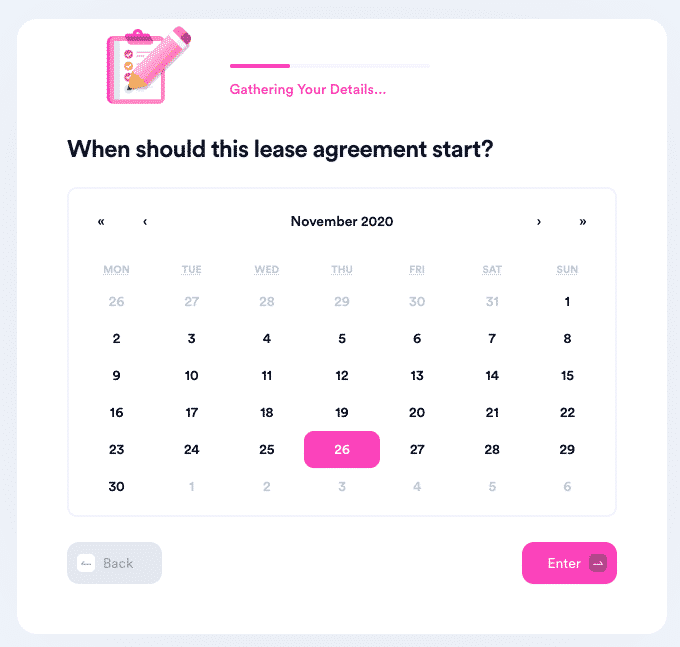 DoNotPay is here if you want to find out about other legal contracts that can help you protect your interests. If you are an adult living with your parents, you might be interested in knowing how other real estate agreements work. 
We have the info on the room rental agreement, buyer representation agreement, property management agreement, and basic rental agreement. 
If you wish to inform yourself about other documents and find out how to write them, take a look at these guides:
What Other Documents Can DoNotPay Make?
You can create any real estate document with DoNotPay, such as:
Quitclaim deed

Estoppel certificate

Intent to purchase real estate
If you want to make a business agreement, your virtual assistant can create a bill of sale, general business contract, non-compete agreement, non-disclosure agreement, independent contractor agreement, or LLC operating rules document.
Our app can also draw up a parenting plan, prenuptial agreement, promissory note, and a general affidavit for you. After you complete our simple questionnaire, the document of your choice will be in your possession in under five minutes.
DoNotPay Is the Champion of Customer Advocacy
If you've never experienced an issue with a purchased item, you should consider yourself extremely lucky. When shopping goes wrong, you usually have to brace yourself for unpleasant and annoying exchanges with customer support centers. 
DoNotPay is here to make exercising your consumer rights easy. Long holds when calling customer service reps and incessant marketing spam emails can stay in the past. We will help you avoid irritating text messages from online retailers by teaching you how to bypass phone verification when signing up. 
Ask for refunds, claim warranties, fix credit card issues, or sue retailers in small claims court—these are just some of the services our platform provides. 
With DoNotPay, you can start free trials for new services risk-free. If you want to get out existing subscriptions, canceling them has never been easier!
Wait, There's More!
Our full portfolio includes features as diverse as contacting inmates and requesting college application fee waivers for students from low-income families. 
If you have a problem with bureaucracy, the chances are DoNotPay knows how to fix it with your minimal involvement. 
Leave the grunt work and unnecessary expenses behind. We will help you pass various government tests with flying colors, find unclaimed money in all states, or get out of parking tickets before you know it!