How To Make a Living Will in Wisconsin
The easiest way to ensure that your wishes regarding medical treatments will be respected even when you can't communicate them is to create a living will. Putting your beliefs and values on paper will help guide your health care providers and let you have peace of mind.
Regulations about making this document differ across the U.S., so you need to check and abide by your local laws.
In this article, we'll show you how you can create a living will in Wisconsin in minutes using DoNotPay once you sign up.
Advance Directive in Wisconsin Explained
In Wisconsin, there are two health care directives you can create based on your needs and requirements. Consult the table below for more information:
Why Do You Need a Living Will?
The point of making a living will is to leave clear instructions on how you wish to be treated in situations when you can no longer communicate. You should let your health care providers know what your preferences are regarding feeding tubes and life-sustaining procedures.
A living will is used when you:
Have a terminal condition
Are in a persistent vegetative state
When Does a Living Will Go Into Effect?
Your living will becomes effective when your physician and one other doctor certify in writing that you can no longer make health care decisions because you have a terminal condition or are permanently unconscious.
How To Make a Living Will in Wisconsin Enforceable
To make your living will legal in Wisconsin, you must sign it in front of two witnesses. These individuals cannot be:
Under 18
Related to you by blood, marriage, or adoption
Directly financially responsible for your health care
Entitled to any portion of your estate
A health care provider who is treating you or their employee
Ways To Draw Up a Living Will in Wisconsin
You can create a living will in Wisconsin in a few ways, but you should consider the cost and the end result. Take a look at the table below for more information:
| Create a Living Will By | Benefits | Downsides |
| --- | --- | --- |
| Hiring a lawyer | You will get a well-written document | It is the most expensive option |
| Downloading a living will form | It is a cheaper option than hiring a lawyer | Forms are generic and won't help you much without sufficient legal knowledge |
| Using DoNotPay | You will save money and get an airtight legal document | / |
Create a Living Will in Wisconsin the Easy Way—Using DoNotPay
If you don't want to risk making this advance directive invalid by customizing online forms, you should let DoNotPay help. Our app will make a legal document for you in accordance with Wisconsin state laws and save you time and money.
Here's what you need to do:
Find our Advance Health Care Directive product
Enter the relevant medical information (your hospital, doctor, etc.)
Type in the names of witnesses who will see you sign the document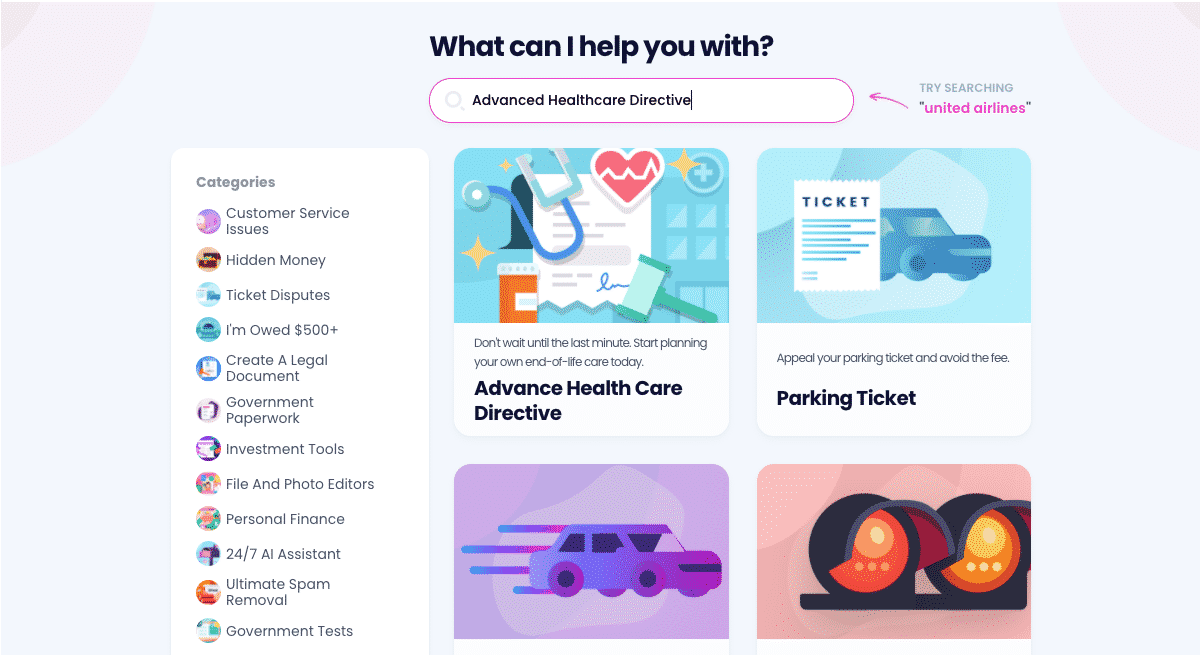 What Should You Do After Making a Living Will?
Once you have the legal document in your possessions, you should:
Keep the original living will in a safe, easily accessible place until required
Let your friends and family know that you have signed the document and where it's located
Give a copy of the signed form to your physician, physician's assistant, or advanced practice registered nurse
You also have the option of putting your living will for safekeeping with the Register
in Probate of your county for a fee of $8.
Skip the Bureaucratic Hurdles With Our Help
If your unfinished tasks are piling up each day, we can help save you time and energy. Let DoNotPay do the heavy lifting and complete the following for you:
| Bureaucracy | Spam and Harassment |
| --- | --- |
| | |
In one fell swoop, our app will draft legal documents, fax them online, and get them notarized. In case you need to request a college fee waiver, find unclaimed money, file a FOIA request, or contest parking tickets, you can count on DoNotPay's help.
We Offer Even More Ways To Assist You
Once you sign up for DoNotPay, there aren't many problems that we can't solve for you. Take a look at the table below to get an idea of what we can help you with: