Living Will vs. Durable Power of Attorney—The Difference Explained
As we get older, we start thinking about the consequences of old age, such as sickness and the potential inability to take care of ourselves. In those situations, documents such as living wills and durable powers of attorney can provide significant relief and enable us to plan our future on our own terms.
While both documents can be used in similar circumstances, they have different purposes. In this article, will break down the living will vs. durable power of attorney difference and show you how you could benefit from drafting these documents on time!
Living Will vs. Power of Attorney—Basic Characteristics
One of the crucial aspects of planning for the future is ensuring your medical and financial affairs are taken care of according to your directives.
Luckily, you can create legal documents that will clearly state your preferences related to your medical care or financial affairs if you become incapacitated. The documents that you can use are:
Financial power of attorney
Medical power of attorney
Living will
A living will outlines the decisions you've made ahead regarding your end-of-life health care, while a durable power of attorney (POA) grants another person the right to make financial and medical decisions for you. Understanding the nuances between these documents will help you figure out which one you will benefit from more.
Financial Power of Attorney
A durable financial power of attorney authorizes an individual (agent) to make financial decisions on your (the principal's) behalf. Once you become unable to take care of your financial affairs, the agent becomes responsible for:
Managing your property
Paying your bills and taxes
Handling your financial accounts
Managing your business affairs
Making investment decisions in your stead
Collecting retirements benefits for you
Selling and transferring your assets
A durable financial power of attorney goes into effect once you become incapacitated and continues to be in effect until you recover or you pass away.
Medical Power of Attorney
A durable medical power of attorney—sometimes known as a health care proxy—enables you to name an agent who will make medical decisions on your behalf once you are no longer able to. Unlike the living will, the medical POA can specify both end-of-life care preferences and other health care instructions.
You can be as specific as you want when giving directions regarding your future health care. Even if you don't specify your wishes, the medical POA will be valid—you only need to designate a proxy, and the appointed person will have the authority to make health care decisions for you.
Keep in mind that most states allow you to combine the living will and the medical power of attorney into a single document, called an advance directive.
Living Will
A living will—not to be mistaken with the last will and testament—is otherwise known as a health care directive. It serves to specify your treatment preferences if you:
Develop a terminal illness
Get Alzheimer's
Suffer an injury that can cause a loss of brain activity
A living will typically contains instructions regarding the following:
Tube feeding
Comfort and pain medicine
Assisted breathing
Resuscitation
Organ donation
Life support and other life-prolonging procedures
You can also use the living will to outline how you want your life to end in case one of the above terminal conditions befall you.
Living Will vs. Health Care Power of Attorney—Which Should You Choose?
If you want to ensure your future medical care is completely covered, you should create both a living will and a healthcare power of attorney. Take a look at the table below to find out when and how each document should be used:
Medical Power of Attorney
Living Will

You will make your own medical decisions until you become incapacitated
Once and if you do, a medical power of attorney will take effect, and the agent will take over the decision-making process regarding your medical care

If you become unresponsive (for example, slip into a coma), the living will take effect and overrule the medical POA
It will give your family and the medical staff clear directions about your preferred medical and/or end-of-life care
Let DoNotPay Create a Comprehensive Advance Directive for You
Creating a living will or a medical power of attorney is one of the most important steps you'll have to take when planning for your future. Apart from picking a trusted person to act as your agent, you have to make sure the document:
Covers all eventualities
Conveys your wishes in an unambiguous way
Contains all crucial sections
Is written according to state-specific laws
Luckily, paying astronomical fees to lawyers is not the only way of getting this essential document. DoNotPay can create a professional, customized advance health care directive at an affordable price.
You only need to:
in your web browser
Click on our Advance Health Care Directive product
Answer our chatbot's questions regarding your appointed agent and witnesses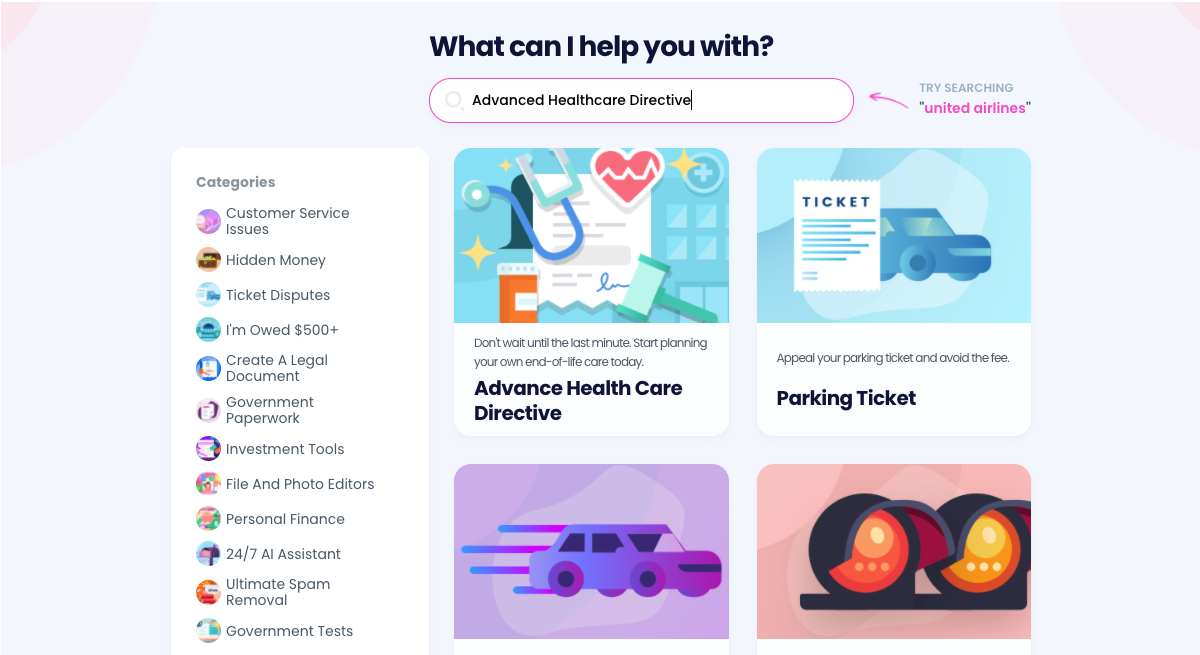 We will create an advance directive according to the information you provide and deliver it in minutes.
Bear in mind that, in most states, this document has to be notarized to be considered enforceable. If that is the case in your state, DoNotPay has got you covered! Pick the appropriate option in our questionnaire, and we will connect you to an online notary.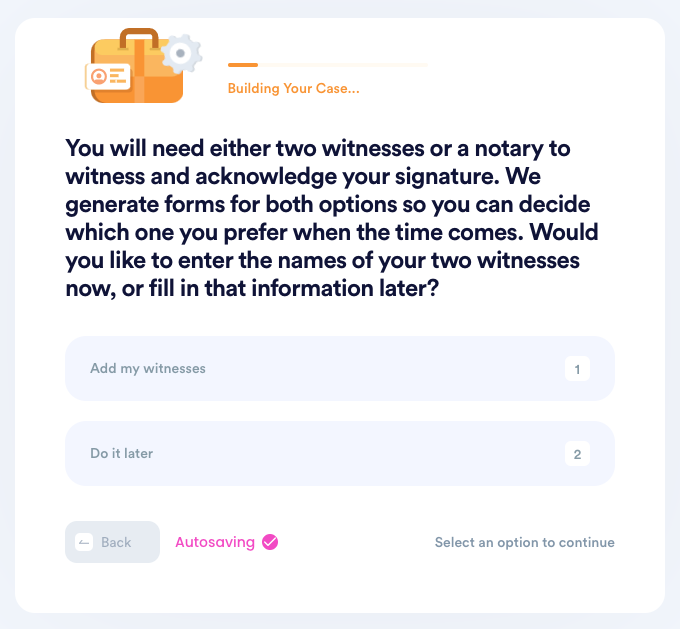 Make Your Money Troubles Go Away
If you want to join free trials and not worry about automatic renewals, our app is what you need. With DoNotPay's virtual credit card, you'll be able to avoid charges and keep your personal details to yourself.
We can also help you get a refund or request a cancellation.
Getting your money back is our field of expertise—Use DoNotPay to:
No Task Is Too Difficult for DoNotPay
Signing up for our app brings you an AI-powered assistant. Check out the benefits of having a DoNotPay account in the table below: