A Straightforward Guide to Creating a Living Will in Virginia
Making difficult decisions and thinking about worst-case scenarios is never a pleasant experience, but it is necessary. Deciding early on how you wish to be treated when you cannot speak for yourself will be extremely helpful to your family members if such time comes.
To put your wishes in writing, you will need to create a state law-compliant legal document. DoNotPay explains how to make a living will in Virginia.
Advance Care Directives in Virginia
In Virginia, you can create a legal document called an advance directive stating your wishes related to medical care. The document comes into effect when you are no longer capable of making your own decisions due to a serious illness or injury.
There are two types of advance directives in Virginia:
Power of attorney for health care (appointment of an agent)
Living will (written health care directive)
Power of Attorney for Health Care (Appointment of an Agent)
A medical power of attorney lets you choose a person who will act as your agent or health care proxy. The individual can be anyone as long as they are reliable and trustworthy. People most often choose their spouses, close friends, or adult children for this role.
Your agent will be in charge of making difficult decisions about your medical care in accordance with your wishes. You can tell them precisely what kind of treatments you do or do not want.
It is also possible to get a medical power of attorney for a child and allow the appointed agent to make decisions for your child in your absence.
Living Will (Written Health Care Directive)
The only difference between a power of attorney for health care and a living will is that the latter does not require an agent. A living will is a document used to express your clear wishes on how you want to be treated in a serious medical condition. You do not need to appoint an agent to make those decisions.
How To Create a Living Will in Virginia
You can create a living will in Virginia in a few ways, but not all of them are equally efficient. Check out the following table for additional details:
Create a Living Will
Brief Explanation
With the help of a lawyer

You can hire a lawyer to create a living will for you and get the wanted results
You should be aware of the sky-high costs entailed

Independently

It is best to avoid creating a living will yourself by using online forms
To create a legal document, you will need sufficient legal knowledge

By using DoNotPay

The simplest way of creating a living will is to use DoNotPay
You will save time and money and get a top-notch legal document
Draw Up a Living Will in Virginia With DoNotPay
DoNotPay is here to provide you with a health care directive you need, no matter the state you live in. Our app will create an airtight legal document tailored to your needs, unlike iffy forms available online. These are the only steps to take:
Select our Advance Health Care Directive product
Type in relevant medical information
Inform us about the powers you want to transfer to your agent (if you appoint one)
You can also check out our article on how a health care proxy is different from a power of attorney.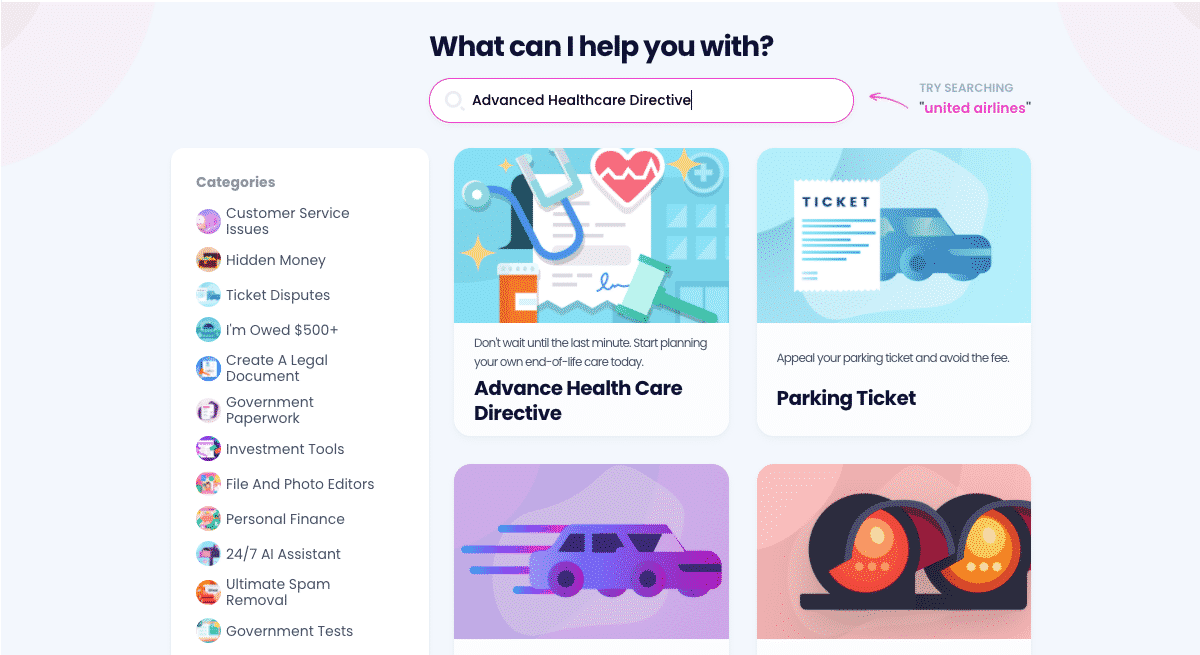 How Can You Make a Living Will in VA Enforceable?
To make your living will valid, you must follow specific rules in Virginia. The Old Dominion requires you to have this legal document signed in the presence of two adult witnesses. Any individual older than 18 can be a witness, including your spouse, relative, or health care provider.
DoNotPay Has More Products in Store for You!
Our app is adept at solving numerous issues and completing various tasks in your stead.
You may want to use DoNotPay to protect your work from copyright infringement, reduce your property taxes, send defamation demand letters, or file FOIA requests.
Through the same app, you'll be able to skip many bureaucratic hurdles. Here are more tasks DoNotPay can help you with:
Use DoNotPay To Keep in Touch
If your friend or family member is in jail, we can help you locate them and send and receive letters with ease. Do you need to send other letters but hate going to the post office? You can use our Mailing Service product and save time.
We can also help you send online faxes, reach customer service, and contact embassies or government representatives.
In case you're drowning in email and text spam, our app can end it for good. Even if robocalls are bothering you, we have a solution!