Everything You Should Know About Creating a Living Will in Texas
No one knows what unfortunate situations lie ahead. In the case of medical emergencies and incapacitation, it is best to have a list of wishes about how you would like your medical treatments to go. To make sure your preferences are honored, you should create a legal document regulating any future procedures and treatments.
DoNotPay explains everything you should know about how a living will in Texas works. We can even help you create this sensitive document without trouble!
What Is a Living Will in Texas?
A living will in Texas is a directive to physicians and family or surrogates. This legal document states your wishes about medical treatments in case you:
Develop a terminal or irreversible disease
Are in a persistent vegetative state
Have an end-stage condition, which results in complete physical dependency, such as Alzheimer's
A living will goes into effect once your doctor determines you are suffering from any of the mentioned conditions. DoNotPay offers reliable information on how to create a living will, the cost of the document, and whether it is wise to use online forms to draw it up.
Other Names for an Advance Directive in Texas
A directive to physicians and family or surrogates is a part of a universal document called an advance directive. It goes by many other names, including a health care proxy or a medical power of attorney (medical POA), etc. You should be aware of the slight differences between them to ensure you get the correct document.
The other part of the advance directive in Texas is known as medical power of attorney. You can create only one or both of them.
What Is a Medical Power of Attorney in Texas?
A medical power of attorney in Texas appoints an agent to make decisions regarding your medical care when you are unfit to do so yourself. Your agent can be any adult person you find reliable. The only exceptions are:
Your doctor
An employee in the hospital you are treated at
Your residential care provider
How Can You Make a Living Will Valid in Texas?
Texas law requires you to sign your living will in the presence of two adult witnesses. Those individuals need to sign the document as well. The witnesses cannot be:
Your agent
A person entitled to any part of your estate upon your death
Your physician or their employee
An employee of a health care facility in which you are a patient
Related to you by blood or marriage
Ways To Create a Directive to Physicians and Family or Surrogates in Texas
There are a few ways for you to make a directive to physicians and family or surrogates in Texas. Check out the table below to explore the available options:
| How To Create a Living Will | Benefits | Downsides |
| --- | --- | --- |
| Hire a lawyer | You will get a well-written document | The associated expenses are pretty high |
| Make the document yourself | The costs are significantly lower | You might end up with an invalid document if you lack the essential legal knowledge, and online forms won't be of much help because they are often vague and outdated |
| Use DoNotPay | You get a top-notch document without spending a fortune | / |
Draw Up a Living Will in Texas With DoNotPay's Assistance
If you want fast and satisfying results, DoNotPay is your best option for creating a living will in Texas. We'll include all the essential information so that your interests and wishes are protected. You only need to follow these simple steps:
Select the Advance Health Care Directive product
Include relevant medical information and name your agent if you decide to have one
Let us know what powers you want to appoint to your agent
Type in the names of the people who will witness the document signing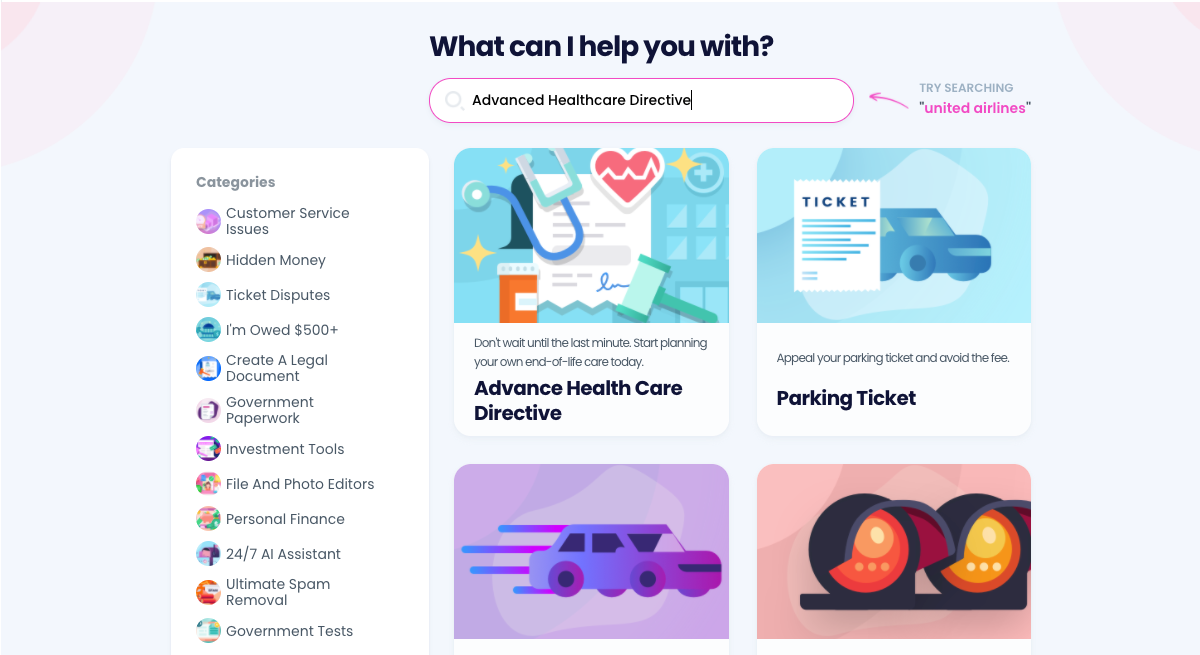 Let Our App Assist You With Paperwork
You don't have to deal with bureaucratic tasks on your own! DoNotPay is here to help you cancel your memberships, appeal parking tickets, discover unclaimed funds, and get any document notarized online.
If you need help covering your bills or you'd like to get extra cash by signing up for clinical trials, we are your go-to!
We can also assist you in drawing up and sending out the following documents:
Keep Your Online Safety Intact
Staying anonymous is almost impossible these days, but with DoNotPay's help, your contact and payment details will remain private.
Thanks to our Burner Phone product, you'll be able to keep your phone number to yourself and get a temporary one you can use when you register on various platforms.
If you want to avoid getting charged and revealing your personal info when signing up for free trials, we can help you kill two birds with one stone. Get our multifunctional virtual credit card and skip submitting your name, email address, and payment details.
With our app, you can also handle stalkers and harassers, fight workplace discrimination, and block spam.