The Simplest Way To Compose a Living Will in Ohio—Unraveled
Conversations about medical and end-of-life preferences can be unpleasant but are necessary for planning your future health care. Every state, including Ohio, proposes a specific set of documents that helps you define your future treatment wishes, and a living will is one of them.
In this article, we reveal the answers to the following questions:
How is a living will defined in Ohio?
What requirements do you have to meet to sign this document?
What sections should your living will include?
How to use DoNotPay to generate, sign, and notarize a medical power of attorney or living will in Ohio or any other U.S. state effortlessly
Ohio Living Will Explained
As Ohio law states, a living will is a written compilation of precise health-related guidelines a person prepares for their family and medical practitioners. This document informs the people around you about your preferred treatments in case you become too sick to express such wishes.
Unlike many states that allow the use of a living will regardless of the type of incapacitation, the state of Ohio considers this document effective only if the person is:
Permanently unconscious
Terminally ill
The person who signs a living will specifies whether they want to:
Receive life-sustaining treatments, such as:

Artificial nutrition via a tube
Mechanical respiration
Cardiopulmonary resuscitation (CPR)
Blood transfusion or antibiotic therapy (in case of an infection)

Pass away at home or in the hospice care facility where they currently reside
Donate their eyes, tissue, or organs after death
Provide anatomical gifts
Receive comfort care
What Are the Signing Criteria for an OH Living Will?
As per Section 2133.02 of the Ohio Revised Code, you must fulfill the following requirements to sign a living will in Ohio:
The statement must be in writing
You must be of sound mind at the moment of signing
You mustn't be subject to fraud and duress or under someone else's influence when signing the living will
There should be two witnesses signing the document with you. None of them should be:

Minor
Related to you by blood, marriage, or adoption
Your attending medical practitioner
Administrator of the nursing home or any other care facility you currently reside in

If you are unable to choose witnesses, your living will must be notarized
The Basic Elements of a Living Will Form in Ohio
Here are the sections a solid Ohio living will should include:
Section
Contents
Introduction

Declarant's legal name and date of birth
Living will statement
Definitions of significant terms in the document

Instructions

No expiration date clause
Out-of-state application clause
Concise health care guidelines
Special instructions
Limitations

Conclusion

Printed names and signatures of all parties involved, including witnesses
Date and place of signing
Optional notary acknowledgment (if you don't have witnesses)
In Ohio, you can also combine a living will with a health care proxy, also known as a medical power of attorney. It's a legal document that allows you to authorize another adult to make health-related choices on your behalf in case of permanent incapacitation or a terminal illness. These two forms are the most commonly used Ohio advance directives.
Looking for a Top-Grade Living Will? DoNotPay Has Your Back!
What if we told you that you can create a living will in five minutes without lifting a finger? All DoNotPay needs to provide you with a comprehensive and personalized document are some essential details related to your preferred medical care. Here's how to get our help:
Log in to DoNotPay and select Advance Health Care Directive
Tell us who your primary health care agent is
Answer some questions related to your future health care wishes
Disclose the names of the witnesses who will sign the document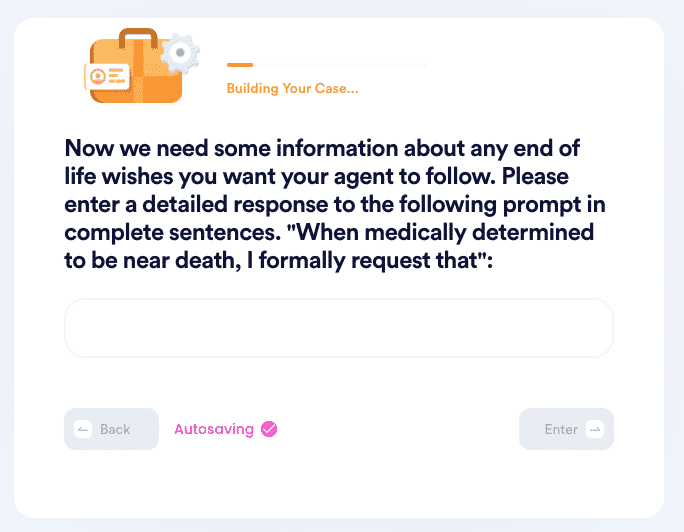 If the state where you live requires you to have a living will notarized, our app can help with this step too! We can match you with a remote notary who can notarize your document electronically!
Our knowledge base also helps you find out more about the difference between a health care proxy and power of attorney, specifics of a health care directive, living will cost, and much more.
DoNotPay Offers More Assistance!
Our app boasts many features that can make your life easier.
Do you need help searching for unclaimed money or covering bills? Are you looking for clinical trials you can sign up for to earn some extra money? We can help you out in a flash!
Other tasks we can streamline for you are the following:
Forget Hiring a Lawyer—Use DoNotPay Instead
You don't want to spend a fortune on lawyer fees? No problem! DoNotPay—the world's first robot lawyer—is here to assist you! With our help, you'll be able to file complaints, sue anyone in small claims court, handle stalking and harassment, get crime victims' compensation, and draft numerous documents, including:
If you need to get a document notarized, you can also count on our help. We'll connect you with an online notary who will notarize your document in a flash.