A Simple Guide to Creating a Living Will in NJ
Writing down your wishes about medical treatment in end-of-life situations is not a pleasant task, but it will help you and your loved ones a lot. You can achieve this by creating a document called a health care directive that includes a living will.
DoNotPay is at your disposal for drawing up a living will in NJ fast and without trouble.
Advance Directives in New Jersey—Essential Info
In New Jersey, there are two types of advance directives that will help your health care providers and family members make medical decisions:
Living will
Medical power of attorney
Depending on your needs, you can create both documents or only one.
What You Should Know About an NJ Living Will
In New Jersey, a living will is referred to as an instruction directive. It is a type of advance directive that covers your wishes about life-sustaining treatments in case you can't make medical decisions on your own. A living will is connected to scenarios when you are:
In a persistent vegetative state
Terminally ill
This document can also include your values and beliefs that will help guide your physician and loved ones if and when unexpected situations occur.
What You Should Know About a Medical Power of Attorney in NJ
The other type of advance directive in New Jersey is called a medical power of attorney or a health care proxy. You can use an NJ health care proxy to appoint an agent who will make medical decisions in your name in the event that you become incapacitated.
You can choose any trustworthy person who is 18 or older for this role as long as they are not:
Your physician
Other employee in the health care facility you are being treated at
Unlike the living will, this advance directive can be used in any health care situation, not only near death.
How Can You Create a Living Will in New Jersey?
Before making a living will in New Jersey, you should research your options. Consult the following table for more details on what method will bring you the best results:
Create a Living Will By
Benefits
Downsides
Hiring a lawyer
It will get you the wanted results
The cost of making a will with the help of a lawyer is extremely high
Doing it yourself
You can cut down the cost compared to hiring a lawyer
You will likely end up with an invalid document if you lack legal knowledge and rely on online forms
Using DoNotPay

You will get a well-written document
It will save you money, time, and energy

/
Use DoNotPay To Generate an NJ Advance Directive
There's no need to rely on generic advance directive forms when you can use DoNotPay. Creating an advance directive with DoNotPay's help is as easy as it gets. We will make sure to provide you with an airtight legal document that will include all your instructions and wishes.
Here are the only steps that you need to take:
Find the Advance Health Care Directive product
Appoint your health care agent and provide other required information
List the powers you want to transfer to your agent
Need more details before creating this important document? DoNotPay can provide you with other useful information about advance directives, such as the difference between a health care proxy and a power of attorney.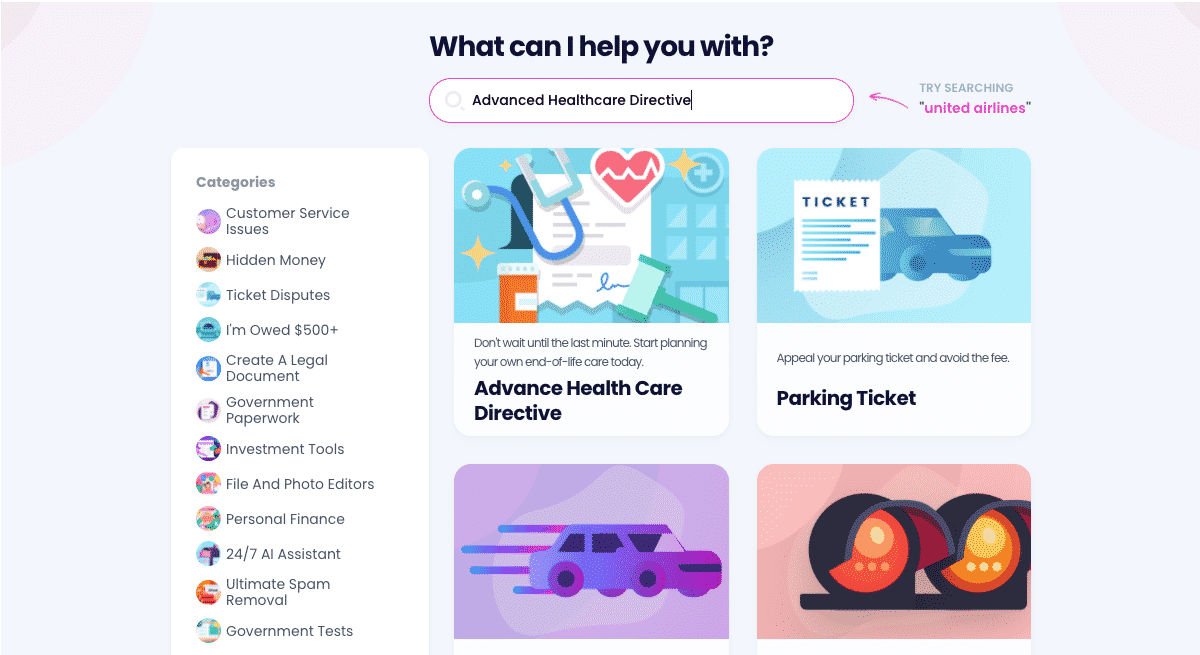 How To Make a Living Will Legally Binding in New Jersey
In New Jersey, you need to sign your living will in front of two witnesses or a notary public to make it valid. The witnesses also have to sign the document to show that:
They believe you are of sound mind
You voluntarily signed the document
They are not your health care agent or alternate health care agent
These individuals must be 18 or older for their signatures to have any effect.
Skip the Bureaucratic Hurdles With Our Help
If your unfinished tasks are piling up each day, we can help save you time and energy. Let DoNotPay do the heavy lifting and complete the following for you:
| Bureaucracy | Spam and Harassment |
| --- | --- |
| | |
In one fell swoop, our app will draft legal documents, fax them online, and get them notarized. In case you need to request a college fee waiver, find unclaimed money, file a FOIA request, or contest parking tickets, you can count on DoNotPay's help.
We Offer Even More Ways To Assist You
Once you sign up for DoNotPay, there aren't many problems that we can't solve for you. Take a look at the table below to get an idea of what we can help you with: