How To Create a Living Will in Nevada With No Fuss
An advance health care directive helps you express your wishes regarding medical care in writing or through a health care agent you assign before you become incapacitated.
In Nevada, one of the advance health care directive forms that reflects your preferences for medical treatment in writing is known as the living will. Learn what a living will in Nevada entails and how to create yours in a hitch with DoNotPay!
Who Needs a Nevada Living Will Form?
A living will form notifies the declarant's assigned medical practitioner, family, and friends about any life-sustaining treatment they (don't) want to receive. The document comes into effect when the declarant is terminally ill and refers to types of treatment that can prolong their life but are highly unlikely to cure them.
Unlike a medical power of attorney (also known as a health care proxy, not to be mistaken with a standard power of attorney), which you can use to assign a health care representative to make decisions for you, a living will ensures your personal preferences are respected and carried out.
Who Can Create a NV Living Will?
The legal requirements to create a living will in Nevada are the following:
The living will must be created using the sample form from Nevada Revised Statutes Sections 449-610 and 449-613 or similar
The declarant must be an emancipated minor or 18 years old or older
The living will must be signed by the declarant or another person according to their instruction, and two witnesses
The living will must be notarized
Your witness cannot be:
Your health care agent (if you have a health care proxy or medical power of attorney in Nevada)
Your health care provider or any of their employees
An operator or employee of a medical treatment facility
At least one of your witnesses mustn't be:
Related to you
Entitled to a piece of your property after death
This part of a Nevada advance health care directive isn't valid until the declarant gets a notary public to verify the signatures.
What Should Every Nevada Living Will Contain?
Every Nevada living will contains mandatory and optional fields. The table below clarifies all information you can include in a Nevada living will:
Mandatory Fields
Optional Requests

The declarant's initials at the end of each page of the document (for verification)
Date
Basic information about the declarant and the two witnesses
The declarant's signature
Signatures of the two witnesses
Intent to refuse medical care (if the declarant rejects life-sustaining treatment)

Specifics regarding pain management methods and comfort care
Basic hygiene and grooming requests
Need for support (including visitations even while the declarant is incapacitated)
Spiritual and emotional support (bringing a priest to visitations and trying to remain as cheerful around the declarant as possible)
Preferences regarding:

Outdoor activities
End-of-life location
Music the declarant would like to listen to during visitations and treatment
Requesting forgiveness from loved ones
The declarant's memorial service
All of these fields ensure that, in the worst-case scenario, you get the end-of-life care you wish for, both medical and psychological.
Do You Need a Lawyer To Create a Living Will in Nevada?
A living will can be a lengthy document, depending on the details you wish to include. Keeping track of all the mandatory and optional details without prior writing or legal experience is a challenge on its own. Nevada residents often resort to hiring a lawyer to avoid missing any relevant information, but that can be expensive.
Luckily, you don't have to break the bank to get a rock-solid living will. DoNotPay offers a tool that can help you draft your living will in a matter of minutes!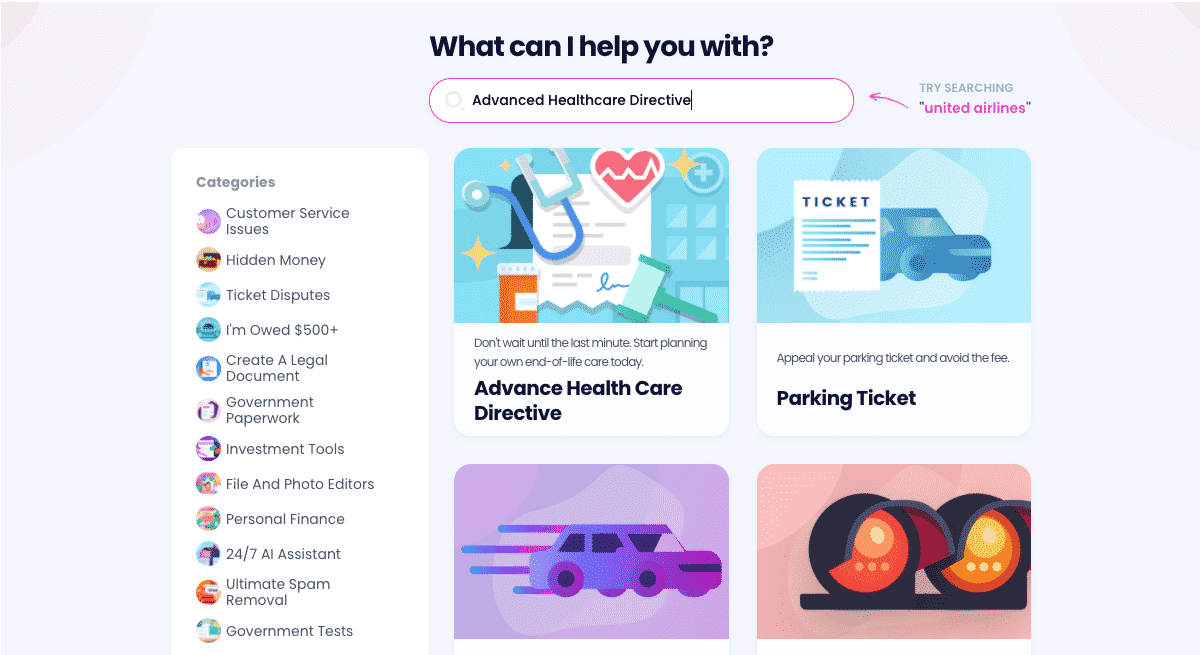 Create a Living Will in Nevada the Simple Way With DoNotPay
Approaching the final stages of your life is difficult enough, so creating a living will shouldn't be a hassle on top of that. DoNotPay takes the burden of creating any advance health care directive off of your shoulders, and all you need to do is:
Select the Advance Health Care Directive product
Enter your preferences regarding medical treatment
After completing all steps, you will receive a personalized document that's ready to be signed and notarized. Are you having trouble finding a notary public in Nevada? Check out our online notaries and get your advance health care directive notarized from the comfort of your home.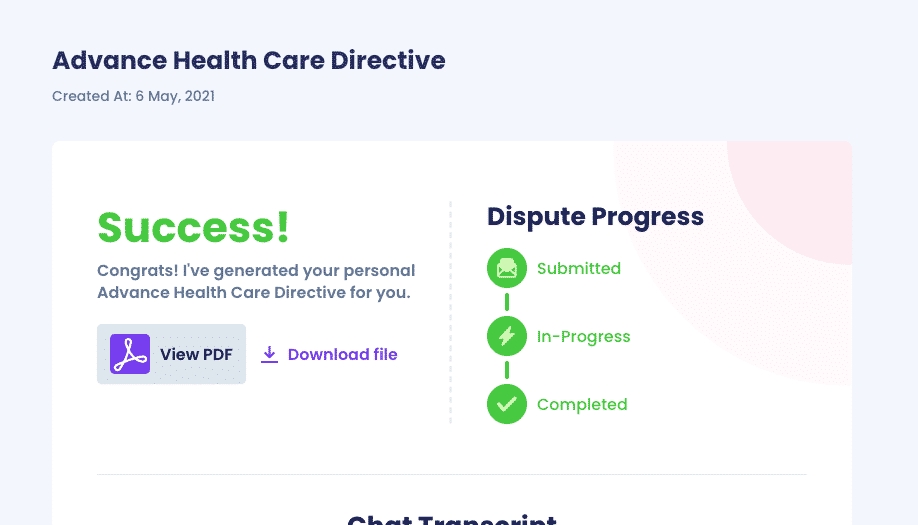 With DoNotPay, There's Always a Way
There's so much more we can do for you! As soon as you sign up for our AI-powered app, you will have a myriad of nifty products at your disposal. We can do any of the following and more:
Tired of Companies Mistreating You?
If you're sick of dealing with greedy companies, subscribe to DoNotPay—we'll assist you with any issue at hand.
If you want to get a refund, send an item return request, file a complaint, claim insurance or warranty, get a free trial without getting charged by using our virtual credit card, or put an end to robocalls, your AI-powered assistant will be there to help.
When you decide to take legal action, our app will support you along the way. Sue any company in small claims court worry-free!