How To Make a Living Will in NC—A Detailed Guide
If you want to make medical decisions easier for your health care providers, you should provide them with a proper legal document containing instructions. Advance directives for health care differ among the states, and in NC, they consist of:
If you want to create a living will in NC but don't know how, you should opt for DoNotPay. Our app can prepare this legal document in minutes once you sign up.
Living Will in North Carolina—All You Need To Know
In North Carolina, a living will is known as an advance directive for a natural death. This document is used to provide your health care providers with instructions regarding your treatment. You can state whether you want to withhold or withdraw life-prolonging measures in specific scenarios.
A living will comes into effect when your doctor determines that you:
Are in a persistent vegetative state
Have a terminal or irreversible disease
Have an end-stage condition, which results in complete physical dependency
Creating a Living Will in NC—What Options Are There?
Since a living will deals with serious matters, it is paramount to create this document properly. Check out your options in the table below:
How To Make a Living Will in NC
Details
Hire a lawyer

It will get you the wanted results
You will have to deal with sky-high lawyer fees

Write the document on your own

You might save some money compared to hiring a lawyer
It is likely that you will not succeed in making the document properly by customizing online forms on your own

Use DoNotPay

It will save you time and money
You will get a rock-solid document that complies with your state's regulations
Draw Up a Living Will in North Carolina With DoNotPay's Assistance
DoNotPay offers you a straightforward way of making a living will. You can rest assured that the document we make for you will contain all the necessary info required by North Carolina law. Here are the only steps you need to complete:
Locate the Advance Health Care Directive product
Specify who your primary agent is
Include all the required medical information (doctor, hospital, etc.)
Type in the names of the individuals who will witness you sign the legal document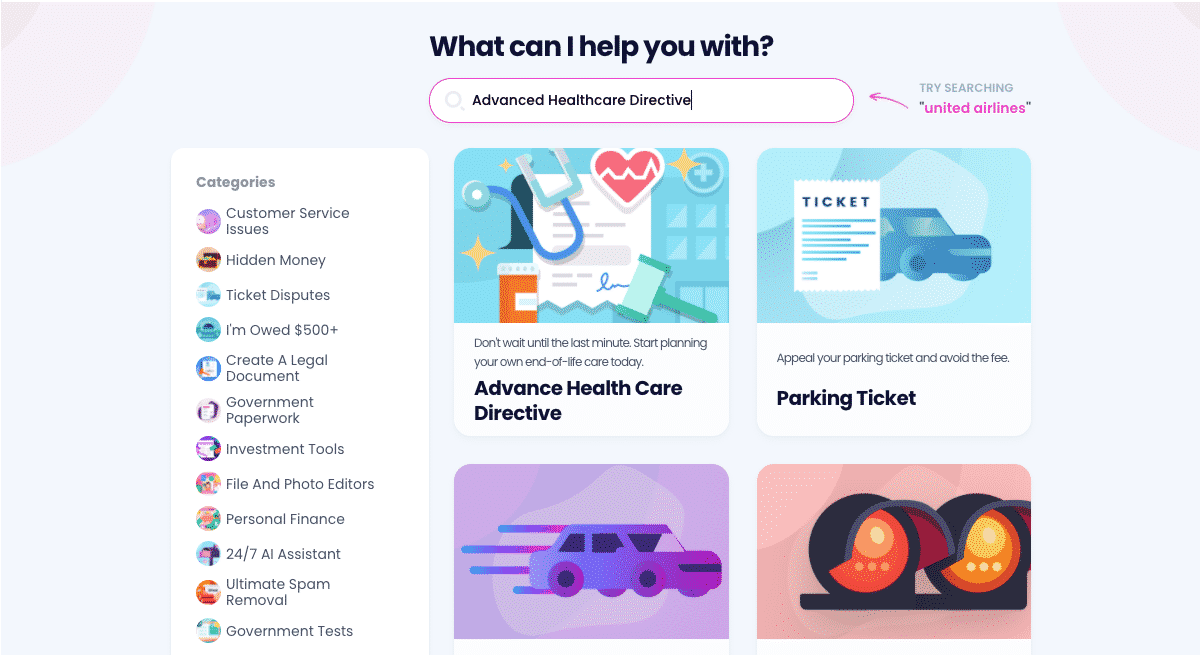 Health Care Power of Attorney in North Carolina
In addition to a living will, you can create another type of advance directive in North Carolina. This document is called a health care power of attorney, but it goes by other names as well, including:
Personal directive
Durable power of attorney for health care
Keep in mind that some states recognize the differences between a health care proxy and a medical power of attorney.
The point of making this document is to appoint a health care agent. This person will be in charge of making medical decisions in situations when you cannot do so yourself.
How Can You Make a North Carolina Advance Directive Legal?
Under North Carolina law, you are required to sign an advance directive in front of two adult witnesses. These individuals cannot:
Be related to you or your spouse
Be entitled to any portion of your estate upon your death
Have any claim against you or your estate
Be your physician or an employee in the health care facility in which you are a patient
In North Carolina, it is mandatory to have your document notarized by a notary public after you and the witnesses have signed it.
Skip the Bureaucratic Hurdles With Our Help
If your unfinished tasks are piling up each day, we can help save you time and energy. Let DoNotPay do the heavy lifting and complete the following for you:
| Bureaucracy | Spam and Harassment |
| --- | --- |
| | |
In one fell swoop, our app will draft legal documents, fax them online, and get them notarized. In case you need to request a college fee waiver, find unclaimed money, file a FOIA request, or contest parking tickets, you can count on DoNotPay's help.
We Offer Even More Ways To Assist You
Once you sign up for DoNotPay, there aren't many problems that we can't solve for you. Take a look at the table below to get an idea of what we can help you with: