All About Creating a Living Will in Missouri
Each U.S. state, including Missouri, has a different definition of a living will. It's necessary to learn how they work in the particular state, when you need them, and what elements they should include.
We offer you an all-in-one guide to help you understand the specifics of a living will in Missouri. DoNotPay can also teach you how to skip expensive services and unreliable advance directive forms and create the document from scratch by !
How Is a Missouri Living Will Defined?
The Missouri Statute defines a living will as a document that spells out your wishes related to future medical care preferences. It comes into effect only if you become unable to communicate your wishes or make decisions yourself.
This document is also known as a health care directive and provides specific guidelines related to:
Treatments/medications you want or don't want to receive
Surgeries or therapies you want or don't want to undergo
Preferred medical experts you want to be treated by
Antibiotic treatments in case of an infection
Artificial respiration, nutrition, and hydration
Hospice and comfort care for seriously or terminally ill patients
Life support decisions and other end-of-life circumstances
Organ and tissue donation
What Is the Difference Between a Living Will and a Medical Power of Attorney in Missouri?
In Missouri, the term "living will" shouldn't be confused with "medical power of attorney." The first expression refers to a document that only lists the preferred treatment options.
A medical power of attorney in Missouri allows you—the principal—to authorize a person of trust to decide on the health-related issues in your name in case you can't do it yourself. While this document is also known as a health care proxy, the two documents can differ depending on the state.
What Requirements Does a Living Will in Missouri Have To Meet?
The Show-Me state proposes strict requirements when it comes to putting a living will into effect. As per the Missouri Law, a valid document must:
Technical Requirements
Other Requirements

Be in writing
Contain the effective date
Be signed by the principal—the person to whom the particular health care preferences apply

Be made by a mentally stable and competent person
Be declared void if the principal is expecting a baby
Be witnessed by two persons who mustn't be:

Below 18
Family members
Beneficiaries of your estate
People who finance your medical care

Come into effect only when it's proven that the principal has become incapacitated
What Should a Missouri Living Will Form Include?
The law suggests the following provisions within a Missouri living will:
Declaration—contains the statement about the preferred medical and end-of-life care, personal info and signature of the principal, and the date of signature
Witnesseth—includes legal names, addresses, and signatures of both witnesses
Revocation provision
You can also choose an agent at the same time by adding a health care proxy provision to this document.
How Does DoNotPay Assist You in Drafting a Top-Grade Living Will?
Are you looking for an easy and inexpensive way to get a proper living will or medical power of attorney? If yes, DoNotPay has created a product especially for you! By answering a few easy questions provided by our chatbot, you can get a perfect advance health care directive quickly and with zero complications!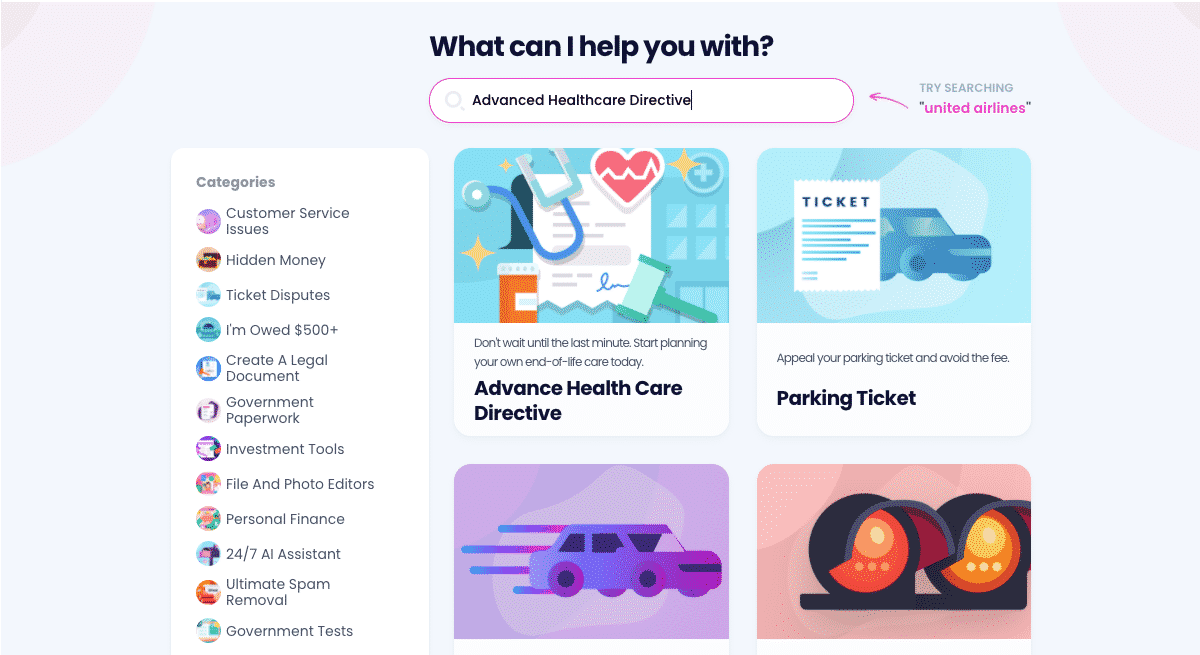 To get your document, follow the instructions below:
Navigate to the Advance Health Care Directive product
Specify who your primary agent is
Give us more details about your preferred health care
After processing the details provided, our app will create a customized living will swiftly. Before you put it into use, you must sign it and have it notarized. DoNotPay can also help you set up an appointment with an online notary and get your signatures verified the easy way!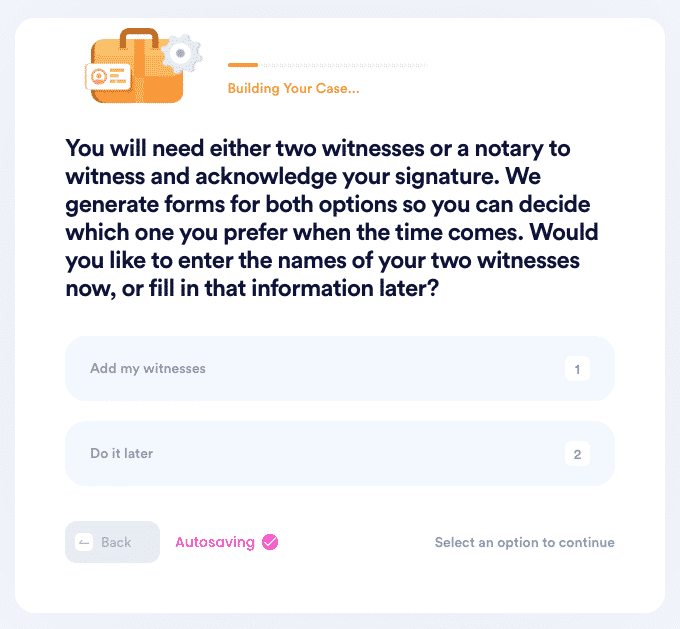 Rely on DoNotPay and Get Rid of Administrative Issues
Are you tired of returning items, canceling subscriptions, fighting parking tickets, and mailing letters? We can help you fast-track all these tasks and more! Do you need help reaching customer service, fighting workplace discrimination, submitting defamation demand letters, or filing HR complaints? Use DoNotPay and solve any issue without a hitch.
Feel free to also use our app to study for government tests, apply for scholarships, appeal low financial aid offers, and request college fee waivers.
Do you need help paying bills? DoNotPay can assist you in lowering your property taxes, getting gift card cash back, entering sweepstakes and giveaways, and getting refunds.
With us, you'll be able to both earn and save money!
Say Goodbye to Spammers With DoNotPay's Assistance
Getting spammed on the daily? Our app can put an end to this annoying issue! Block spam emails, text messages, and robocalls in a few clicks. We can even help you deal with stalking and harassment.
Thanks to our Burner Phone product, you'll get a temporary phone number that you can submit when registering on different platforms and protect your privacy.
Another way to keep your privacy intact is using DoNotPay's virtual credit card. Signing up for free trials without hidden charges and revealing your contact details has never been easier!