A Living Will—Mississippi Requirements Met
No one likes thinking about serious injuries or terminal illnesses, but you should. What happens in case you cannot make health care decisions for yourself?
Creating a living will, advance directive, or medical power of attorney might be the right choice. This article presents different ways you could create a living will in Mississippi.
What Is a Mississippi Living Will?
A Mississippi living will is a legal document that allows you to specify what medical treatments you would want and not want to receive if you:
Are incapacitated or terminally ill
Cannot make your own health care decisions
The decisions you lay down in a living will form could address the following topics:
Surgical interventions
Life-sustaining treatment
Specific medical procedures
Artificial nutrition and hydration
Why Should You Create a Living Will in Mississippi?
You need a living will if you'd like to:
Specify your wishes regarding health care
Make tough decisions easier on your family members
Provide clear instruction to your agent and health care providers
To make a Mississippi living will form valid, you need to choose one of the following:
Get the document notarized—DoNotPay can help you have any document notarized remotely
Have two people witness you signing the document—Keep in mind that you may not choose the following people to serve as a witness:

A minor
Your agent
Your health care provider or their employee
Get Familiar With the Terminology
To understand a living will in Mississippi, you should also know that it can:
Often be accompanied by a Mississippi medical power of attorney—As different states have different laws, you might come across the following names for this document:

Health care proxy—Some U.S. states recognize a difference between a medical POA and a health care proxy
Health care power of attorney

Also be referred to as a Mississippi advance directive—An advance directive is usually a more comprehensive form that includes:

Appointment of a health care agent
List of preferred medical treatments
Instructions on death-prolonging procedures
How To Draw Up an Advance Directive in Mississippi
The following table lists some available choices you could consider when preparing an advance directive, medical power of attorney, or living will in Mississippi:
Create a Mississippi Advance Directive
Details
Hire a lawyer
Lawyers can draft any legal document for you, but you need to be aware that:
Do it on your own
If you decide to prepare a living will by yourself, you could:

Go through Mississippi living will forms—Free templates are available online
Do an in-depth review of templates—As some online forms are too generic, they might not suit your case
Amend the downloaded form—You should change or add any section of the chosen template so that it meets your requirements

You should use our robot lawyer to:

Ensure your preferences for medical care comply with state law
Receive the document in a matter of minutes
Save your time, energy, and money
Draft a Living Will in Mississippi With DoNotPay
Our AI-powered app has all relevant information to generate an advance directive, medical POA, or living will for you automatically and efficiently.
Your single task is to inform us of your decisions, and we'll make sure they fit the necessary legal framework.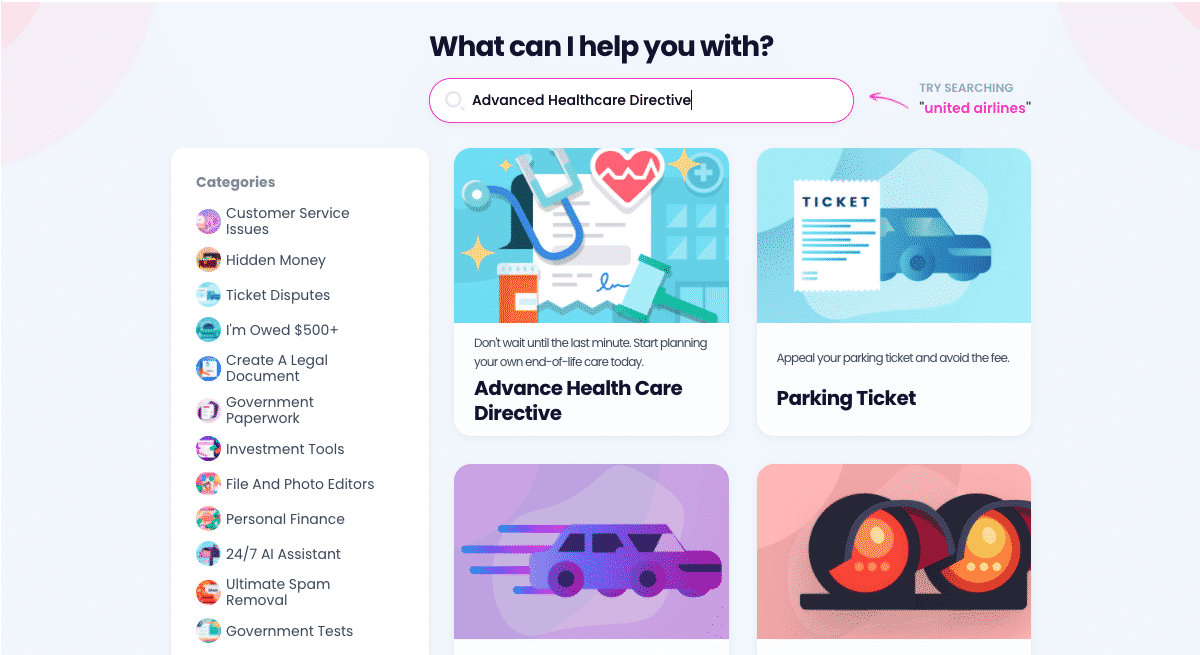 Here's how to initialize the process— and follow these steps:
Access the Advance Health Care Directive feature
Provide the name of your health care agent and your health care wishes
Specify the powers you want to grant your agent
Choose to get the document notarized or enter the names of witnesses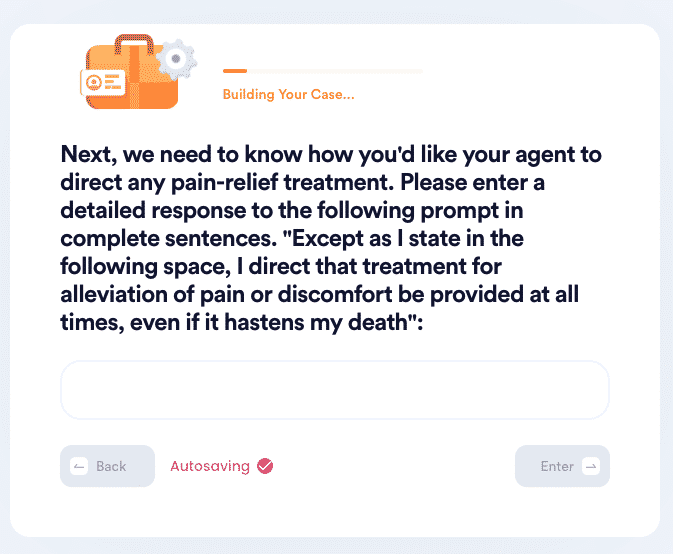 DoNotPay Handles Lengthy and Challenging Tasks on Your Behalf
No time to dedicate yourself to drawn-out procedures or solve administrative issues yourself? Keep calm—that's why DoNotPay is here! By creating an account on our platform, you will be able to:
Convert various files into different formats
Keep the Cash in Your Pockets With Our App
DoNotPay doesn't bring you money-saving hacks—it actually assists you in cutting out expenses and living more economically. The tools we provide are made to help you pay less for utilities, end unwanted paid memberships, have college fees waived, or get lower tax bills. You can also save more on education-related costs by applying for scholarships and other financial aid via our app!
If you have a few forgotten gift cards lying around, don't let them go to waste. DoNotPay can cash them out and send the remaining funds to your home address!