What You Need To Know About Creating a Living Will in Michigan
While no one likes to think about the possibility of becoming incapacitated, it can happen at any age. Luckily, you can plan for your future health care treatments by completing an advance directive form.
This guide will present the essential info about creating a living will in Michigan and show you how to create the document easily using DoNotPay!
What Is a Michigan Living Will?
A living will is a document allowing you to state the type of medical care you wish or don't wish to receive if you become incapacitated. A living will takes effect after a doctor determines that you are:
Terminally ill
Unable to communicate your health care decisions
The most common end-of-life medical interventions included in a living will form are:
Cardiopulmonary resuscitation (CPR)
Blood transfusion
Life supporting machines
Ventilators
Unlike 47 U.S. states that have living will statutes, Michigan living wills are not regulated by the state's advance directive laws. Still, creating a living will is your best chance of ensuring your health-related wishes are honored. If you don't have a living will, the following individuals will be responsible for deciding on your medical care:
Spouse
Adult children
Other family members
Court designated guardian
You can also create the following types of advance health care directives that are recognized in Michigan:
Michigan durable power of attorney for health care (also known as a health care proxy or medical power of attorney)—It is a written statement that allows you to appoint someone who will make medical treatment decisions in your stead if you become incapacitated
Do-not-resuscitate declaration—This document enables you to instruct your health care providers not to perform CPR if your heart stops
Health care directives do not regulate financial affairs. If you need someone to manage your finances and estate when you are incapacitated, you should create a general durable power of attorney.
How To Revoke a Living Will
You can adjust or revoke your living will at any time in case your wishes change, but make sure to inform your agent and health care provider of your plan.
If you want to revoke the living will or make significant changes to it, you can physically destroy the document and create another one (if necessary).
Does a Living Will Have To Be Notarized in Michigan?
Since there is no state law governing the creation of a living will in Michigan, there are no formal requirements for execution. Still, signing the document in the presence of a notary or witnesses can make it valid in other states. Note that the witnesses cannot be your family members or health care providers.
What Is the Cost of Creating a Living Will in Michigan?
The cost of creating a living will varies depending on the method you use, as outlined in the table below:
| Method of Creating a Living Will | Details |
| --- | --- |
| Hiring an attorney | An attorney can draft a legally valid document, but their services will cost you a fortune |
| Downloading an online template | It is the least expensive method, but bear in mind that templates are often generic and may not meet your specific requirements |
Create a Living Will Hassle-Free Using DoNotPay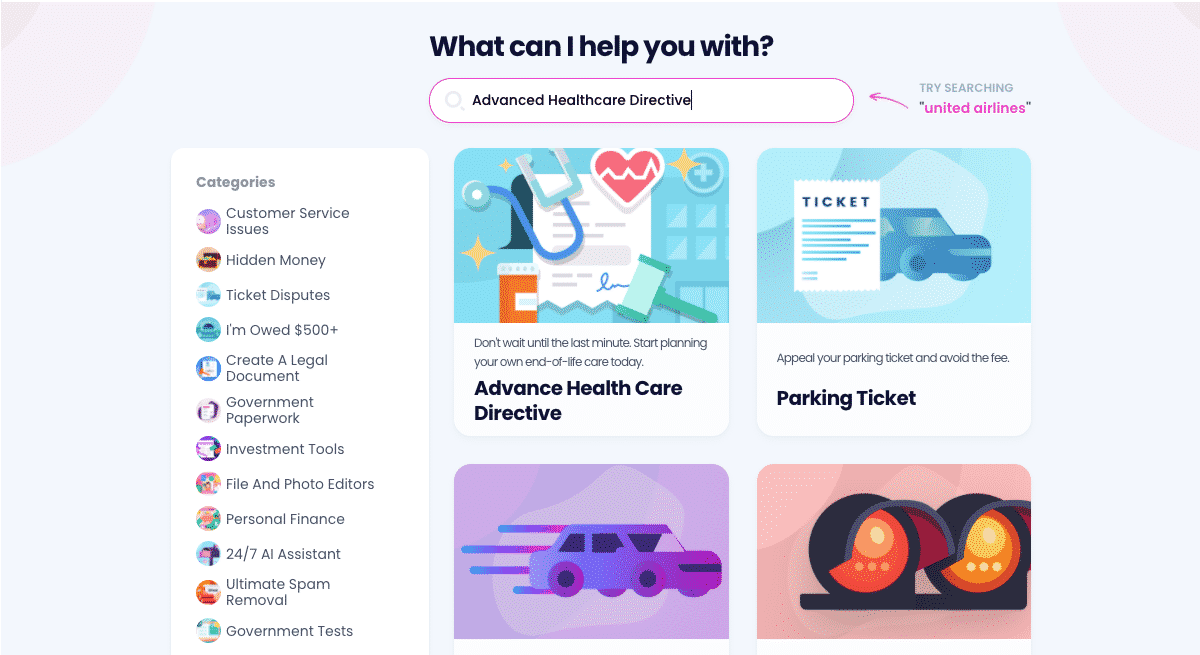 DoNotPay will help you draft a living will or a health care proxy in less than five minutes and at an affordable price!
Our app uses the information you provide to draft a personalized document that complies with the state-specific laws. Follow these simple steps:
Select the Advance Health Care Directive tool
Enter the names of your witnesses, agent, and alternate agents
Complete the brief questionnaire about your treatment preferences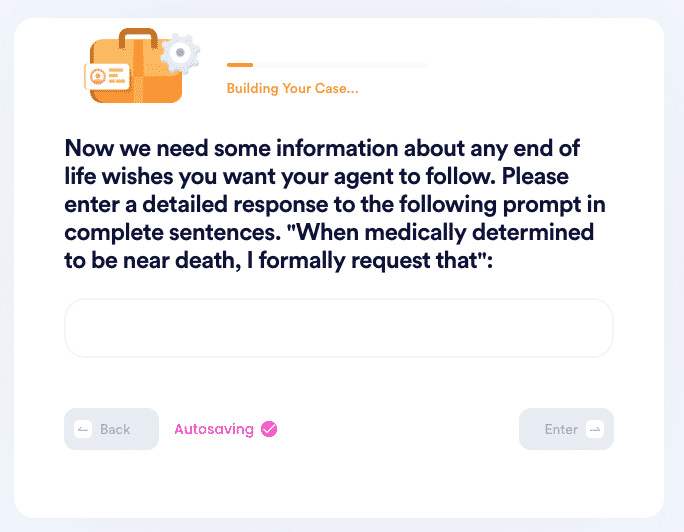 Expect More Help From DoNotPay
Do you want to know what else DoNotPay can do for you? Have a look at the following lists and discover some of our most prominent services:
| Type | Particular Services |
| --- | --- |
| Getting more cash or saving the existing funds | |
| Fighting various issues | |
| Other helpful services | |
Let Our App Fight Grabby Merchants in Your Name
Have you received a damaged item? DoNotPay helps you file a return request and get a replacement for the faulty product. We can reach out to companies and demand refunds or chargebacks in your stead or request late delivery refunds. This way, you avoid paying for the goods that didn't meet your expectations and standards.
Our app can also send refund requests to airlines and help you get compensated for postponed or canceled flights. You won't need to contact the particular company yourself—DoNotPay does the grunt work and lets you enjoy the results!