Get the Best Living Will in Maine Hands Down
Along with a health care proxy (or medical power of attorney), a living will is the most effective way to have your medical care wishes acknowledged by doctors and your family. Maine has a specific statute that enables all adult residents to create such a health care directive, but many residents aren't aware of this opportunity.
Luckily, our article has all the info you need to decode a living will in Maine. Read through it and discover what requirements you should meet to sign it and what it includes. The guide will also show you how you can create a high-level living will or any other advance directive without spending a fortune by relying on DoNotPay!
A Maine Living Will in Brief
Maine law defines a living will as a type of an advance directive. It is a document that lists precise directions about your future treatments and health care preferences.
A living will can help your family and health care providers follow your wishes if something happens to you and leaves you unable to communicate them yourself. The situations that may render you incapacitated include:
Coma
Anesthesia
Terminal illness
Severe injury
Permanent unconsciousness
Mental diseases that may lead to incapacitation
Legal Requirements for Signing a Maine Living Will
According to the state law, you must comply with the following requirements to create a valid living will:
The document can only be in written form—verbal statements won't count
You must be of legal age and sound mind at the moment of signing
The living will must be signed by you or the person you authorize to do it in your stead
Two witnesses above the age of 18 must also sign the document
The document must contain a clause stating that it becomes effective only when your incapacitation is confirmed
What Elements Does a Living Will in Main Contain?
The following table shows the main parts of a Maine living will and some optional sections you can add to your document:
Instructions for Health Care
Donation of Organs (Optional)
Designation of Primary Physician (Optional)

End-of-life decisions
Artificial nutrition and hydration
Relief from pain
Other related wishes
Special instructions and limitations
Signatures of all parties involved, including witnesses

Decisions related to donating your organs or the entire body for the following purposes:

Transplantations
Therapies
Research
Education

Full name, home address, and phone number of your designated medical practitioner
Personal details of the secondary physician if the first one is unable or unwilling to act according to your living will
Effect of copy
Can I Revoke a Maine Living Will?
Yes, you can revoke your living will anytime. All you should do is contact your designated physician or health care provider by letter or in person and inform them about your decision.
Are You in Need of a Solid Living Will? Don't Make It Yourself—Let DoNotPay Do It
Not everyone has time to craft a living will from square one or enough money to pay lawyers to do it for them. If you want to skip the fuss and failed draft attempts, let DoNotPay help you get the desired document in record time!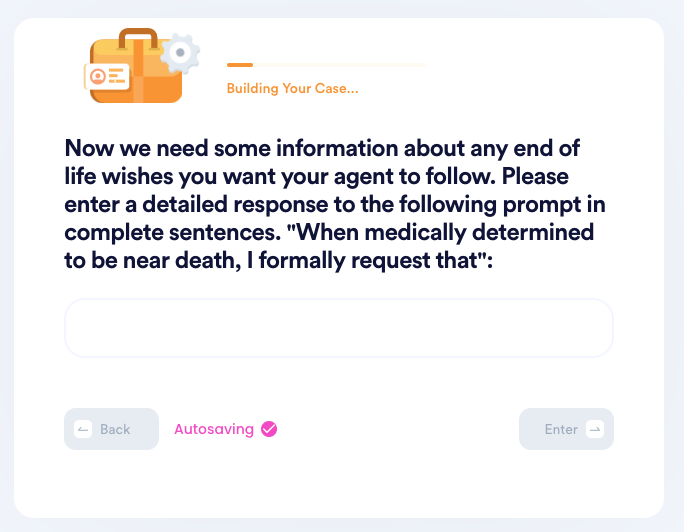 The secret lies in a user-friendly chatbot that processes the info about your health-related wishes and generates an original living will in accordance with them.
All you need to do to get our help is:
Sign in to your DoNotPay account and choose Advance Health Care Directive
Input the names of your health care agent and your witnesses
Provide the health care instructions you want included in the document
If waiting in a notary's office bores you, and you want to get your document notarized the easy way, our app can help with that too! We enable you to schedule a meeting with a remote notary and solve the matter regardless of where you are at the moment. We also teach you about Jehovah's Witness advance directives, compare health care proxies and regular powers of attorney, and much more in other handy guides we have in store!
Rely on DoNotPay and Get Rid of Administrative Issues
Are you tired of returning items, canceling subscriptions, fighting parking tickets, and mailing letters? We can help you fast-track all these tasks and more! Do you need help reaching customer service, fighting workplace discrimination, submitting defamation demand letters, or filing HR complaints? Use DoNotPay and solve any issue without a hitch.
Feel free to also use our app to study for government tests, apply for scholarships, appeal low financial aid offers, and request college fee waivers.
Do you need help paying bills? DoNotPay can assist you in lowering your property taxes, getting gift card cash back, entering sweepstakes and giveaways, and getting refunds.
With us, you'll be able to both earn and save money!
Say Goodbye to Spammers With DoNotPay's Assistance
Getting spammed on the daily? Our app can put an end to this annoying issue! Block spam emails, text messages, and robocalls in a few clicks. We can even help you deal with stalking and harassment.
Thanks to our Burner Phone product, you'll get a temporary phone number that you can submit when registering on different platforms and protect your privacy.
Another way to keep your privacy intact is using DoNotPay's virtual credit card. Signing up for free trials without hidden charges and revealing your contact details has never been easier!