Writing a Living Will in Louisiana Made Simple
Should you find yourself in an unfortunate medical situation where you can't decide about your future treatment, a living will could help your medical care provider understand and act according to your wishes. Not to be confused with a health care proxy or medical power of attorney, a living will is a separate document from the two but a part of the advance health care directive in Louisiana.
If you want to have a backup plan ready for the worst-case scenario, learn what a living will in Louisiana entails and how to create yours in a snap with DoNotPay!
What Is a Louisiana Living Will Form?
A Louisiana living will form is a legal document people can use when they are nearing the end of their life. The document specifies whether the declarant wants to receive treatment that would prolong their life, for example:
Cardiopulmonary resuscitation (CPR)
Dialysis
Mechanical ventilation
Comfort care (palliative care)
Tube feeding
The document is part of the Louisiana advance directive, which also includes a:
Medical Power of Attorney—Allows the declarant to designate a trusted person, called a medical agent, to carry out the declarant's wishes regarding treatment methods and end-of-life health care. The person given medical power of attorney in Louisiana then decides about the declarant's treatment on their behalf
Physician Orders for Scope of Treatment (LaPost)—Is a document the declarant and their health care provider complete to specify the treatment the declarant wants to receive in case of an emergency
Declarants who deny end-of-life health care will receive a do-not-resuscitate bracelet that includes their basic information.
What Do Louisiana Living Will Forms Contain?
A living will form requires less input from the declarant than an advance directive form. The information every Louisiana living will form needs to contain includes the declarant's:
Basic information, such as:

Full name
Address
Social Security number
Date of birth

Decision regarding end-of-life health care
Signature
For a living will to be in effect in Louisiana, it must be signed by two witnesses and notarized by a notary public.
Can You Override a Living Will in Louisiana?
If you change your mind at some point, you cannot override your existing living will, but you can revoke it:
Orally—by talking to your assigned physician about the intent to revoke your existing living will
Verbally—by writing a revocation and giving it to your assigned physician
Once you revoke your living will, you can write and sign a new one.
How To Create a Living Will in Louisiana
There are several ways you can approach creating a living will in Louisiana:
Method
Details
Write the document yourself

Write it from scratch—You must ensure you don't miss any of the mandatory elements, such as:

Your basic information
The date you signed the document
Signatures of the two witnesses

Download an existing living will template and complete it—be careful since these templates are not tailored to your wishes and needs

Hire a lawyer to compose the document for you
Lawyers know best, but their expertise typically comes at an expensive cost. You have much cheaper options at your disposal that require the least amount of effort on your part
Use DoNotPay to create a Louisiana living will
With DoNotPay, you're a couple of minutes apart from your personalized living will. Provide the necessary information, and the app will do the hard work for you

How Can DoNotPay Help You Draft Your Louisiana Living Will?
Are you not confident in your writing skills? Do you want to avoid paying your lawyer too much for a single document? DoNotPay offers a tool that can create a rock-solid living will with the least amount of effort on your part. To start the process of getting a custom living will, follow these steps:
Type Advance Health Care Directive in the search bar
Provide information about your health care agent and decisions regarding treatment
After you complete all steps, our app will create your personalized living will within minutes! All you need to do now is sign the document and get it notarized. Skip tedious waiting times and traveling—let our app connect you with an online notary so you can get your signatures verified the simple way!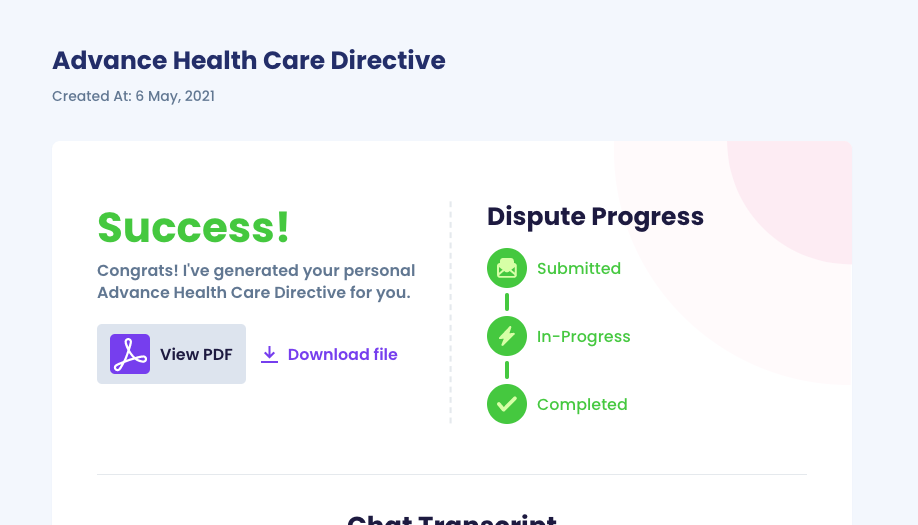 With DoNotPay, There's Always a Way
There's so much more we can do for you! As soon as you sign up for our AI-powered app, you will have a myriad of nifty products at your disposal. We can do any of the following and more:
Tired of Companies Mistreating You?
If you're sick of dealing with greedy companies, subscribe to DoNotPay—we'll assist you with any issue at hand.
If you want to get a refund, send an item return request, file a complaint, claim insurance or warranty, get a free trial without getting charged by using our virtual credit card, or put an end to robocalls, your AI-powered assistant will be there to help.
When you decide to take legal action, our app will support you along the way. Sue any company in small claims court worry-free!