How To Create a Living Will in Kentucky
What type of health care would you like to receive if you were incapacitated? You can express your medical care preferences by completing a living will.
Kentucky law allows you to accept or refuse various types of medical treatment in case of emergencies or end-of-life situations. This guide will explain everything about a KY living will and show you the easiest way to create it—by .
What Is a Kentucky Advance Directive?
An advance health care directive is a document that specifies the kind of medical treatment you would like to receive if you're unable to communicate your wishes. It can also identify the person who will ensure that your wishes are honored by health care providers. Kentucky law recognizes different types of advance directives:
Living will—Lets you list your emergency and end-of-life health care preferences
Health care surrogate designation—Allows you to designate someone who can make health care decisions for you if you become incapacitated. The document is also called a health care proxy or medical power of attorney
You don't have to complete separate forms. The Kentucky living will packet allows you to combine a state-specific power of attorney and living will into a single document.
It's also important to know the difference between a health care proxy and a standard durable power of attorney—you should use the latter if you want someone to handle your financial affairs when you are incapacitated.
Overview of the Kentucky Living Will Form
Kentucky provides a living will form that any adult individual (at least 18 years old) of sound mind can fill out. You can also write a living will that captures your wishes. The Kentucky Living Will Directive Act of 1994 provides the necessary guidelines if you decide to create a living will from scratch.
How To Complete a Kentucky Living Will Form
The table below outlines different sections of the living will form:
Kentucky Living Will Form Section
Details
Personal details
Write your full name and birth date
Designation of a health care surrogate
Fill out this part if you would like to appoint someone to make health care decisions for you when you are unable to do so yourself. There are no restrictions on who you can choose as your health care surrogate
Living will
Complete this section if you want to specify the kinds of life-sustaining treatments you would or wouldn't like to receive if you were permanently unconscious. Those include:

Being on a life support machine
Getting artificial nutrition and hydration

Surrogate determination of best interest
Use this section to state whether you would like your agent's decisions to overrule your written wishes. You can only complete this section if you have already completed the previous two
Organ/tissue donation
State whether you wish to donate all or a part of your body upon death
Sign and date
Sign the form in the presence of a notary public or two witnesses who are not your:

Relatives
Heirs
Health care providers/physicians
Guardians
Drafting a Living Will Is Much Simpler With DoNotPay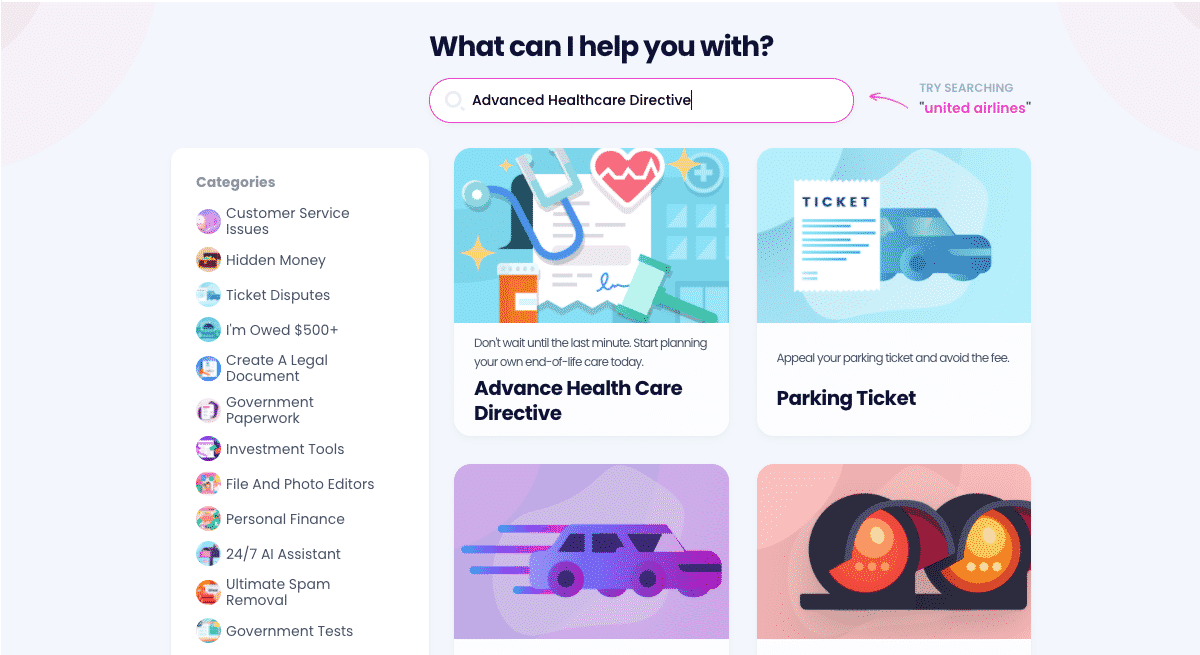 While you may use one of the free online living will forms, they are unreliable and don't accommodate specific requirements. DoNotPay will help you avoid hefty attorney fees and vague forms! You only need to answer a few questions regarding your future health care wishes, and we will draft a personalized living will or any other advance directive in less than five minutes.
All you have to do is:
Select the Advance Health Care Directive tool
Answer our chatbot's questions
We can also set up a meeting with an online notary to help you get the document notarized in no time.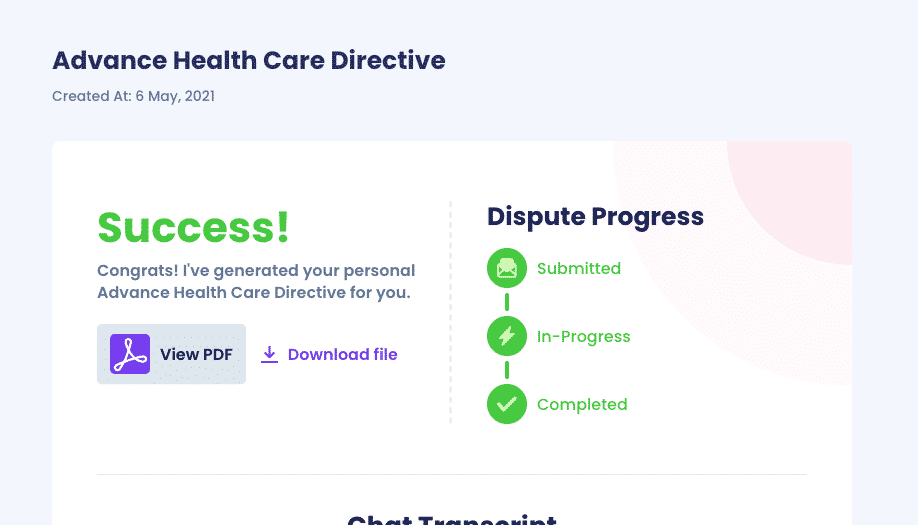 Say Goodbye to Boring Tasks
When a task takes up too much time, you may give up or procrastinate incessantly. We have a solution—use DoNotPay to manage numerous administrative or bureaucratic errands.
No more waiting in neverending DMV lines or staying hours on the phone waiting for a customer service rep to pick up. You can even skip going to the post office. We can help you send letters and even online faxes in a flash. If what you're sending needs to be notarized, use our app to schedule an appointment with an online notary.
Traveling soon? Get your passport photos ready, apply for a tourist visa, contact embassies, and draw up a child travel consent form—all within the same app.
What Else the World's First Robot Lawyer Can Do for You
When you need legal assistance but you can't afford to hire a lawyer, rely on DoNotPay. With our legal expertise, we can help you do the following: