Getting Familiar With a Living Will in Iowa
Medical emergencies and serious illnesses can surprise anyone. If you are too ill or incapacitated, your loved ones may make some decisions in your stead that don't match your health treatment preferences. To prevent such situations, you should create a living will while you are still capable of making your own medical care choices.
The concept of a living will varies from state to state. This article will explain the intricacies of the living will in Iowa and shed some light on its components. You will also get exclusive tips on getting customized health care proxies and other health care directives in minutes by subscribing to DoNotPay!
Iowa Living Wills in a Few Words
A living will in Iowa is a document that directs how the doctors who treat you should act if you get terminally ill or permanently unconscious. It authorizes medical personnel to withhold or withdraw specific treatments and interventions that could prolong your life if something happens to you. While living wills in other states may refer to any form of incapacitation, the ones in Iowa come into effect only if there are no chances of recovery.
The document is also called an advance care directive in Iowa and often goes along with a medical power of attorney. The latter form allows another individual—your attorney-in-fact or health care agent— to decide about your life-sustaining options if you can't do it. It doesn't cover the same matters as a standard/financial power of attorney as it addresses medical care issues only.
What Does It Take To Get a Valid Advance Directive in Iowa?
Section 144A of the Iowa Code states that you must comply with the following requirements to make your living will legally binding:
Your declaration must be written down—oral statements don't count
The document must be signed by:

You or the person you authorized to sign documents on your behalf
Two witnesses not related to you by blood or marriage
Notary public

Your primary physician must have a copy of the declaration, as well as your family doctor—if it's not the same person
If all these criteria are met, your living will also be effective in other states if you move house or end up as a patient somewhere else.
Parts of a Living Will Form in Iowa
Whether you want to create an Iowa living will yourself or by using a template, you must ensure the document contains the components listed below:
Section
Elements
Declaration
The first section of the living will should include:

Declaration stating whether you want to undergo life-sustaining procedures or treatments
Date of signature

Declarant's info
This part should contain your:

Printed name
Mailing address
Date of birth
Signature

Witness/notary public section
The last section must include:

Printed names, signatures, and addresses of both witnesses
Name of the county
Signature and stamp provided by a notary public
How To Revoke an Iowa Advance Directive
You are free to revoke your living will orally or in writing as long as you can communicate, regardless of your physical or mental state. The only way to do it is to inform your designated medical practitioner about your decision.
DoNotPay Is All You Need To Get a Top-Notch Living Will
Hiring a lawyer to create a living will for you is a reliable but high-priced option. Fortunately, DoNotPay offers you an affordable and efficient tool that can create an advance directive based on your needs in a snap! We can also create medical powers of attorney and health care directives for all other U.S. states using the same system.
The procedure is easy—you should:
Go to Advance Health Care Directive
Designate your agent and name your witnesses
Give us more info about the health care instructions you want to add to the document
Do you need to get your document notarized? Do it with our app! Schedule a video appointment with a notary in a few clicks and skip drawn-out procedures in notary's offices.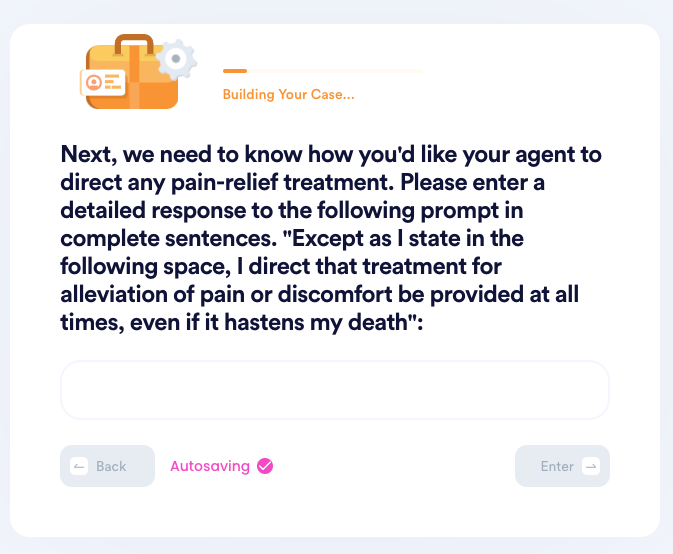 DoNotPay Offers More Assistance!
Our app boasts many features that can make your life easier.
Do you need help searching for unclaimed money or covering bills? Are you looking for clinical trials you can sign up for to earn some extra money? We can help you out in a flash!
Other tasks we can streamline for you are the following:
Forget Hiring a Lawyer—Use DoNotPay Instead
You don't want to spend a fortune on lawyer fees? No problem! DoNotPay—the world's first robot lawyer—is here to assist you! With our help, you'll be able to file complaints, sue anyone in small claims court, handle stalking and harassment, get crime victims' compensation, and draft numerous documents, including:
If you need to get a document notarized, you can also count on our help. We'll connect you with an online notary who will notarize your document in a flash.