Draw Up a Reliable Living Will in Indiana
Thinking and talking about death-related matters is never pleasant, but you might want to plan ahead. Why would you leave your life in the hands of people whose decisions you might not agree with?
Instead, you should prepare an advance health care directive—that, in Indiana, consists of a medical power of attorney and a living will—to specify your wishes about health care and death-prolonging procedures.
The following article sheds light on a living will in Indiana. DoNotPay also explains the difference between the power of attorney and living will form in the Hoosier State.
What Is an Indiana Living Will?
A living will in Indiana—also called an Indiana living will declaration—is a legal document that specifies your wishes regarding life support in case you:
Are in an irreversible coma
Are in a persistent vegetative state
Cannot communicate your decisions and wishes
You should prepare a living will to relieve your family members of the burden of deciding whether or not to keep you on life support.
What To Pay Attention to When Creating an Indiana Living Will Declaration
The following table breaks down what to focus on when filling out or drafting an Indiana living will form:
Address the Following Health Care Issues
Make Sure To
Indiana living will declaration lets you express your wishes regarding:

Withdrawal or withholding of life-prolonging procedures
Use of intravenous food and water
Additional instructions (e.g., burial wishes)

Indiana life-prolonging procedures declaration addresses:

Life-prolonging medical care, such as:

CPR
Dialysis
Surgery
Diagnostic tests
Blood transfusion
Use of a respirator
Administration of drugs

Palliative care, e.g., treatments to reduce pain

Have two witnesses sign the form. The witnesses:

Need to be 18 years of age or older
Cannot be:

Your child, spouse, or parent
Persons legally entitled to (part of) your estate or financially liable for your health care
People you appoint to sign the declaration instead of you when you cannot do it by yourself
What Is the Difference Between a Health Care Power of Attorney and Living Will in Indiana?
Some U.S. states use different terms for the same document, including:
Keep in mind that there:
Might be a difference between medical POA and proxy according to some state laws
Are different forms for living will and health care power of attorney in Indiana
A power of attorney allows you to appoint your health care representative—also called an agent or health care proxy in some states—to make decisions about your medical care if you cannot speak for yourself.
to create an airtight living will, medical power of attorney, or advance directive in a matter of minutes!
Specify Your Medical Wishes With DoNotPay
Our AI-powered app can help you save:
Since we know what needs to be included in your POA and living will, we will make sure your document addresses all necessary elements.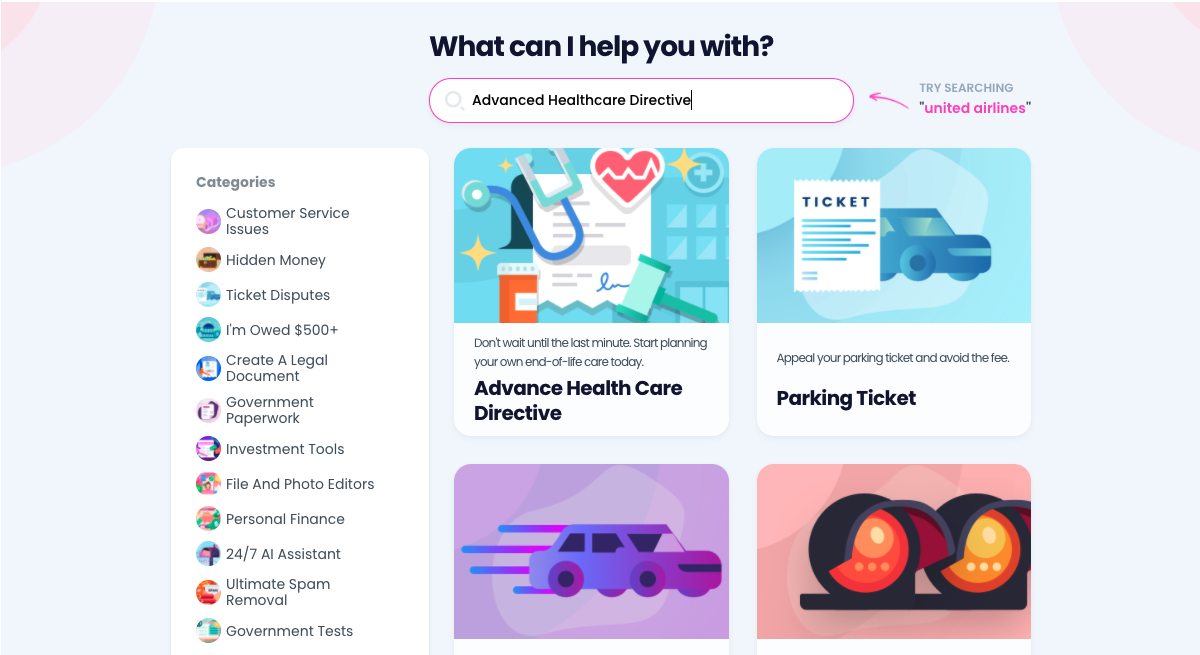 Not only is our product reliable and affordable, but it is also easy to use. and take these steps:
Search for Advance Health Care Directive
Enter the name of your agent and your medical preferences
State the powers you grant to your agent and the treatments you do or don't allow
Provide the names of the witnesses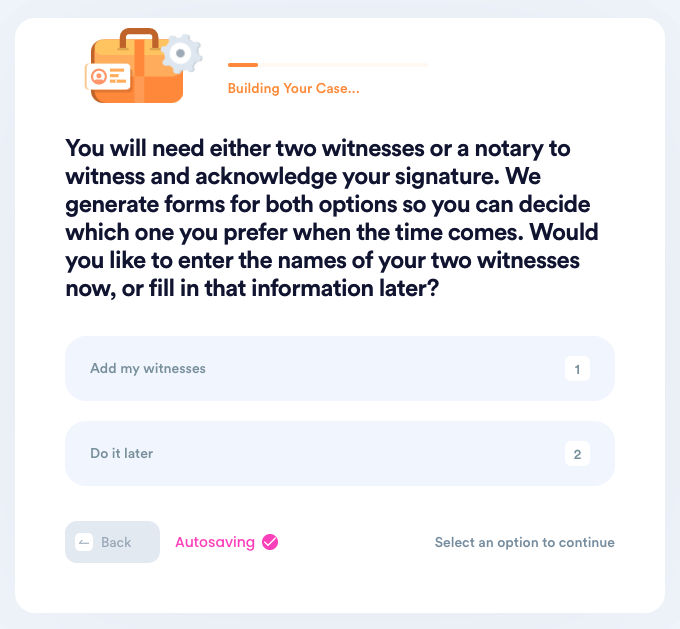 Aside from creating an advance health care directive for you, we can also help you get the document notarized online.
Solve Any Problem Within a Few Clicks
DoNotPay keeps adding new features that are designed to help you navigate your tasks and resolve issues. You can rely on your AI-powered app whenever you need to:
Earn and Save Money Using DoNotPay
When money is tight, every penny counts. DoNotPay can help you get what you're owed and also some extra cash.
Here are some of the ways our app can help you get paid:
We can also assist you in searching for your unclaimed funds, demanding a college fee waiver, and joining clinical trials.
If a company refuses to give you what you're owed, don't hesitate to file a complaint and take it to small claims court.