The Fastest Way to a Living Will in Illinois
Whether you want to receive life-prolonging treatment or reject it, a living will can help you declare your wishes to your health care provider and loved ones. Creating a living will can be challenging when you're not familiar with the specifics of the document.
This guide will help you get familiar with the form and show you the easiest and quickest way to create a living will in Illinois!
What Is an Illinois Living Will?
A living will is an advance health care directive you can create once you decide what you want your end-of-life medical treatment to look like. In particular, the document refers to the treatments for terminal illnesses that might help you recover, such as:
Chemotherapy
Radiation
Cardiopulmonary resuscitation (CPR)
Surgery
Amputation
Blood transfusions
Electroconvulsive therapy
Artificial maintenance of blood pressure
Contrary to an Illinois medical power of attorney, which allows a health care agent to decide on your behalf about your future treatment, a living will is a written statement reflecting your wishes.
Answers to Common Questions About the IL Living Will
The table below contains some of the most frequently asked questions about the Illinois living will form and corresponding answers:
Question
Answer
Who can create a living will in Illinois?
Any person who is:

An Illinois resident
18 years of age (or an emancipated minor)
Of sound mind

When does your living will come into effect?
Your living will comes into effect when your doctor:

Diagnoses you with a terminal illness
Confirms that you have a terminal condition in writing
Determines that you cannot speak for yourself

How is a living will different from a medical power of attorney or health care proxy?
A medical power of attorney (known as a health care proxy in some states) allows you to choose a medical representative to decide what's best for you when you're unable to talk due to:

Loss of consciousness
Impaired brain function
Any other reason that would prevent you from talking or writing

A living will helps you determine the specifics of your medical treatment before any of the circumstances mentioned above occur
What Do You Need To Create a Living Will in Illinois?
To create a living will in Illinois, you need:
There are several ways you can approach drafting a living will form:
Write one from scratch
Download an online template and complete it
Hire a lawyer
The methods mentioned above are inconvenient because they cost you valuable:
Money—Hiring a lawyer can be pricey
Time—To write the document from scratch, you have to do a lot of research on laws in your state
If you're looking for the quickest and most efficient way to prepare yourself for end-of-life healthcare, try DoNotPay!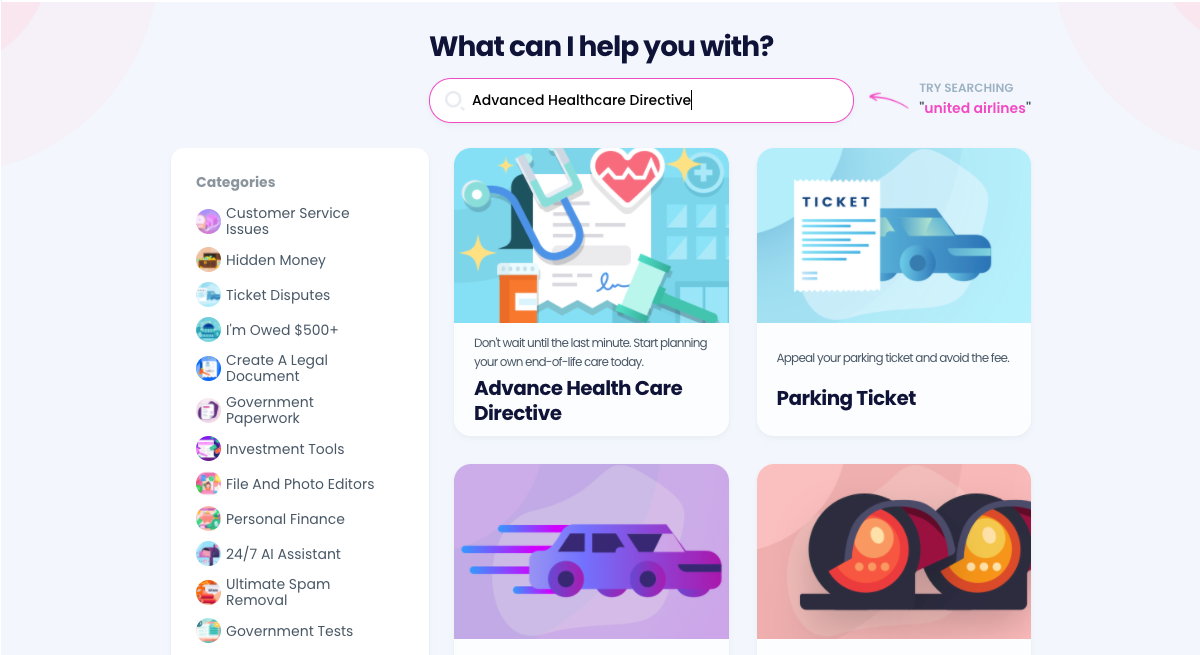 DoNotPay Drafts Your Illinois Living Will in Minutes
Our app handles all the hard work for you—all you need to do is provide the essential information when prompted. Your Illinois advance health care directive will be ready in a matter of moments if you follow these steps:
Enter Advance Health Care Directive into the search bar
Answer some questions about your health care agent and medical treatments you approve of
Our app will generate a completed advance health care directive for you in a flash!
If your search for a notary public in Illinois is unsuccessful, don't fret! Our app can schedule an appointment with an online notary on your behalf. That way, you can forget about traveling to the notary's office and get your living will notarized from the comfort of your home.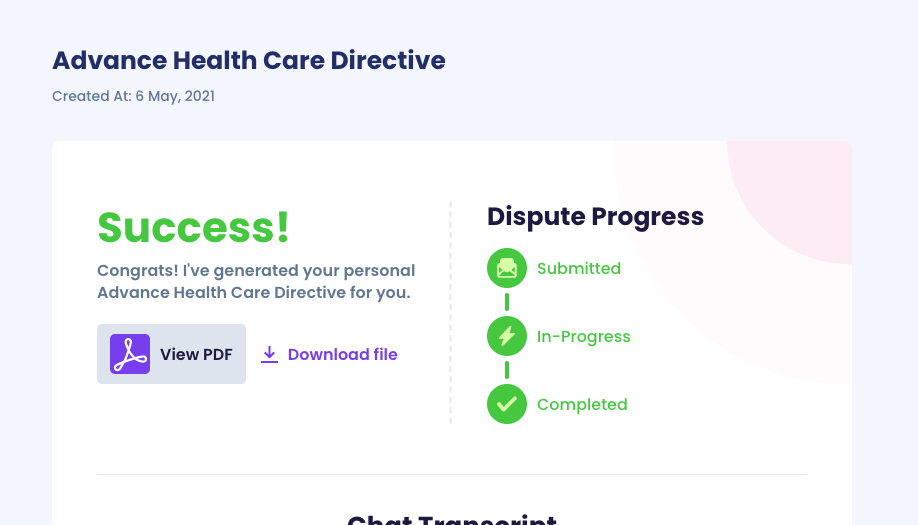 With DoNotPay, There's Always a Way
There's so much more we can do for you! As soon as you sign up for our AI-powered app, you will have a myriad of nifty products at your disposal. We can do any of the following and more:
Tired of Companies Mistreating You?
If you're sick of dealing with greedy companies, subscribe to DoNotPay—we'll assist you with any issue at hand.
If you want to get a refund, send an item return request, file a complaint, claim insurance or warranty, get a free trial without getting charged by using our virtual credit card, or put an end to robocalls, your AI-powered assistant will be there to help.
When you decide to take legal action, our app will support you along the way. Sue any company in small claims court worry-free!