All You Wanted To Ask About a Living Will in Hawaii
Are you thinking about jotting down all your health-associated wishes and preferences in a living will? To create such a document in Hawaii, you need to be acquainted with its essentials and know what the preparation procedure looks like. For this reason, we offer you a comprehensive guide to getting a living will in Hawaii with no complications or writing skills!
The Living Will in Hawaii Broken Down
In Hawaii, a living will is a part of a state-specific advance directive form. It contains specific health-related guidelines for your family and medical staff that should be referred to if you become incapable of communicating your wishes. This document is usually combined with the state's health care proxy or medical power of attorney, which differs from the financial power of attorney.
Most Common Questions About a Living Will in Hawaii
The table below solves some of the most common dilemmas concerning a Hawaii living will:
Question
Answer
What law regulates the Hawaii living will?
What are the requirements for preparing a valid living will?

You must be mentally competent and above the age of 18
The document must be:

In written form
Dated
Signed and witnessed by two adult individuals

The signatures must be notarized

Is a Hawaii living will valid in other states?
What wishes can you address in your living will?
Any wishes and preferences related to:

Medical personnel that treats you
Medical treatments and medications you want or don't want to receive
CPR and other resuscitation methods
Receiving foods and fluids via a tube
Mechanical respiration
Pain relief
Hospice/palliative care
Anatomical gifts and organ donation
Funeral plans and the disposal of your remains

Who can't witness the signing of your living will?

Your health care provider or their employees
Owners of the hospice care facility or nursing home you are attending
Your health care surrogate
Spouse, relatives, or adopted children
Persons who are entitled to receive a portion of your estate after your death

Who should get a copy of the document?

Family
Close friends
Health care agent
Health care provider
Designated physician
Spiritual advisor
Anyone involved in your medical treatment
What Elements Does a Hawaii Living Will Consist Of?
The state of Hawaii doesn't propose an official living will form, but you can:
If you decide to find an appropriate form or compose the document yourself, you should be aware of the basic parts of any solid living will. The document should include:
Date of signing
Your legal name and address
List of situations in which your living will becomes effective
Precise health care and treatment instructions
Ethical, religious, or spiritual instructions
Designation of your primary physician
Additional wishes
Signatures of all participating parties
Can You Revoke a Living Will in Hawaii?
Yes—a Hawaii living will can be revoked easily by:
Providing a signed statement that confirms the revocation witnessed by two adults
Making an oral revocation statement in front of two witnesses
Making an oral revocation statement in front of your primary medical practitioner
Destroying a physical copy of the document
How Can DoNotPay Help You Get a Living Will With Minimal Effort?
Online samples and templates aren't the best option for creating a living will or any other advance directive, usually because they are outdated and too generic. Instead of using them or seeking high-priced legal assistance, rely on DoNotPay and have a perfect draft created in minutes!
Our app can help you prepare a top-level living will or any other health care directive based on your medical preferences. All we need from you is to:
Visit DoNotPay and select Advance Health Care Directive
Enter the info related to your agent and witnesses
Provide a thorough description of your health care wishes
Use our app to have your document notarized once it's ready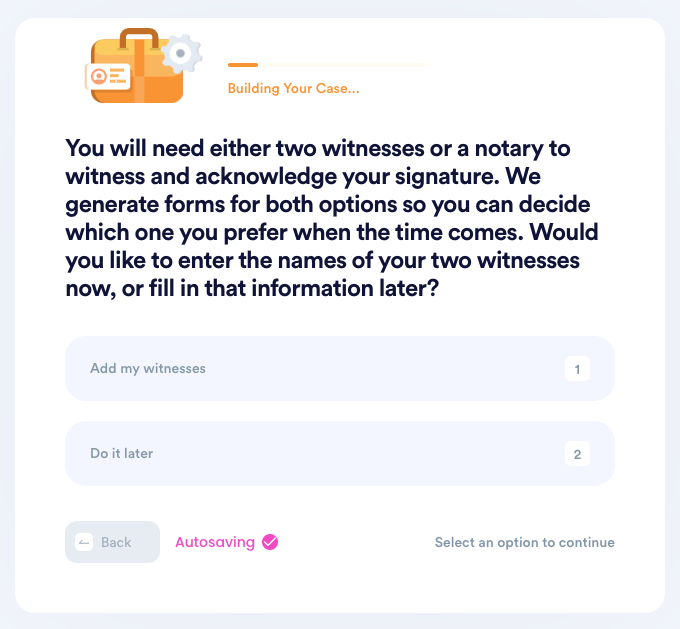 Save Time and Money Using DoNotPay
Being on hold while trying to reach customer service is no picnic. With DoNotPay, you can jump the phone queue and reach a rep with ease. Are you contacting a company to request a refund or cancellation? No need for that! Our app can get it done in a few clicks. We can also help you return an item or handle a late delivery.
Dispute parking tickets, claim your warranty or insurance, set up a DMV appointment, contact an embassy, and deal with any other task with our assistance.
You can also request access to public records, apply for tourist visas, or file complaints with the help of our AI-powered app.
We're Not Done Helping You!
Our multifaceted app keeps getting new features that can streamline numerous tasks and solve all kinds of problems.
Would you like to join sweepstakes or giveaways? Are you up for participating in clinical trials and earning some money? Are you interested in sending mail without visiting the post office? We've got it covered!
We will help you protect your privacy by putting an end to spam emails, incessant text messages, and robocalls. If you think you're being stalked, you can count on our assistance. You can also use our app to perform a sex offender search, fight workplace discrimination, and handle annoying neighbors.