The Ins and Outs of a Living Will in Georgia
Are you mulling over possible health issues you could face in the future? If you'd like to make sure your family members don't make wrong decisions about your medical treatment—when you are unable to express your own wishes—you should get familiar with a:
The above-listed documents could help pave your way to a more secure health care future.
As states use different laws that you need to obey when drafting these documents, this article provides information about a living will in Georgia.
What Is a Living Will Form in Georgia?
A Georgia living will is a form that is part of a Georgia advance directive, i.e., a more comprehensive legal document that can also include a Georgia medical power of attorney.
You should create a living will if you'd like to express your wishes regarding:
End-of-life care
Death-delaying procedures
Artificial administration of food and water
Keep in mind that a living will in GA becomes effective if two doctors certify that you are:
In a coma without the credible prospect of recovery
Terminally ill
In a persistent vegetative condition
A Health Care Power of Attorney and Living Will Form in GA
You can create both a medical power of attorney—sometimes also called a health care proxy—and living will as part of an advance health directive in Georgia.
A health care power of attorney lets you:
Name an agent to decide about your health care in case you cannot do so for yourself
Indicate what powers you are granting your agent
You don't have to draft a Georgia living will form if you have authorized your health care agent to make decisions about life-sustaining procedures on your behalf. It might be a good idea to make a living will if:
You cannot communicate your preferences for health care
The agent is not available or willing to deal with certain death-delaying procedures
Your family members disagree with your agent's decisions
Keep in mind that a power of attorney shouldn't be confused with a health care proxy document.
How To Write a Living Will in Georgia
If you're wondering how you could prepare a GA living will form, check out the following table outlining available options:
Draw Up a Living Will in Georgia
Specifics
Get a lawyer to do it
Keep in mind that you:
Find a Georgia living will template
If you'd like to create a living will yourself, you should:

Search for a free Georgia living will form
Inspect it thoroughly to ensure it fulfills legal requirements and your needs

Use DoNotPay
Our AI-powered app:

Knows what state laws your living will must comply with
Ensures your health care preferences fit the legal framework
DoNotPay Is the Right Way to a Top-Notch Living Will
Our robot lawyer can generate a watertight living will, advance directive, or medical power of attorney for you in minutes!
To get your health care document, sign up for DoNotPay and take these steps:
Type in Advance Health Care Directive in the search box
Enter the names of your health care agent and witnesses
Specify the powers you are granting your agent
List your preferences for health care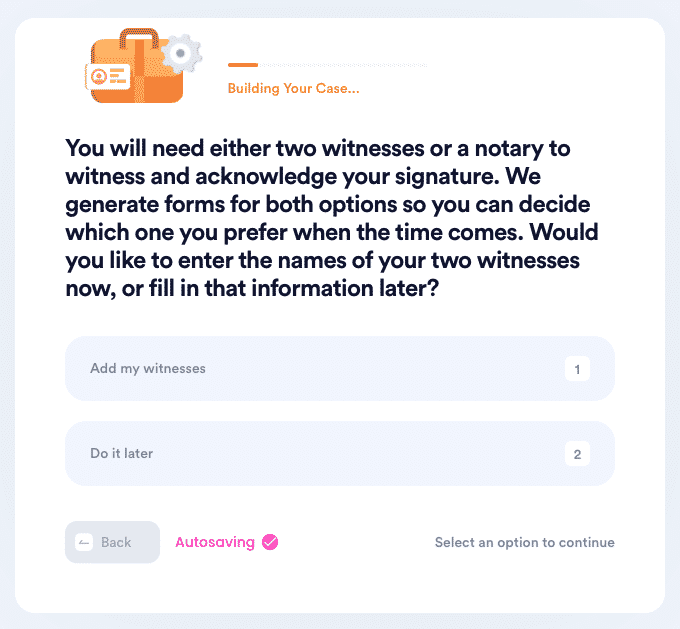 If you'd like to get the document notarized, DoNotPay will help with this matter, too. We can connect you with an online notary public 24/7!
What Makes a GA Living Will Valid
To make a GA living will, medical power of attorney, and advance directive valid, you need to sign the document in front of two witnesses. Keep in mind that your witnesses:
Must be:

Over 18 years of age
Of sound mind

Cannot be:

Your health care agent
People who will gain a financial benefit from your death
Someone who is connected with your medical care
What Else Can DoNotPay Do for You?
Our vast collection of products simplifies various everyday tasks, including:
Various mailing issues by:
Applications for:
Traveling tasks, such as:
Appeals of:
Other tasks, such as:
Get More Money the Easy Way With DoNotPay
Is a tight budget a constant problem in your household? DoNotPay is here to reduce your expenses and help you get the money others owe you. Our app helps you get refunds from companies, find unclaimed money, cash out old gift cards, and terminate unused subscriptions in a jiffy!
You can also request violent crime compensation, demand chargebacks from airline companies, or claim your warranty or insurance without paperwork.