What You Need To Know About a Living Will Form
The best way to plan your future health or end-of-life care is to create a living will containing all your preferences in one place.
Are you wondering what a living will is, who can use it, and how it can help you? The solutions to these dilemmas are in this article! Our guide will also show you that you don't need an online living will form to create a solid and helpful document. An impeccable living will is only a few taps away if you sign up for DoNotPay!
What Is a Living Will?
A living will (in some states known as a health care directive) is a document containing instructions about your future health care if you can't communicate them to doctors.
This document is often combined with a medical power of attorney. By signing a medical power of attorney, you name a specific person to inform the medical staff about your health care preferences if you get incapacitated.
The person you name as your agent can decide about various health-related issues if you are:
Seriously injured or in a coma
Mentally ill and can't think clearly
Terminally ill or near the end of your life
Who Can Write a Living Will?
It's a common misconception that writing a living will is recommendable only for older people. Life-threatening and end-of-life situations can happen to young people as well. For this reason, you should start thinking about composing a detailed health care guide on time. This document is usually the best option for people who already have a clear image of how they want to be treated in case of a serious health issue.
What Health-Related Decisions Can You Make in a Living Will?
A living will allows you to define wishes about your medical treatment, including the ones listed in the table below:
Wish Related To
It States Whether
Cardiopulmonary resuscitation
You want a doctor to stimulate your heart with an electric shock if it stops beating
Treatment preferences
You wish to undergo specific types of therapies in case of a health issue, such as:

Kidney disease (dialysis)
Infection (antibiotics)

Eating and drinking through a tube
The doctors should feed you via a tube connected with your stomach if there are no other ways to do it. It's your choice whether you want to receive nutrients and fluids this way
Hospice care
You want to be in a specialized institution while being terminally ill or be sent home to die there
Organ donations
The medical staff should save your organs for transplantations and keep you on life-sustaining treatment while they remove them
Comfort care
You allow doctors to use specific interventions to ease your pain and keep you comfortable
You Don't Need To Write a Living Will Yourself—Create Your Document in a Breeze With DoNotPay
Most people find writing a living will from scratch tiresome, so they look for more straightforward solutions, such as:
Relying on online templates
Hiring a lawyer
Finding a reliable living will template (or advance directive form) is hard due to their generic nature and poor quality. Lawyers can compose the document in your stead, but that usually costs more than most people can afford.
If none of the available options are appealing, don't give up—rely on DoNotPay and have your document created in record time!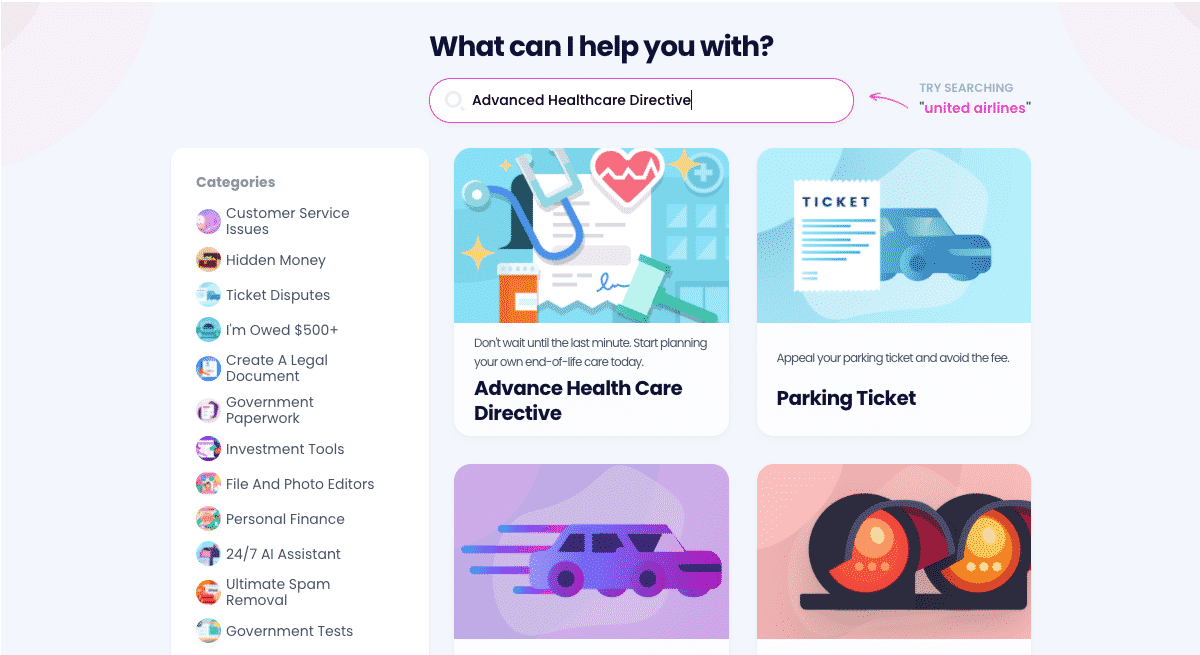 Here's what you should do to get our help:
Choose Advance Health Care Directive
Specify:

The person you name as your primary agent
Particular powers you assign to the agent
Names of the witnesses
Once you are done, our app will create a personalized legal document for you based on the information you provided. This way, you will avoid potential mistakes and gather all the important details without a hitch!
Do you want to know what a health care proxy is and how to differentiate this document and a power of attorney? Discover answers to these and more questions in our knowledge base!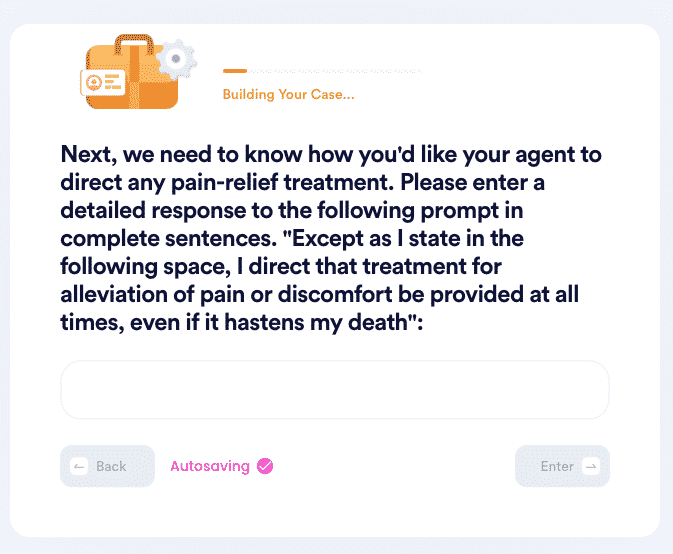 Rely on DoNotPay and Get Rid of Administrative Issues
Are you tired of returning items, canceling subscriptions, fighting parking tickets, and mailing letters? We can help you fast-track all these tasks and more! Do you need help reaching customer service, fighting workplace discrimination, submitting defamation demand letters, or filing HR complaints? Use DoNotPay and solve any issue without a hitch.
Feel free to also use our app to study for government tests, apply for scholarships, appeal low financial aid offers, and request college fee waivers.
Do you need help paying bills? DoNotPay can assist you in lowering your property taxes, getting gift card cash back, entering sweepstakes and giveaways, and getting refunds.
With us, you'll be able to both earn and save money!
Say Goodbye to Spammers With DoNotPay's Assistance
Getting spammed on the daily? Our app can put an end to this annoying issue! Block spam emails, text messages, and robocalls in a few clicks. We can even help you deal with stalking and harassment.
Thanks to our Burner Phone product, you'll get a temporary phone number that you can submit when registering on different platforms and protect your privacy.
Another way to keep your privacy intact is using DoNotPay's virtual credit card. Signing up for free trials without hidden charges and revealing your contact details has never been easier!