Living Will Form in Utah—The Essential Details
Making difficult and uncomfortable decisions about future medical treatments is challenging but immensely helpful. If you create a document that clearly states your wishes in case you are incapacitated, you will have peace of mind knowing your loved ones will act accordingly.
DoNotPay has all the information about a living will form in Utah. We can help you guaranteeing you will be treated according to your preferences if you become unable to decide for yourself.
What Is a Living Will in Utah?
A living will is a part of a document called advance health care directive in Utah. You create it to describe your wishes if you are incapacitated and unable to speak or take care of yourself. It informs the doctors what treatments you would like to receive or refuse.
Another document called a medical power of attorney (medical POA) appoints a person to be in charge of making medical decisions regarding your treatment. They should respect your wishes and decide for you in unexpected situations not discussed in your living will. This person is called an agent or proxy.
You might come across different names for an advance health care directive, including:
Medical directive
Medical power of attorney (there is a special one for children)
Personal directive
Health care power of attorney
Advance decision
Durable power of attorney for health care
Advance directive
Some states recognize slight differences between the documents, so health care proxy and power of attorney don't necessarily refer to the same agreement in all jurisdictions.
How To Write a Living Will in Utah
It is important to know how to create a living will in Utah for the document to be valid. You can make a living will in several ways, but the costs and results will differ. The following table offers further details:
| How To Make a Living Will | Explanation |
| --- | --- |
| Hire a lawyer | You can hire a lawyer to create a health care directive containing a living will. It's a reliable yet super expensive solution |
| Create the document yourself | Making a health care directive using online forms is not advisable if you lack legal knowledge |
| Use DoNotPay | If you want to get a rock-solid legal document at a reasonable price, you should turn to DoNotPay |
How To Make Your Living Will Enforceable in Utah
Utah recognizes both written and oral advance directives. It is best to stick to written documents for safety reasons. To make a living will enforceable in the Beehive State, you must get a disinterested adult to witness the signing.
This person should be someone who cannot benefit from your death in any way, so you won't be able to choose a person who:
Is related to you by blood or marriage
Is your appointed agent
May benefit from your:

Life insurance policy
Trust
Qualified plan

Is entitled to any portion of your estate
Signed the directive on your behalf
Is directly financially responsible for your medical care
Is providing care to you or acts as an administrator at a health care facility where you are receiving care
Use DoNotPay To Create a Living Will in Utah Fast
If you are looking for the fastest and safest way to create a living will, ask DoNotPay for help. We will create an airtight legal document with all the relevant information according to your wishes. Here are the only steps to take:
Type in Advance Health Care Directive in the search box
Appoint your agent and enter other relevant medical information (doctor, hospital, etc.)
Explain which powers you want to transfer to your agent
Enter the name of the witness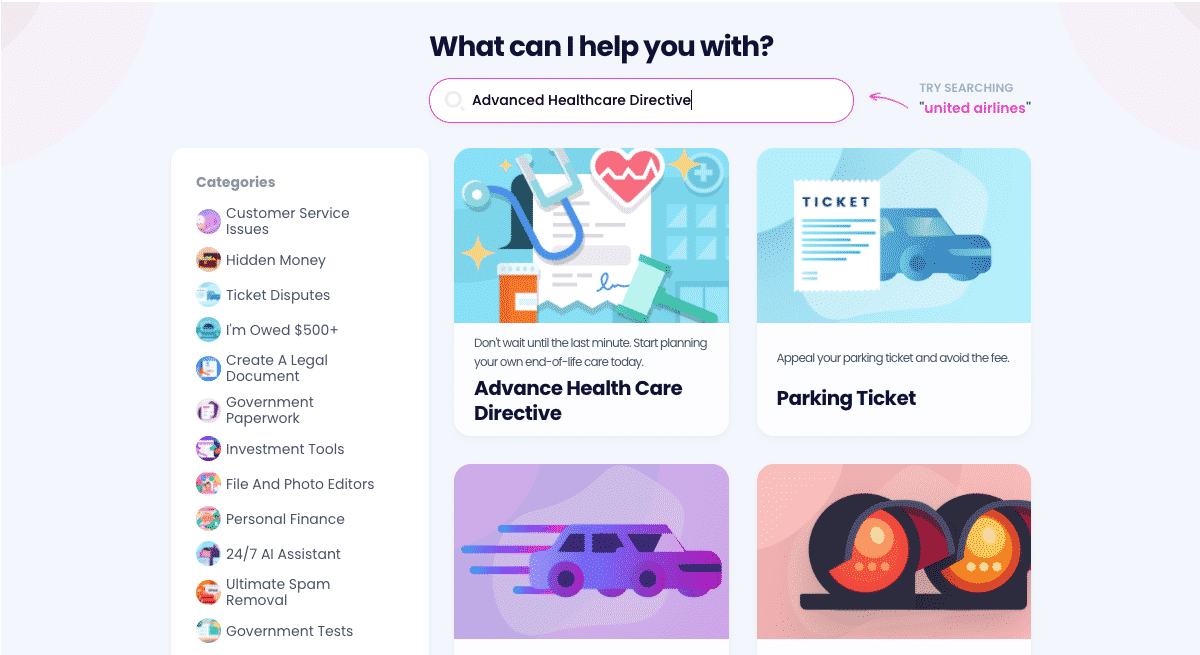 Let Our App Assist You With Paperwork
You don't have to deal with bureaucratic tasks on your own! DoNotPay is here to help you cancel your memberships, appeal parking tickets, discover unclaimed funds, and get any document notarized online.
If you need help covering your bills or you'd like to get extra cash by signing up for clinical trials, we are your go-to!
We can also assist you in drawing up and sending out the following documents:
Keep Your Online Safety Intact
Staying anonymous is almost impossible these days, but with DoNotPay's help, your contact and payment details will remain private.
Thanks to our Burner Phone product, you'll be able to keep your phone number to yourself and get a temporary one you can use when you register on various platforms.
If you want to avoid getting charged and revealing your personal info when signing up for free trials, we can help you kill two birds with one stone. Get our multifunctional virtual credit card and skip submitting your name, email address, and payment details.
With our app, you can also handle stalkers and harassers, fight workplace discrimination, and block spam.