Living Will Form in TN Explained in Detail
If you don't want to worry about how you will be treated in situations when you are unable to make medical decisions, you should outline them in a legal document. The simplest way to leave instructions for health care providers is to create a living will.
These advance directives are state-specific, so you must address your local laws when creating them. DoNotPay provides all the relevant information about a living will form in TN.
What Does a Tennessee Living Will Entail?
A living will enables you to disclose your wishes and provide instructions regarding medical treatments when you no longer have the ability to speak for yourself. Doctors are to respect your wishes in near-death situations. You can express whether you want to be kept on a life support machine and for how long.
In 2004, a living will was changed to an advance care plan, but either can be used.
You should create a living will or advance care plan while you are still able to do so. Before making the document, you should get familiar with available forms and the cost of the procedure.
How To Make a Tennessee Living Will Form Legally Binding
Under Tennessee laws, you need to either sign your living will before two witnesses or have it notarized. If you opt for the former, you must ensure both witnesses are 18 or older. These individuals cannot:
Be your doctor or any employee in the hospital you are being treated at
Have a claim to any part of your estate
Be related to you by blood or marriage
How To Write a Living Will in Tennessee
You can choose from a few options when it comes to creating a living will in Tennessee. Consult the following table for more details:
Option
Brief Explanation
Hiring a lawyer

This option will provide you with a well-written document
You will have to set aside a considerable amount of money

Using free online forms

It will save you some money compared to having legal assistance
You won't be able to make a valid document without sufficient legal knowledge

Using DoNotPay

Our app will ensure you save time and money
You will get a rock-solid document
Create a Living Will in Tennessee With DoNotPay's Help
DoNotPay is at your service for creating health care directives in any state. We will make sure that you have the right document that protects your wishes and interests, unlike generic online forms. All you need to do is follow these prompts:
Find the Advance Health Care Directive product
Appoint your agent
Enter the powers you want to transfer to them
Type in the witnesses' names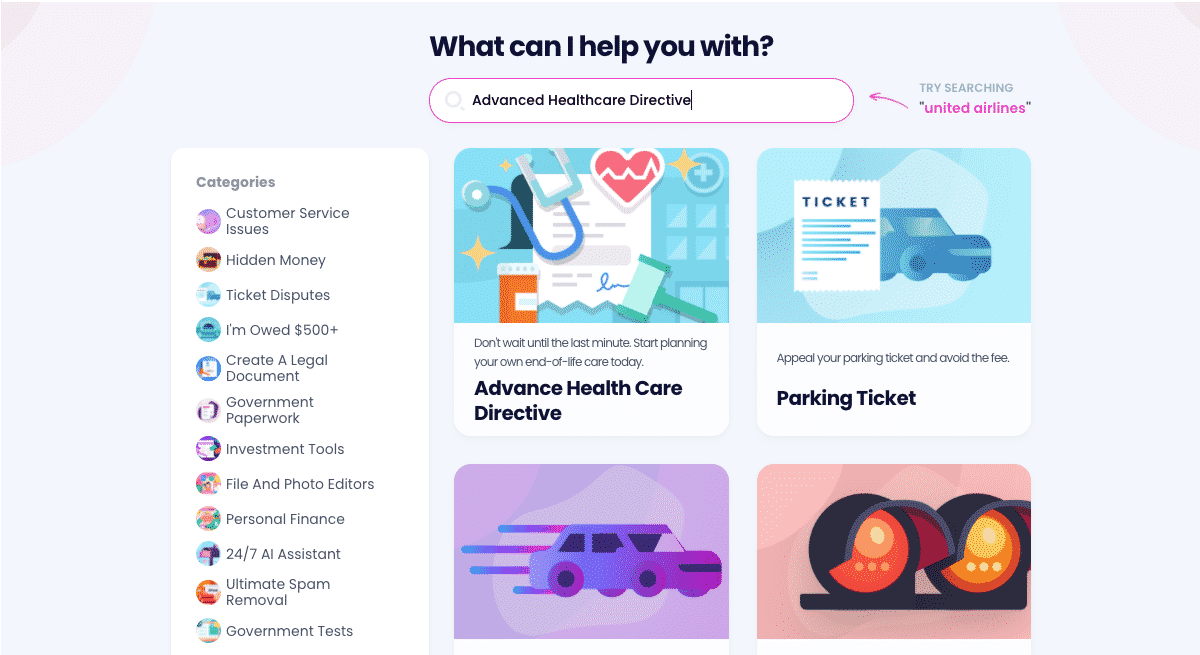 What Other TN Advance Directives Are There?
In Tennessee, you can create a durable power of attorney for health care in addition to a living will. This type of Tennessee advance directive lets you choose a health care agent who will make decisions if you are too sick to do so yourself. Unlike a living will, it is used even in situations when your illness is only temporary.
A durable power of attorney for health care is also known by other names, including a health care proxy and medical power of attorney. Keep in mind that some states recognize slight differences between the two.
Who Can Be Your Health Care Agent in Tennessee?
A health care agent needs to be a person who is at least 18 years old. You should appoint someone reliable and trustworthy since they will be making important decisions. People usually choose their spouses, close friends, or adult children for this role.
We Have Even More To Offer!
Find more information about the perks we offer in the table below:
Stay Safe by Relying on DoNotPay
One of the primary purposes of our app is to improve your safety. We help you stay secure and avoid incidents or privacy issues by:
Blocking:
Fighting against:
DoNotPay will also help you avoid unwanted personal info disclosure with single-use burner phone numbers. Our app can create a virtual credit card with a fake name and card details and prevent you from getting charged once your free trials expire!