A Living Will Form in Nebraska—Your Right To Choose!
Making decisions about possible treatment options in case of serious injuries or terminal illnesses might not be pleasant, but it would be a wise choice. Your family members don't need to carry that burden when you can express your wishes in a document.
This article explains what elements you need to pay attention to when dealing with a living will form in Nebraska. DoNotPay shows you how to draft an advance health care directive, living will, or medical power of attorney fast.
Nebraska Living Will—Declaration of Your Medical Preferences
A living will form allows you to indicate what type of health care treatments you would want or would not want to receive in case you:
Have a terminal illness
Cannot make medical decisions for yourself
A living will form in Nebraska is—together with a power of attorney for health care—part of a more comprehensive legal document called an advance directive.
Keep in mind that a living will:
Is not the same as the last will
Takes effect when you are not able to make decisions or express your wishes regarding medical treatment for yourself
Cannot be overruled by your family members in case they don't agree with your health care choices
Is not the same as a Do Not Resuscitate (DNP) order since you need your physician's approval before you can get a DNP order
Should You Use a Living Will Form in Nebraska?
If you are not sure whether you need a living will or not, you should get familiar with the following possible scenarios:
Who Makes Decisions?
Explanations
You
If a living will is part of your advance directive form:

The document specifies your health care preferences
You are the one who makes decisions about your end-of-life care

Your agent
Your health care agent will make decisions about life-prolonging health care treatments for you in case you:
A family member or spouse
Your spouse or family member will make decisions about your health care if you:
Formalities Regarding a Living Will Form in Nebraska
To meet Nebraska legal requirements, you need to make sure to:
Have two adults witness you signing the document—Keep in mind that a witness cannot be:

A person who is entitled to your estate
An employee of your life insurance or health insurance provider
Your spouse, sibling, child, parent, grandchild, doctor, or health care agent(s) named in your medical power of attorney

Get your living will notarized—According to Nebraska law, you can choose either to:

Have two people witness your signature or
Get the document notarized
Create advance directive documents
Get any document notarized online
DoNotPay Draws Up a Living Will Smoothly
You do not have to spend a lot of money on legal services since you are not required to hire a lawyer to prepare a living will for you.
There is also no need for you to waste time or energy googling templates as many are unreliable, and you'd have to amend them considerably to fit your needs.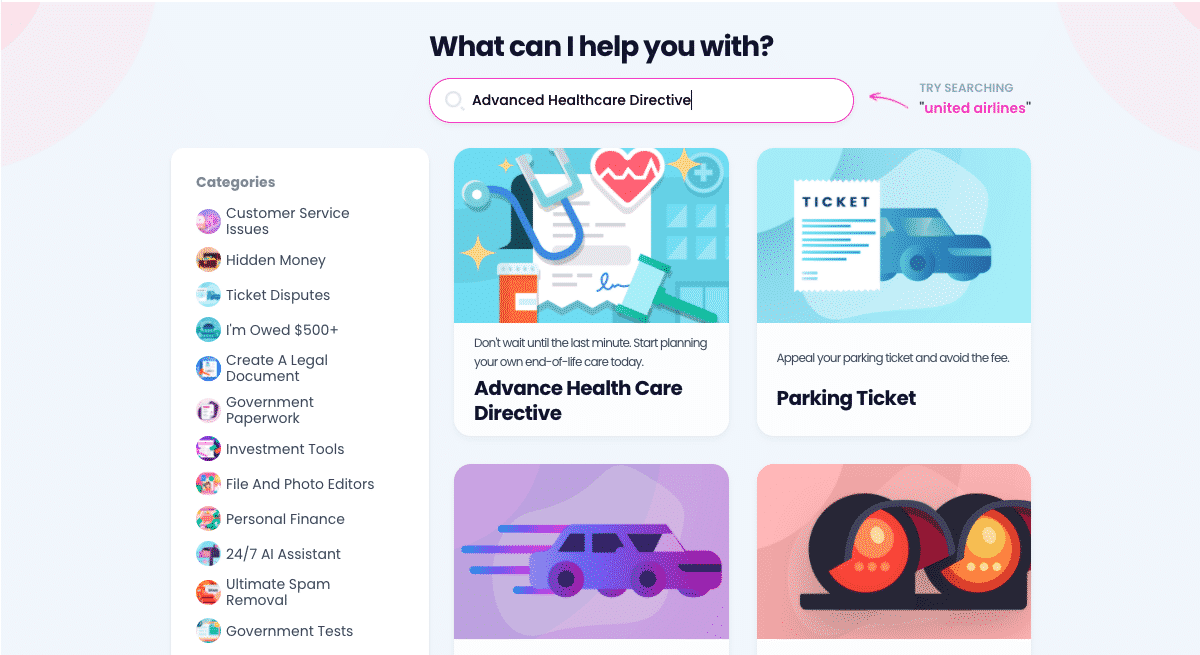 Our AI-powered app is familiar with your state laws and can help you draft a rock-solid advance directive, living will, or health care proxy tailored to your specific wishes.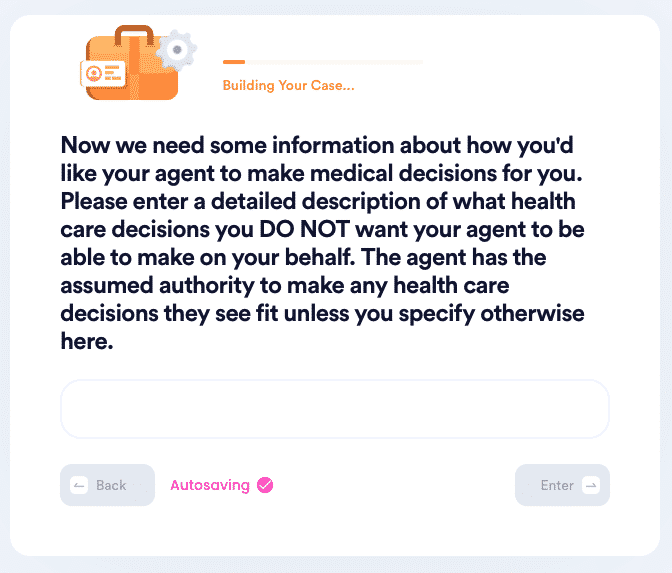 Sign up for DoNotPay and:
Open the Advance Health Care Directive product
Enter your agent's name and your medical preferences
List the:

Powers you are granting your agent
Treatments you want or do not want to receive

Enter the names of the witnesses or choose to get the document notarized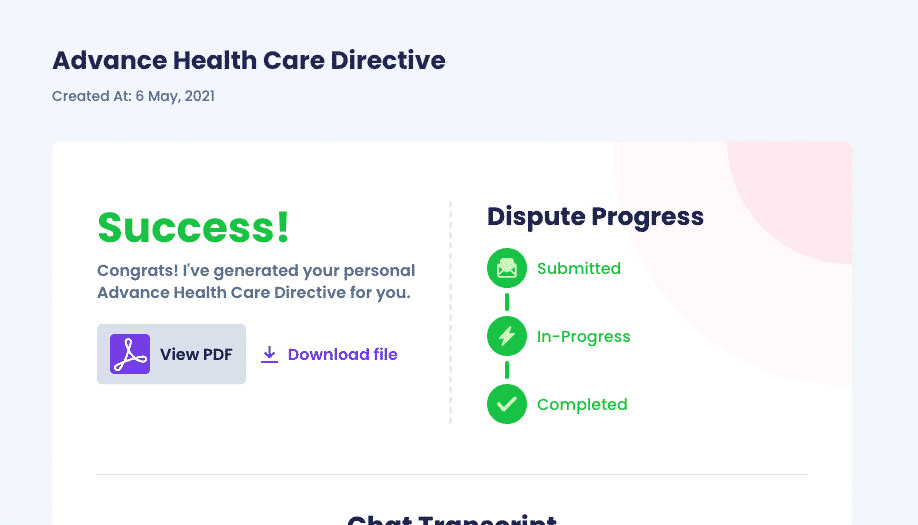 Solve Any Problem Within a Few Clicks
DoNotPay keeps adding new features that are designed to help you navigate your tasks and resolve issues. You can rely on your AI-powered app whenever you need to:
Earn and Save Money Using DoNotPay
When money is tight, every penny counts. DoNotPay can help you get what you're owed and also some extra cash.
Here are some of the ways our app can help you get paid:
We can also assist you in searching for your unclaimed funds, demanding a college fee waiver, and joining clinical trials.
If a company refuses to give you what you're owed, don't hesitate to file a complaint and take it to small claims court.