A Quick Guide to Drafting a Living Will in Florida
What happens if you are unable to make your medical care decisions due to a terminal condition? You can communicate your wishes in advance by creating a living will.
The requirements for creating this document vary by state. This article covers the fundamentals of drafting a living will in Florida. If you want to draw up a living will or any other advance directive effortlessly, .
An Overview of the Florida Living Will Statute
The Florida statutes govern the creation of advance health care directives in the state. Florida recognizes three types of health care directives:
Advance Directive
Purpose
Living will
States the kind of medical care you want or don't want to receive if you become incapacitated, for instance:

Tube feeding
Comfort care
Surgery
Mechanical breathing
Dialysis
Cardiopulmonary resuscitation (CPR)
Antibiotics or antiviral care

Designation of health care surrogate
Lets you designate someone who can make medical care decisions for you if you are unable to do so yourself
Anatomical donation
States your desire to donate all or part of your body upon death
Keep in mind that the health care surrogate designation can go by the following names:
Health care medical power of attorney
Depending on your wishes, you can complete one or a combination of the medical advance directive forms.
To designate someone who will handle your finances if you become incapacitated, you will need to complete a standard durable power of attorney.
Florida also recognizes medical advance directives made in other states, provided they were executed according to the laws of the respective state.
If you don't have a living will and designation of health care surrogate, your end-of-life medical decisions can be made by:
Court-appointed guardian
Spouse
Relative
Parent
Adult sibling
Close friend
Living Will Forms Florida
The Florida law provides a sample living will form, but you are not required to use it. You can choose to create one that will accommodate your specific requirements. You can also use one of the free online living will forms, but bear in mind that most of them are generic and may not comply with state laws.
Florida Living Will Execution Requirements
You must be at least 18 years old and of sound mind to create a living will. The document must be signed in the presence of two witnesses, one of which should not be a spouse or blood relative. If you are physically unable to sign the document, you must authorize one of the witnesses to sign it in your place.
Before honoring your will, two physicians—one must be your primary physician—must independently determine that:
You have a terminal condition or are in a consistent vegetative state
There's no realistic chance of recovery
Get Your Living Will in a Few Minutes Using DoNotPay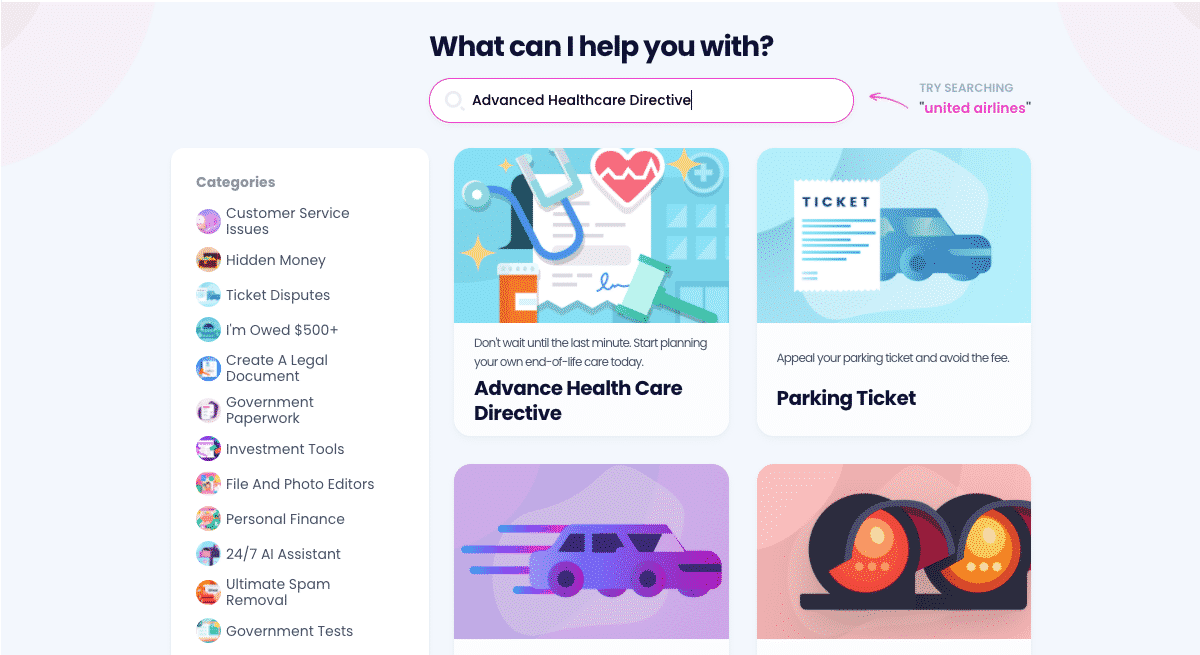 While you can hire an attorney to help you draft a living will, know that the costs of their services are sky-high. Luckily, you can rely on DoNotPay for a swift and stress-free experience. Our AI-powered app will generate an error-free and enforceable living will in less than five minutes.
Follow these simple steps to get started:
from any web browser
Choose the Advance Health Care Directive tool
Answer a brief questionnaire
DoNotPay will generate a living will based on the information about your health care wishes that you provide. Our app helps you get the document notarized, we can match you with an online notary in our app.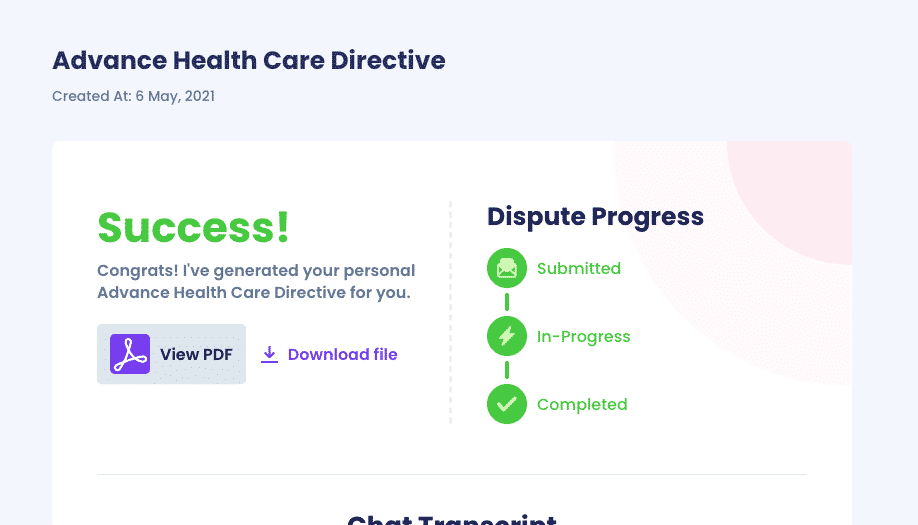 Say Goodbye to Boring Tasks
When a task takes up too much time, you may give up or procrastinate incessantly. We have a solution—use DoNotPay to manage numerous administrative or bureaucratic errands.
No more waiting in neverending DMV lines or staying hours on the phone waiting for a customer service rep to pick up. You can even skip going to the post office. We can help you send letters and even online faxes in a flash. If what you're sending needs to be notarized, use our app to schedule an appointment with an online notary.
Traveling soon? Get your passport photos ready, apply for a tourist visa, contact embassies, and draw up a child travel consent form—all within the same app.
What Else the World's First Robot Lawyer Can Do for You
When you need legal assistance but you can't afford to hire a lawyer, rely on DoNotPay. With our legal expertise, we can help you do the following: