Living Will Definition in Law—Explore This Legal Document With DoNotPay
If you don't leave your clear wishes regarding medical treatments, your health care providers will have to make decisions on your behalf. This might not be in accordance with what you'd choose. Luckily, the solution is clear—create a living will.
Are you aware of the document's content? Do you understand what you are creating? What is the living will definition in law? Learn all about it in this article.
Living Will Definition
A living will is defined as a type of advance directive that states your wishes about medical care if you are unable to communicate them. This document addresses many life-threatening treatments and procedures, such as:
Resuscitation
Ventilation
Dialysis
Doctors will consult a living will only if they determine that you are terminally ill or in a persistent vegetative state.
Who Can Create a Living Will?
Any person who is at least 18 years old has the right to make a living will and leave their instructions about medical treatments. It is also important that you are of sound mind when making this legal document.
How To Make a Living Will Legally Binding
If you want to make sure your living will is valid, you must follow your state's rules and requirements. To make this legal document enforceable, you will usually need to sign it in front of a:
Witness (or two)
Some states require both options. You also need to check who can and cannot be your witness.
How Do You Make a Living Will?
You can create a living will in a few ways, but the cost of the process differs. The table below contains the required info:
| How To Make a Living Will | Explanation |
| --- | --- |
| Hire a lawyer | While you will get a well-written document, this service will cost you a lot of money |
| Download a living will form | If you don't have the sufficient legal knowledge to complete this task on your own, you will risk having a poorly written (and potentially unenforceable) document |
| Use DoNotPay | It is an option that provides you with the required end result while also saving you time and money |
Before making a living will, you should consult with your doctor and loved ones. This will provide you with the necessary knowledge about medical procedures and support.
Have a Peace of Mind—Create a Living Will Using DoNotPay
Forget about customizing unreliable online forms. Our nifty product provides you with a straightforward way of creating a living will. We will make sure that it abides by your state's laws and that all your wishes are included.
Here is everything you need to do:
Navigate to the Advance Health Care Directive feature
Appoint your agent and decide what powers you want to transfer to them
Include the names of people who will witness you sign the document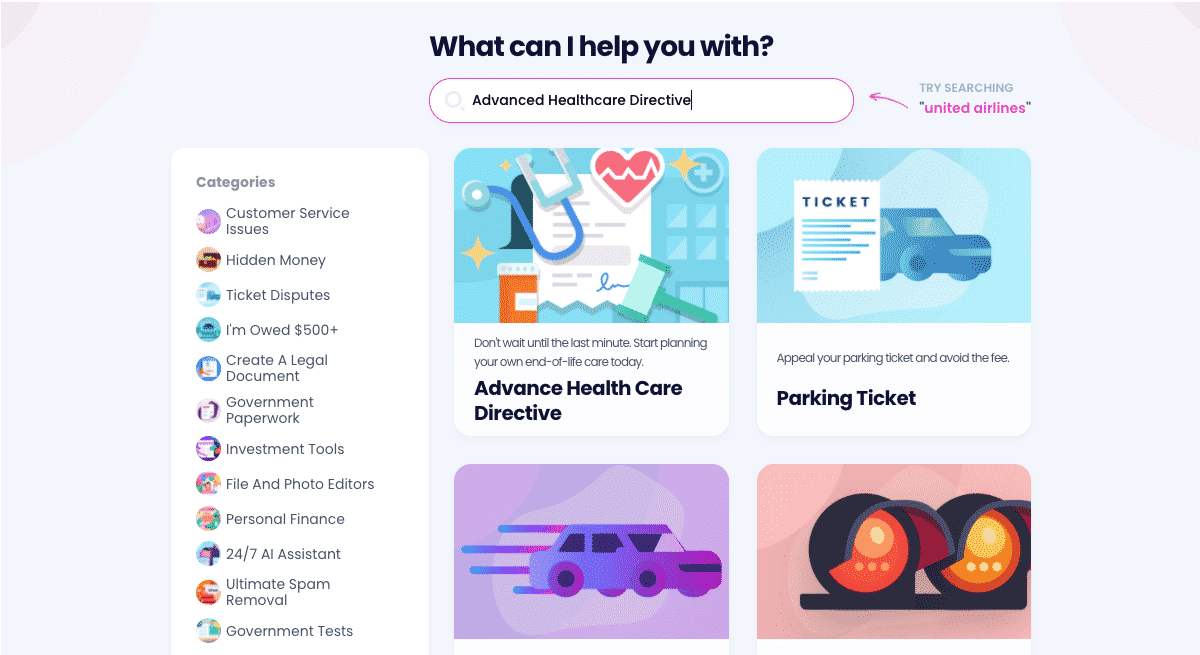 Should You Make a Medical Power of Attorney As Well?
Most states recognize a living will and medical power of attorney as separate documents, and you can choose between making one or both. In some parts of the country, the two documents are combined into one, known as a health care directive.
A medical power of attorney is used to designate a health care agent who will make medical decisions for you if you become incapacitated. This individual is usually a trustworthy spouse, adult child, or close friend.
A medical power of attorney is also called a:
Health care power of attorney
Medical directive
Personal directive
You should keep in mind that, in some states, there is a difference between a health care proxy and a medical power of attorney.
What Else Does DoNotPay Have in Store?
Our user-friendly platform provides solutions for all your bureaucratic problems and tiresome tasks. Once you sign up for DoNotPay, we can help you demand refunds from airlines and other companies, get compensation for late deliveries, and submit item return requests. The app also allows you to send online faxes, use our mailing services, and convert files to dozens of formats!
If you are unhappy with the situation at work, DoNotPay can file anonymous HR or work discrimination complaints in your stead. Discover how to generate legal documents such as divorce agreements and powers of attorney and have them notarized without heading to the notary's office!
Our App Reduces Education-Related Costs
Do you find it difficult to cope with college-associated expenses? DoNotPay sends help your way! Get ready to make your education journey simpler by:
If you believe that educating your child at home would be a less pricey option, we help you compose a customized notice of intent to homeschool in no time!