How To Get a Spotless Living Will in California With No Trouble
As per California law, every adult resident has the right to decide how they want to be treated in case of a severe injury, permanent unconsciousness, or incurable illness. Since they often can't express their preferences to medical staff in such situations, they should create a living will on time.
What is a living will in California? Are there any criteria you should meet to create it? What kind of instructions can you list in the document? We help solve all your dilemmas with this manual. You will also find valuable advice on getting a personalized living will quickly and at a low price by using DoNotPay!
How Is a California Living Will Defined?
A living will is a legal document that lays out specific instructions concerning your health and end-of-life care if you get physically or mentally incapacitated. It lets you make decisions about your treatments and other aspects of medical care in advance. These decisions should refer to:
Treatments and medications you want or don't want to receive
Community or health care facilities you want or don't want to attend
Desired or undesired surgeries and therapies
Comfort care and pain management
Life support procedures
Artificial hydration, nutrition, and respiration
End-of-life care specifics
Organ, tissue, and eye donation
Anatomical gifts
In California, a living will is a part of a state-specific health care directive along with the California medical power of attorney, also called a health care proxy. A medical power of attorney allows you to appoint a health care agent who will make medical care-related choices on your behalf if you become unable to do it yourself. It's not the same as a standard power of attorney, which encompasses a much broader spectrum of powers.
What Are the Signing Requirements for a Living Will in California?
To prepare a legally binding living will in California, you must:
Be older than 18 and mentally competent
Not be pregnant
Sign the document along with two witnesses or in front of a notary
The document becomes operative after at least two physicians confirm that you are terminally ill or permanently incapacitated.
Who Can or Can't Witness Your Living Will?
The table below shows who can and cannot be a witness to your living will:
All Witnesses Must Be
None of the Witnesses Should Be
At Least One Witness Shouldn't Be Your

Your health care provider
Employees of your health care provider
Operator or an employee at the health care facility you are attending
Your health care agent

Relative
Adopted child
Adoptive parent
Spouse
Heir
How To Create a Living Will in California With DoNotPay's Help
Composing a living will or any other advance directive from the ground up may be challenging, but DoNotPay can simplify the process in the blink of an eye! Our Advance Health Care Directive tool gathers crucial info about your medical care preferences and generates the desired health care directive in less than five minutes.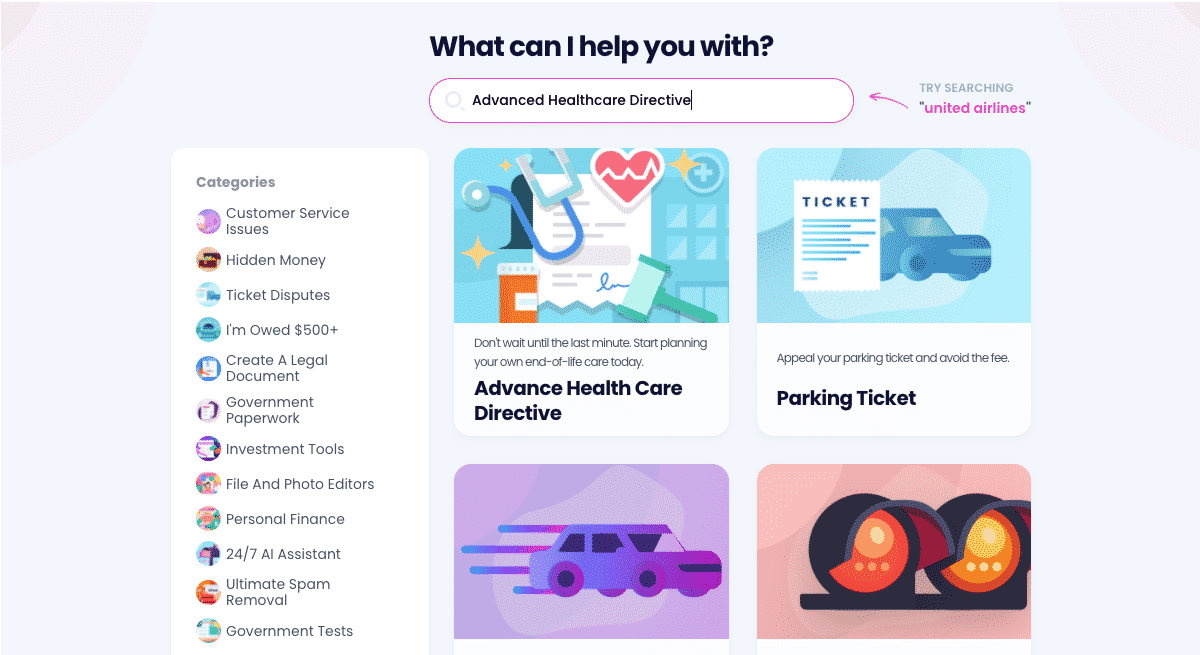 To get a customized document effortlessly, follow the steps below:
Visit DoNotPay and sign in to your account
Look for the Advance Health Care Directive product
Tell us the names of your primary health care agent and witnesses
Answer some questions concerning your future medical care wishes
That's not all—you can also arrange a video meeting with a notary on the same platform! A remote notarial officer will verify your signatures and notarize your living will or medical proxy online with zero fuss!
Interested to know more about advance directives? Find out whether a spouse automatically gets power of attorney, if a nurse can witness a living will, and much more in our extensive knowledge base!
Rely on DoNotPay and Get Rid of Administrative Issues
Are you tired of returning items, canceling subscriptions, fighting parking tickets, and mailing letters? We can help you fast-track all these tasks and more! Do you need help reaching customer service, fighting workplace discrimination, submitting defamation demand letters, or filing HR complaints? Use DoNotPay and solve any issue without a hitch.
Feel free to also use our app to study for government tests, apply for scholarships, appeal low financial aid offers, and request college fee waivers.
Do you need help paying bills? DoNotPay can assist you in lowering your property taxes, getting gift card cash back, entering sweepstakes and giveaways, and getting refunds.
With us, you'll be able to both earn and save money!
Say Goodbye to Spammers With DoNotPay's Assistance
Getting spammed on the daily? Our app can put an end to this annoying issue! Block spam emails, text messages, and robocalls in a few clicks. We can even help you deal with stalking and harassment.
Thanks to our Burner Phone product, you'll get a temporary phone number that you can submit when registering on different platforms and protect your privacy.
Another way to keep your privacy intact is using DoNotPay's virtual credit card. Signing up for free trials without hidden charges and revealing your contact details has never been easier!