Understanding the Fundamentals of a Living Will in Arkansas
Arkansas law allows the residents of this state to define their preferred medical treatments if emergencies or unexpected illnesses occur. The best way to do so is to create a living will and share it with loved ones and medical practitioners.
What is a living will in Arkansas? When does it become effective, and what criteria should you comply with to prepare a valid document? What elements should it include? No need to search for the information by combing through dozens of resources. This article has all the answers you need!
What Is an Arkansas Living Will?
In Arkansas, a living will is equal to an advance health care directive. It's a written document that provides concise directions concerning your future medical care if you become physically or mentally unable to communicate your wishes. The document should inform your medical practitioner about your treatment preferences and let them know how to act in specific cases.
Living wills in Arkansas often go hand in hand with another health-related document, named medical power of attorney or health care proxy. It lets you appoint a health care agent—a person who can make medical care choices in your name if you become incapacitated.
You should create a living will even if you are young and healthy at the moment, as injuries and diseases often come unexpectedly. The document must fulfill the following requirements to become effective:
The declaration must be communicated to your primary medical practitioner
Your primary physician must confirm that you are either terminally ill, permanently unconscious, or unable to make health care decisions for any other reason
Signing Criteria for a Valid Arkansas Living Will
To create a proper Arkansas living will, you should:
Be older than 18 and of sound mind
Prepare the document in written form
Find two disinterested parties to witness the living will or have it notarized by a notary public
What Parts Should an Arkansas Living Will Form Contain?
Here's a table showing an overview of the provisions every living will in Arkansas should include:
Sections
Elements
Introduction

Your name and home address
Specific situations in which the living will becomes effective

Instructions

Precise instructions related to:

Comfort care/pain relief
Life-sustaining treatments
Artificial nutrition and hydration

Additional directions

Conclusion

Your signature
Names, home addresses, and signatures of both witnesses
Date of signing
How To Compose an Arkansas Living Will Yourself
Here are several ways to get a living will in Arkansas:
Compose the document from zero by implementing the required sections and elements
Ask a lawyer to create the document for you, which is usually a pricey option
Use a declaration sample provided by Section 20.17.202 of the Arkansas Statutes
Download an online template and complete it with the correct details
Sign up for DoNotPay and let us generate the document for you
Don't Take Risks—Use DoNotPay To Get the Best Advance Directive
With DoNotPay, composing a top-notch living will in Arkansas or any other U.S. state becomes a piece of cake! Our system notes the details about your health care-associated preferences and crafts the advance directive based on them before you know it.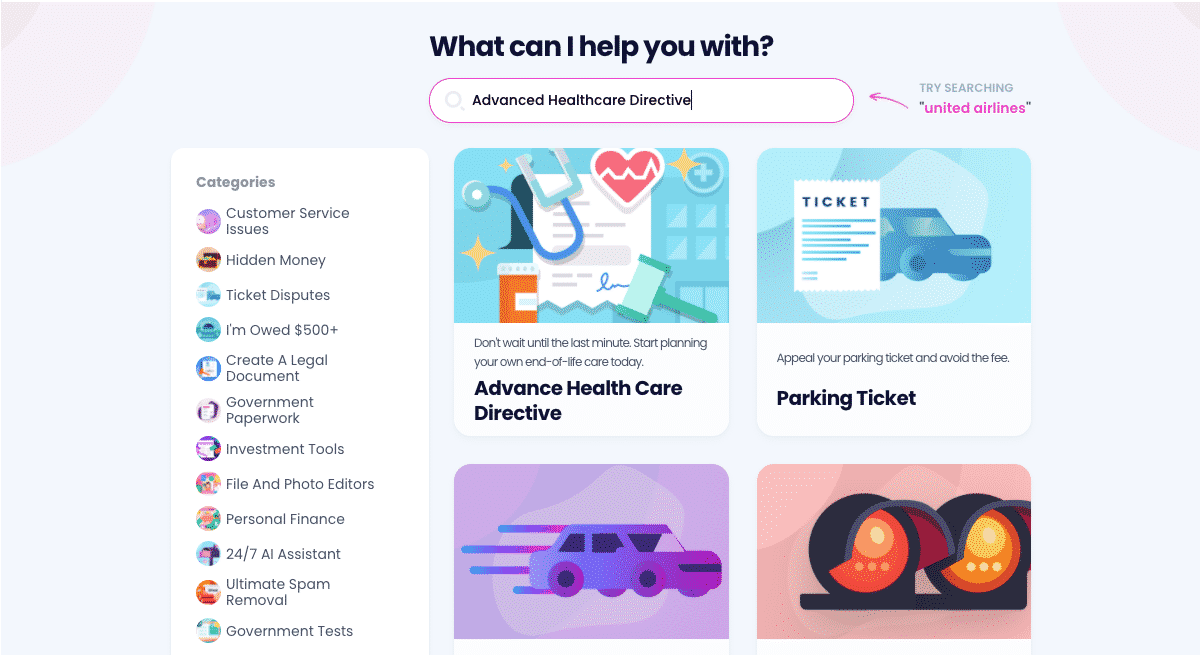 All you should do is:
Search for the Advance Health Care Directive product
Enter the names of your agent and witnesses
Provide the necessary info concerning your treatment and end-of-life care wishes
We can also assist you in getting your document notarized, as DoNotPay enables you to schedule a video appointment with an online notary!
Our learning base contains many handy articles that can teach you more about Arkansas medical proxy, the difference between standard power of attorney and health care proxy, and much more!
Save Time and Money Using DoNotPay
Being on hold while trying to reach customer service is no picnic. With DoNotPay, you can jump the phone queue and reach a rep with ease. Are you contacting a company to request a refund or cancellation? No need for that! Our app can get it done in a few clicks. We can also help you return an item or handle a late delivery.
Dispute parking tickets, claim your warranty or insurance, set up a DMV appointment, contact an embassy, and deal with any other task with our assistance.
You can also request access to public records, apply for tourist visas, or file complaints with the help of our AI-powered app.
We're Not Done Helping You!
Our multifaceted app keeps getting new features that can streamline numerous tasks and solve all kinds of problems.
Would you like to join sweepstakes or giveaways? Are you up for participating in clinical trials and earning some money? Are you interested in sending mail without visiting the post office? We've got it covered!
We will help you protect your privacy by putting an end to spam emails, incessant text messages, and robocalls. If you think you're being stalked, you can count on our assistance. You can also use our app to perform a sex offender search, fight workplace discrimination, and handle annoying neighbors.