All the Info You Need About a Living Will in Arizona
Unlike a regular will, which deals with your estate and finances, a living will allows you to plan your health care routine in advance. If you are interested in learning more about a living will in Arizona and getting useful tips for creating one, our article is all you need! Sign up for DoNotPay and find out how to get the document you need in no time.
What Is an Arizona Living Will?
As per Arizona law, a living will is a legally binding document that provides health care instructions to your family and physician if you are in:
Irreversible coma
Persistent vegetative state
Terminal phase of an incurable illness
Since you can't speak for yourself in such situations, your living will can do it for you. This document lists all your medical-care-associated decisions and preferences related to:
Comfort care
Resuscitation, such as CPR
Life support, including artificial nutrition and mechanical respiration
Wanted or unwanted medication and treatments—including:

Antibiotics
Dialysis
Surgeries
Blood transfusion

End-of-life care and funeral organization
Organ donation
A living will in Arizona is also known as a health care directive or an advance directive.
In this state, you can sign a living will as a separate document or as a part of a health care power of attorney (also called a medical proxy, medical power of attorney, or health care proxy in some states).
A health care power of attorney allows you to name a health care agent who will decide about your end-of-life care if you become too ill or permanently unconscious. This person can also make choices regarding any other aspects of your medical care.
What Are the AZ Living Will Signing Requirements?
A proper living will in Arizona must fulfill the following requirements:
Be in written form
Show your intent clearly
State the exact date the document becomes effective
Be signed in front of a notary public or one witness
Elements Every Solid Living Will in AZ Should Contain
Here's a recommended structure of a proper living will in Arizona:
Section
Details
Principal's information

Legal name
Date of birth
Physical address
Phone number

Decisions about end-of-life care

Comfort care
Pregnancy
Treatment limitations
Treatment until your medical condition is reversible and curable
Direction to prolong your life

Other personal wishes

Additional statements and wishes you want your loved ones and medical personnel to follow if you become incapacitated

Witnesses

Signature of the chosen witness or a notary public
Signature date
Physical address of the witness
How Can DoNotPay Assist You With Getting a Top-Notch Living Will?
Regardless of whether you need a health directive or a medical proxy in Arizona or any other U.S. state, DoNotPay solves the matter swiftly and easily! We offer you a quick and affordable way to get the desired documents. There's no need to pay an arm and a leg for attorneys or take risks with ready-made living will templates—we will do all the grunt work in your stead!
Here's what you should do:
Visit DoNotPay and search for the Advance Health Care Directive
Appoint your primary health care agent
Disclose more details about your medical care preferences
Enter the names of your witness(es)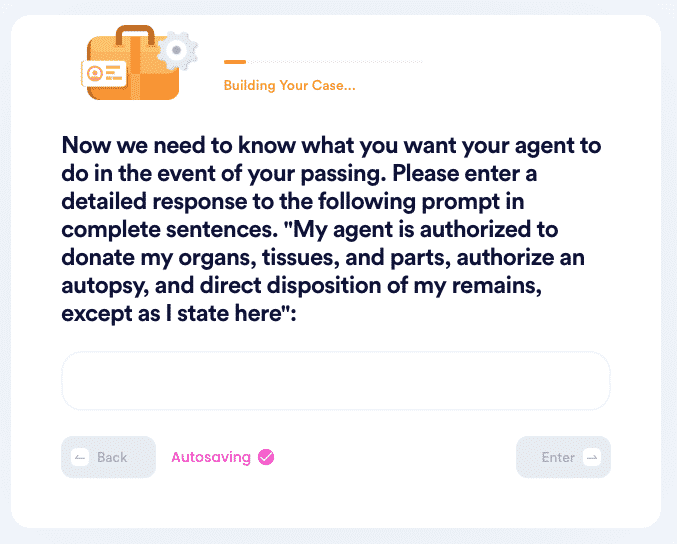 As soon as we get the necessary info, we will generate a customized document and help you have it notarized. We will connect you to an online notary so you can schedule an appointment at a convenient time.
In our knowledge base, you can also find other useful info about:
Rely on DoNotPay and Get Rid of Administrative Issues
Are you tired of returning items, canceling subscriptions, fighting parking tickets, and mailing letters? We can help you fast-track all these tasks and more! Do you need help reaching customer service, fighting workplace discrimination, submitting defamation demand letters, or filing HR complaints? Use DoNotPay and solve any issue without a hitch.
Feel free to also use our app to study for government tests, apply for scholarships, appeal low financial aid offers, and request college fee waivers.
Do you need help paying bills? DoNotPay can assist you in lowering your property taxes, getting gift card cash back, entering sweepstakes and giveaways, and getting refunds.
With us, you'll be able to both earn and save money!
Say Goodbye to Spammers With DoNotPay's Assistance
Getting spammed on the daily? Our app can put an end to this annoying issue! Block spam emails, text messages, and robocalls in a few clicks. We can even help you deal with stalking and harassment.
Thanks to our Burner Phone product, you'll get a temporary phone number that you can submit when registering on different platforms and protect your privacy.
Another way to keep your privacy intact is using DoNotPay's virtual credit card. Signing up for free trials without hidden charges and revealing your contact details has never been easier!