Get a Living Will and Health Care Power of Attorney in a Heartbeat
Have you wondered what might happen if you're in a serious accident or get ill and can't make decisions about your health care? You might want to start thinking about these issues to protect yourself and your loved ones.
If you'd like to communicate your wishes regarding medical treatment, you should prepare an advance directive, living will, and health care power of attorney. This article focuses on the last two documents and how you can create them easily.
Living Will vs. Health Care Power of Attorney
A living will and medical power of attorney are legal documents that let you:
Specify your health care preferences
Give instructions to your doctors and health care providers
They can be parts of a more comprehensive document—an advance health care directive.
Both a living will and durable power of attorney for health care:
Indicate your wishes regarding health care in case you're not able to communicate them in specific situations
Can be revoked at any time
For these documents to be valid, you need to be at least 18 years of age, of sound mind, and either have:
The forms notarized—Use DoNotPay to get any document notarized fast
Two people witness your signature—Check your state law to meet the witness requirements
What Is the Difference Between a Living Will and Medical Power of Attorney?
To get a better understanding of these two documents, take a look at the following table presenting the specifics of a living will vs. medical power of attorney:
A Living Will:
A Medical Power of Attorney (POA):

Addresses end-of-life health care
Includes your specific wishes regarding life-prolonging procedures in case you:

Get a terminal illness
Have been unconscious for a longer period
Cannot recover

Becomes effective if doctors certify the above-listed conditions

Lets you select a person to make decisions about your health care when you cannot make them for yourself
Covers a wider scope of health care decisions than a living will
Could also provide instructions to your health care agent regarding life-sustaining treatment
Goes into effect once you are incapable of making decisions yourself
Do You Need a Living Will if You Have a Power of Attorney?
It would be a wise choice to create both a living will and health care power of attorney since your:
Health care agent might not be able or available to decide about withholding or withdrawing your life support
Family members could try to contest your agent's decisions leading to confusion and arguments
Keep in mind that:
A medical POA is not the same as a (durable) power of attorney
You should create a living will if you have a durable power of attorney since the latter document doesn't cover health care issues
Some states recognize a slight difference between a medical POA and health care proxy
Generate a Living Will and Health Care Power of Attorney With DoNotPay
There is no need to hire a lawyer to draw up a health care document for you since:
You should also not waste time trying to draft an advance directive, living will, and health care power of attorney yourself as you might:
Come across unreliable online forms that are too generic and don't suit your case
Need to amend available templates to meet legal requirements and your specific needs
Our AI-powered app can prepare an airtight health care document customized to your wishes in a matter of minutes!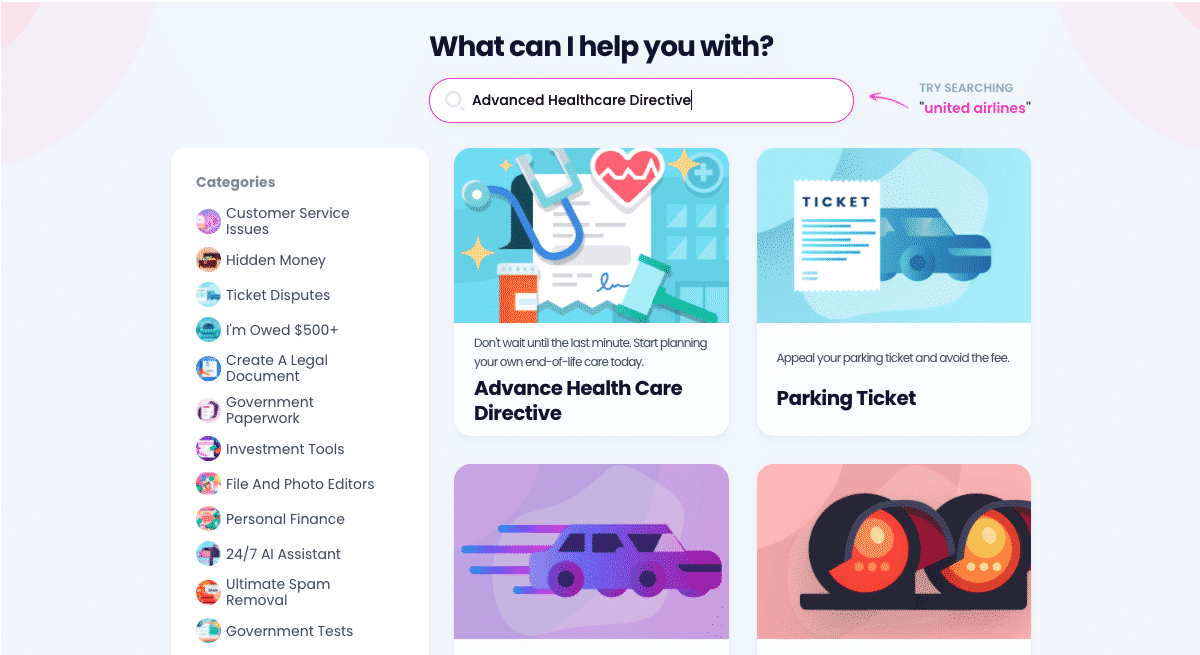 Sign up for DoNotPay and take these steps:
Open our Advance Health Care Directive product
Enter information about your health care wishes and agent
Choose to get the document notarized online or provide the names of witnesses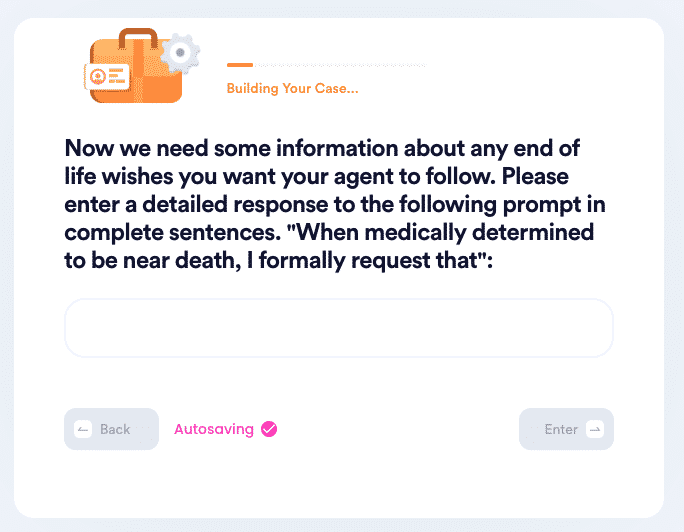 Get the Best Solutions for Everyday Tasks With Our App
DoNotPay has come up with multiple handy products whose purpose is to make your life simpler and more enjoyable! Don't hesitate to check out the features that will help you:
Complaints and Appeal Letters Have Never Been Easier To Draft With DoNotPay
Dissatisfied with a delivery? Use DoNotPay to file an item return request and get a refund from the merchant if the product didn't meet your expectations! We can also help you apply for a late delivery refund or help you claim your warranty or insurance if the product you purchased gets damaged or breaks down. Our multi-functional app also allows you to appeal potentially inaccurate property tax assessments, banned accounts, and seatbelt or parking tickets.
If you subscribe to our platform, you will have a chance to file anonymous HR complaints and prevent discrimination at work more effectively.