Living Will and Durable Power of Attorney for Health Care—An Overview
What kinds of medical treatments you would or wouldn't want to receive in case of an unexpected life-threatening illness or injury? If you have clear health care preferences, it's important to create a living will and durable power of attorney for health care. This article will cover the finer details of these documents and show you how to create them easily using DoNotPay.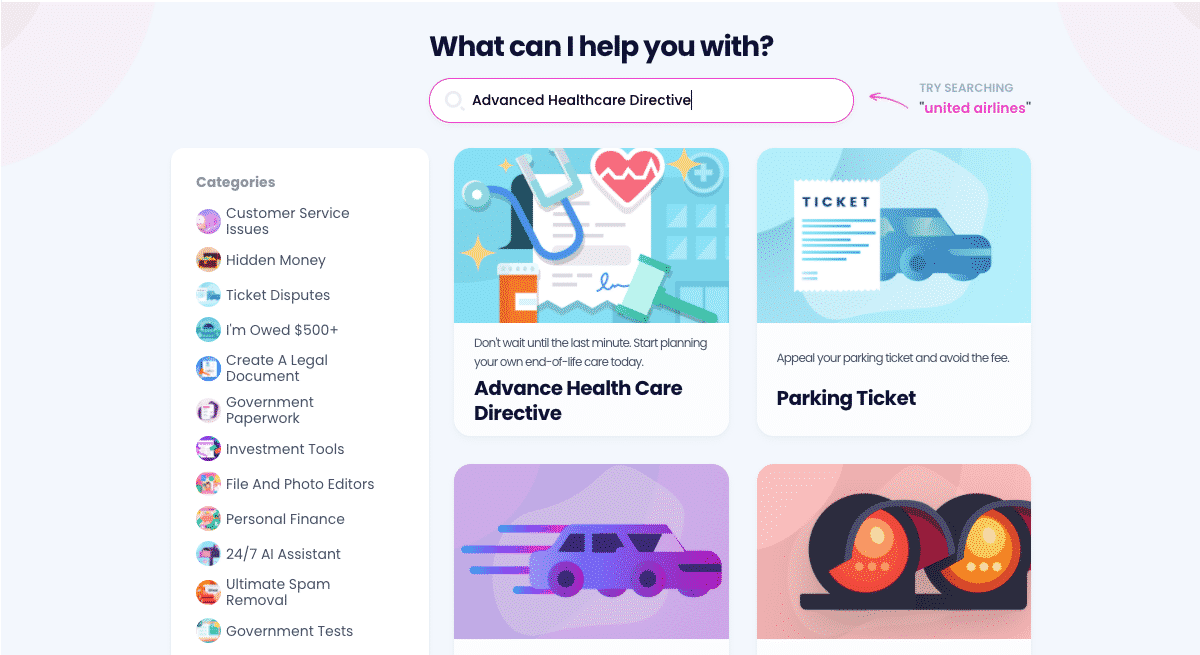 A Durable Power of Attorney for Health Care and Living Will—Key Points
Documents that help you plan for future medical care in case of incapacitation and end-of-life illnesses—like a living will or power of attorney for health care—are known as health care directives. While no law requires you to prepare these documents, most states have statutes regulating their creation and use. In some states, these documents are combined into one form, called an advance directive.
You should consider creating both documents since they serve different purposes.
Living Will
A living will states your medical care preferences if you become incapacitated due to an illness or injury. A living will only specifies the medical interventions you would or wouldn't want to receive and is not related to a living trust—which is used to spell out the estate beneficiaries upon your death.
Durable Power of Attorney for Health Care
A power of attorney for medical care is used to appoint someone—known as a health care agent, proxy, or surrogate—to make health care decisions in your stead should you become incapacitated. The name of the document differs from state to state, and it can be:
Designation of health care surrogate
A power of attorney for health care should not be confused with a durable power of attorney for finances. The latter allows you to appoint someone who will handle your financial affairs if you are unable to make the decisions yourself.
When Do Your Health Care Documents Take Effect?
In most states, health care directives take effect when a doctor determines that you are incapable of making or communicating medical decisions for yourself. In some states like Florida, you can authorize your health care agent to assume duties immediately—even if you have the capacity to make the choices yourself.
You can also revoke your advance directives at any time. The process varies by state, but most require you to:
Inform your agent and doctor in writing or orally
Sign a new advance directive
Drafting a Living Will or a Durable Power of Attorney for Health Care
Most states have a suggested advance directive form that you can use, or you can create your own document from scratch. The table below outlines the options you have for creating an advance directive:
| Create Health Care Advance Document By | Details |
| --- | --- |
| Hiring a lawyer | You can hire an attorney to draft the document, but you can expect to pay sky-high fees |
| Making the documents yourself | You can draft the document yourself, but you must make sure it complies with state laws and conveys your wishes in an unambiguous way |
To complete the forms, you must be at least 18 years old and of sound mind. The documents typically have to be:
In writing
Signed in the presence of one or more witnesses
Notarized (depending on your state)
If you need help creating the documents and finding an online notary, DoNotPay can help!
How To Create Your Health Care Documents Hassle-Free—Use DoNotPay
Do you want to avoid the inconvenience of researching specific requirements for creating advance directives in your state? Forget the unreliable online living will forms! DoNotPay will generate personalized advance directives for you. You only need to answer a brief questionnaire, and we will draft your advance directive in a few minutes.
To use DoNotPay, follow these simple steps:
Select the Advance Health Care Directive product
Provide information about your healthcare wishes, agent, and witnesses

DoNotPay's Assistance at Your Fingertips
DoNotPay is all about easy solutions. Turn to our app when you need to get rid of unwanted services, block spam emails and text spam, and overturn unpaid parking tickets. We can also assist you in registering on platforms without disclosing your number and signing up for free trials using our virtual credit card.
With our app, you'll forget about old-fashioned ways of completing certain tasks. Let us help you send faxes online, mail letters, reach customer service, and get in touch with an incarcerated loved one.
DoNotPay Has More To Offer
Our app boasts a wide range of products—from filing a warranty claim, requesting a refund, and booking a DMV appointment to getting a document notarized, filing financial aid appeal letters, and fighting discrimination at work.
For DoNotPay users, no problem is too difficult to solve. Here are only some of the tasks our app can help you complete: