Living Will in Alabama—All You Should Know
The only way to ensure that your wishes regarding medical treatments will be respected is by creating a living will. You should get familiar with how a living will works in your state and what costs come with making one.
DoNotPay can provide you with all this information and help you generate a living will in Alabama.
What Is Considered a Living Will in Alabama?
A living will is a type of Alabama advance directive that permits you to express your wishes about medical treatments in advance. This document is used in situations when you cannot communicate due to being:
Terminally ill
Permanently unconscious
A living will comes into effect when doctors decide that you are dealing with one of those states. If you complete the document properly, doctors and nurses will need to respect your wishes and follow the provided instructions.
What Is the Other Type of Advance Directive in Alabama?
The other type of advance directive in Alabama is called a health care proxy. You can choose to make both a living will and this document or only one.
A health care proxy goes by other names, such as a medical power of attorney. Some states recognize slight differences between the two.
In Alabama, a health care proxy is used to designate an individual who will make health care decisions on your behalf.
Who Can You Appoint as Your Attorney-in-Fact?
The person who you appoint as your attorney-in-fact for health care decisions needs to be a competent adult. They should be someone you trust and know is capable of making important decisions on your behalf. People usually designate their:
Adult children
Close friends
Spouses
How To Make an Alabama Advance Directive Valid
To make a living will or a health care proxy legally binding in Alabama, you need to sign the document in the presence of two witnesses who are at least 19 years old. These individuals cannot be:
Your agent
Entitled to any portion of your estate upon your death
Directly financially responsible for your health care
Related to you by blood, adoption, or marriage
You do not need to get this legal document notarized in Alabama.
Can You Revoke a Living Will in Alabama?
The Cotton State lets you revoke your advance directive at any time. You can do this by:
Destroying the form (burning or tearing it, for example)
Executing a formal statement that you have changed your mind
Directing another individual to execute a written revocation
Expressing your intent to revoke an advance directive orally in the presence of a witness who is at least 19 years old
Ways To Create a Living Will in Alabama
Since a living will deals with such important matters, it is paramount to create the document in accordance with Alabama law. Take a look at the table below to see your options and choose the best one:
| How To Make a Living | Benefits | Downsides |
| --- | --- | --- |
| Have an attorney draft it | Getting a well-written document | Spending a small fortune on lawyer fees |
| Use online forms | Saving some money compared to hiring legal assistance | Risking to make an invalid document due to the lack of required legal knowledge |
| Register for DoNotPay | Getting an airtight living will and saving money | / |
Use DoNotPay To Generate a Living Will in Alabama With Zero Effort
DoNotPay offers you a straightforward way of making an advance directive aligned with Alabama requirements. Our AI-powered app makes sure the document covers all your wishes and instructions. You only need to complete these simple steps:
Select the Advance Health Care Directive product
Designate your agent and choose the powers you want to transfer to them
Enter the names of the people who will witness you sign the document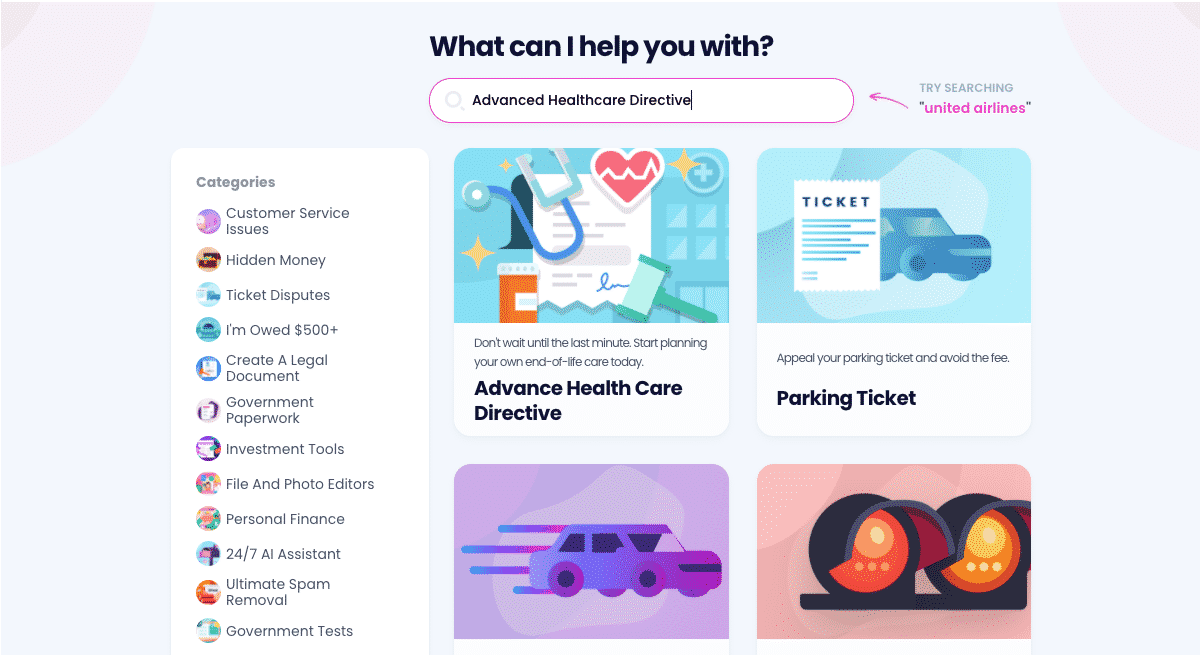 What Else Does DoNotPay Have in Store?
Our user-friendly platform provides solutions for all your bureaucratic problems and tiresome tasks. Once you sign up for DoNotPay, we can help you demand refunds from airlines and other companies, get compensation for late deliveries, and submit item return requests. The app also allows you to send online faxes, use our mailing services, and convert files to dozens of formats!
If you are unhappy with the situation at work, DoNotPay can file anonymous HR or work discrimination complaints in your stead. Discover how to generate legal documents such as divorce agreements and powers of attorney and have them notarized without heading to the notary's office!
Our App Reduces Education-Related Costs
Do you find it difficult to cope with college-associated expenses? DoNotPay sends help your way! Get ready to make your education journey simpler by:
If you believe that educating your child at home would be a less pricey option, we help you compose a customized notice of intent to homeschool in no time!