What is a Living Trust?
You may be familiar with last wills and testaments, but have you also heard about a living trust? A will comes into effect after the grantor has passed away, but a living trust allows the grantor to manage his/her estate while still alive. A living trust could be worthwhile since anyone is able to create one for estate planning. In this article, we will clarify what a living trust is and how it differs from a will, what its pros and cons are, and how to draft one without paying expensive lawyer fees.
Revocable vs Irrevocable Living Trusts
If the process of estate planning isn't confusing enough, there are terms that further complicate it. One of those is the differences between a revocable vs irrevocable living trust. One thing that's common with these two terms is that they describe a trust that is created while the grantor is alive. The trust can be altered or revoked according to the grantor's requests. Here are some pointers to remember:
Revocable

and

irrevocable living trusts

are two types of living trusts.

Some lawyers have different ways of calling living trusts: revocable trust, revocable living trust, declaration of trust, or inter vivos trust.
Living Trust vs Will
Even if you opt to draft a living trust, you should still consider making a will. This is because any asset that you did not move to your trust will go through probate. If you don't have a will, the courts will automatically allocate the assets that are not in your trust based on local intestacy laws. But with a will, you can avoid that from happening. Here are some key differences between a living trust vs will:
A will is a public document whereas a living trust remains private. Details of a living trust are protected from nosy relatives unless the trustee shares them. 

A living trust protects you from probate while a last will and testament is subject to probate.

A will allows you to appoint a guardian for your children while a living trust doesn't.

It takes more time to set up a living trust as there is more paperwork needed.
Advantages and Disadvantages of a Living Trust
As with all estate planning tools, you need to know which one suits your unique goals and needs. Each tool comes with its own set of pros and cons. Here below is a table of the benefits and drawbacks of a living trust:
Advantages
Disadvantages

Since a trustee takes care of the trust, you can save time and money by avoiding probate and availing estate

tax

reductions.

Any property that you move to the trust will become property of the trust and you waive your right to put them up for sale.

A living trust protects you from challengers who want to prove that you were coerced into signing the documents.

Setting up a trust with a lawyer is expensive with rates with

costs

around a thousand dollars for individuals and more for

joint revocable trust

.

A living trust ensures you and your family's privacy as it is not a public document.

You have the responsibility to retitle and re-deed assets into the trust.
How to Draft a Living Trust
If you have a complex family dynamic and have lots of assets, you may consider consulting a lawyer. If you have simple and straightforward properties, you may benefit from living trust forms found online. However, before you start drawing up your living trust, you should take note of the following:
Whether you need a pour-over will as well

Who you want to appoint as successor trustee or whether it will be the same as the executor of will

Which properties to move to the trust

Who should be the beneficiary after you pass
These are the important details that will be required when setting up a living trust, which you will then sign, execute, and have notarized. After that, you actually need to transfer the properties to the trust.
Get Your Living Trust in Minutes With DoNotPay
Although there are ready-to-fill-out forms on the internet, you should be wary of the language that these templates use. On the same note, consulting with an estate lawyer will be a hefty investment. That is where DoNotPay comes in. We bridge the gap between legally accurate documents and cost efficient results. Our AI lawyer will help you create a living trust that is technically accurate and doesn't cost thousands of dollars. With DoNotPay, all you have to do is:
Log-in to

DoNotPay

Search the "Revocable Living Trust" product

Enter the name and address of your trustee(s) and living child(ren).

Enter the location where the document will be notarized

Enter the details of your beneficiary(ies)

Enter all other details such as name of trust, assets, and audits.
That's it! Press "solved" and your document will be ready to be reviewed and signed in a matter of minutes! You can take this document to the notary and get it notarized!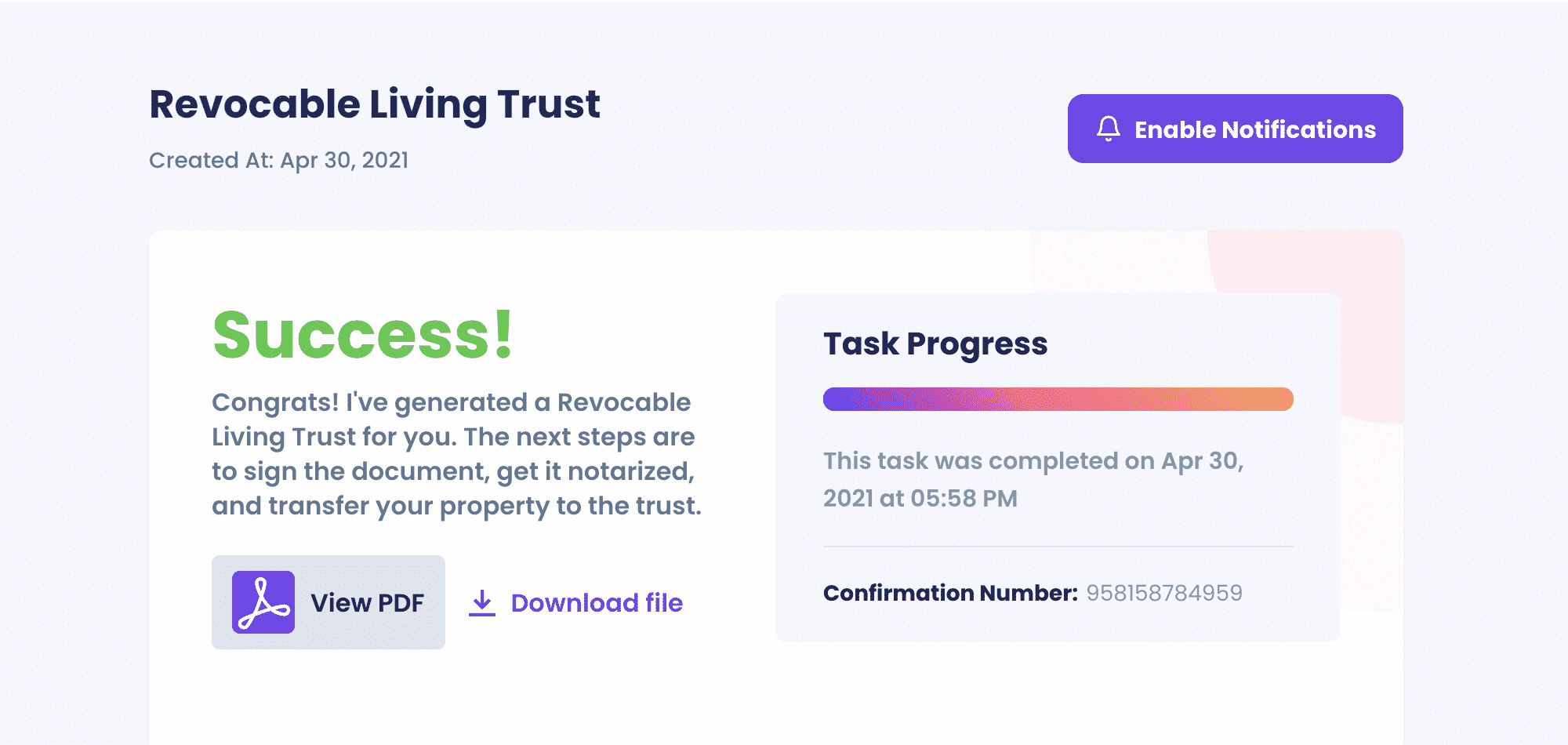 Our app can you also help with living trusts in the following states:
DoNotPay Helps With…