Difference Between a Living Trust vs Will
A living trust and a will are two estate planning tools that can help protect your assets and pass them to subsequent generations. Although it is possible to have both a will and a trust, getting to know the difference between the two is crucial. In this article, we will clarify the key differences between a living trust and a will and help you decide which one is best.
What is a Will?
A will is a legal document that indicates the creator of the will's wishes such as appointing a guardian for minor children and distributing inheritance. The document activates when the creator passes away. A will goes through court probate where a court administrator evaluates the will and manages the distribution of assets. Probates can be time-consuming and stressful when family members challenge the will. There are different types of wills such as: 
Testamentary wills – Also known as a last will and testament, the traditional will is used to transfer assets to beneficiaries or organizations after the death of the testator.

Holographic wills – A holographic will is hand-written and signed by the testator and serves as an alternative to a will drafted by a lawyer. Take note that some states do not recognize holographic will.

Oral wills – Just as the name indicates, an oral will is made verbally to another person to ensure that the wishes of the dying are accomplished. 

Pour-over wills – A pour-over will ensure that upon the grantor's death, his/her remaining properties will automatically be moved to a trust that was established when the grantor was still alive.
What is a Trust?
A trust is a legal document that activates as soon as the grantor signs on it.  It can be used for the distribution of assets even before the grantor's death. Trusts are not required to undergo probate when the grantor passes away and the document cannot be challenged by family members. There are two types of trusts:
Revocable Trusts

– A revocable trust is a living trust that can be altered at any time. The grantor can remove beneficiaries,  add new ones, or change the stipulations of the trust.

Revocable trusts become irrevocable

at the grantor's death.

Irrevocable Trusts

– An irrevocable trust cannot be changed once the grantor signs it.  There are isolated circumstances where changes can be made but these are under very specific conditions.
Key Differences Between a Living Trust and a Will
Wills and trusts are both crucial estate planning tools but they are different in some ways. First of all, a trust is activated when the grantor executes it. Meanwhile, a will does not go into effect until the testator passes away. A will goes through probate but a trust does not. Here are key differences between a living trust and a will:
Revocable Living Trusts
Wills

Name beneficiaries for property

Yes

Yes

Leave property to young children

Yes

Maybe

Revise your document

Yes

Yes

Avoid probate

Yes

No

Keep privacy after death

Yes

No

Requires a notary public

Yes

No

Requires transfer of property

Yes

No

Protection from court challenges

Yes

No

Avoid a conservatorship

Yes

No

Name guardians for children

No

Yes

Name property managers for children's property

No

Yes

Name an executor

No

Yes

Instruct how

taxes

and debts should be paid

No

Yes

Simple to make

No

Yes

Requires witnesses

No

Yes
Benefits of Living Trust Over a Will
Choosing between a living trust or a testamentary will depends on your personal needs and your goals with your estate planning. However, it is important to take into consideration that there are some things that a trust can do but a will cannot. Here are some benefits of creating a living trust over a will:
Lets you avoid probate – A probate is a lengthy and often expensive court-supervised process of transferring inheritance from a testator to beneficiaries. It is required in a last will and testament as it is the only way that the property can be passed. A living trust doesn't have to go through probate because the appointed trustee steps in and takes care of the distribution of assets.

Protects your privacy – When a will enters probate, the document and the details within it become public. Since a living trust doesn't go through probate, it can maintain the privacy of the estate and beneficiaries.

Prepares for grantor's incapacitation – When the grantor suffers a mental disability, the successor trustee can step in to manage the state. This allows the living trust to prepare your estate not only in the event of death but also incapacitation.
Get Your Living Trust in Minutes With DoNotPay
Hiring a legal expert to set up a living trust can be prohibitively expensive. An individual living trust costs between $1,000 to $2,000. Meanwhile, a joint living trust can cost up to $8,000. There are cheap online living trust forms that are ready to download and fill out but the language that some of these forms use may not be legally acceptable. That is where DoNotPay can help.  Our AI lawyer can help you draft a technically accurate living trust without the high fees. Here's how to use our service:
Log-in to DoNotPay and select the 'Revocable Living Trust' product
Enter your designated trustees

Tell us where the document will be notarized

Allocate your assets and properties to your beneficiaries

Determine whether you want to donate any of your assets
That's it! You'll have your revocable living trust set-up in minutes!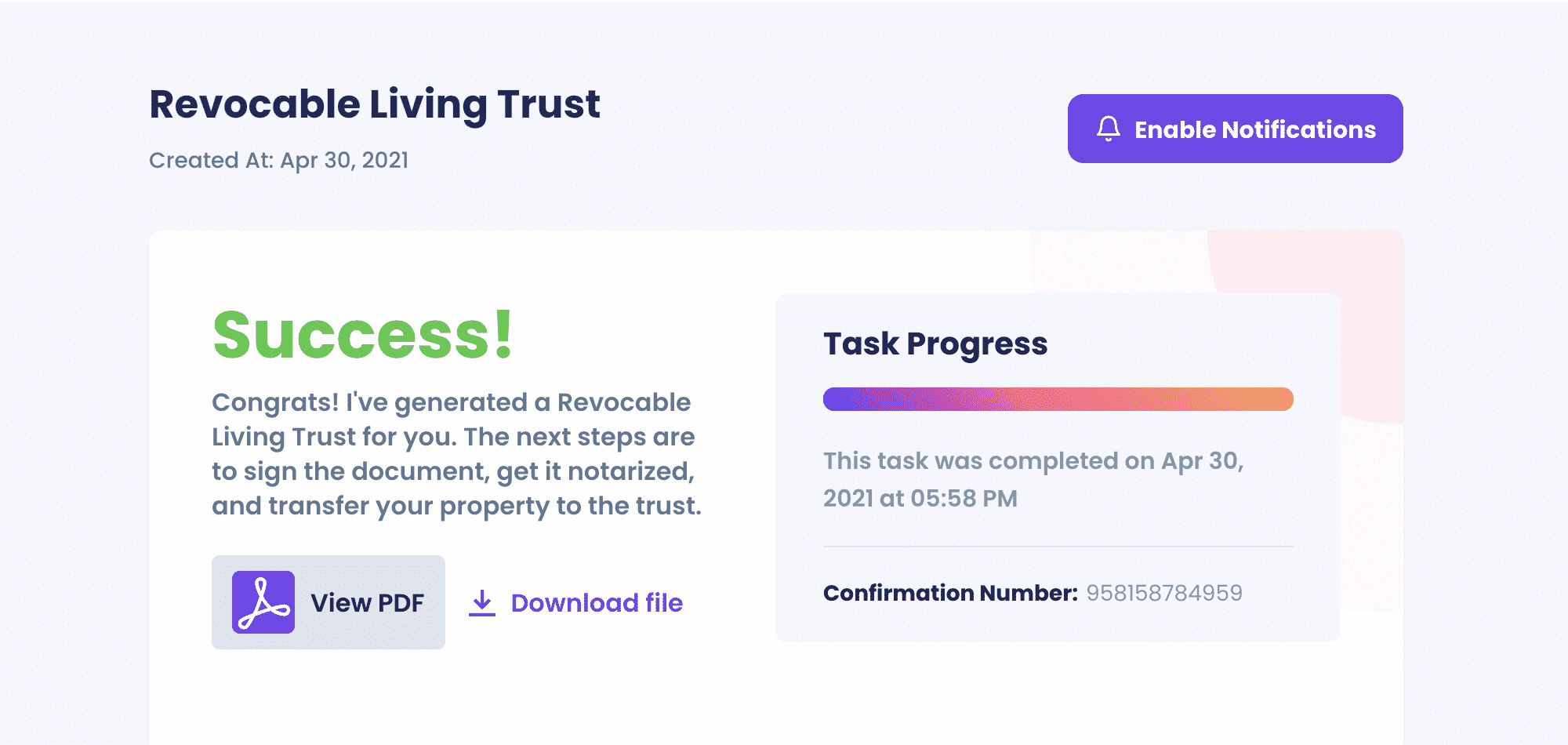 We can help you set up a living trust in these states:
What Can DoNotPay Do For Me?