How To Get a Personalized Virginia Living Trust In Minutes
Creating a living trust is a great way to secure your assets against probation and inheritance taxes. It's also a great way to plan for the future in general. A living trust is a legal document that accounts for your assets and details how it will be distributed.
If you live in the state of Virginia, this article will help you discover everything you need to know about making a living trust. You can also learn how DoNotPay can help you lighten the load when it comes to preparing a revocable living trust of your own. 
How Rich Do I Need to Be to Create a Living Trust?
Creating a living trust is not a privilege meant exclusively for millionaires or people with an immense portfolio. A living trust can help you protect assets as simple as your home, your vehicle or your savings.
Part of the misconception regarding the cost of creating a living trust may arise from the fact that previously, it was almost always necessary to hire a lawyer to assist you. Nowadays, with the help of DoNotPay and a larger access to legal expertise, making a trust can be an easy and inexpensive process. 
Options for Creating a Living Trust
Hiring an attorney

Hiring an attorney can be a way to guarantee that your living trust document is made with all the relevant legal information in mind.

However, one of the downsides to using an attorney can be the

expensive fees

. Attorneys can charge you anywhere from $250 to $350 per hour when it comes to creating a living trust.

If you don't want to go through the hassle of finding an attorney and spending vast amounts of money during the process, then this might not be your best option. 

Using online templates

Finding an

online template

can be a useful tool when it comes to writing a living trust.

Just make sure that the sources you are using distinguish between details (like an irrevocable vs revocable trust), so that you don't accidentally create the wrong kind of document. 

It can be hard to find real examples sometimes. So it may take some digging to find an authentic example. 

Figuring it out on your own

You might also be considering taking everything into your own hands, which is possible but may require extensive research, time and hard work. 

If you have all of these at your disposition then you can choose to embark on writing the document yourself. 

Using DoNotPay

If all the other options seem time consuming, complicated and expensive, then you could always use DoNotPay to have the document written for you quickly, effectively and at a reasonable rate. 
Difference Between a Revocable and Irrevocable Living Trust
A revocable trust is safer and more flexible of the two options. Read more to learn why:
Irrevocable living trust
An irrevocable living trust is very strict with the arrangement of your assets.

Once the document has been signed it's almost impossible to make changes or adjustments. 
With an irrevocable living trust, you will also be losing complete ownership of the assets included within the document. 
Revocable living trust
A revocable living trust, in contrast to its counterpart, allows you to retain ownership of your assets and still have a say in its administration. 
It also provides a lot of flexibility when it comes to making changes or adjustments throughout your

lifetime

.

You will not encounter any difficulty in creating new beneficiaries,

changing trustees

, or even removing the trust altogether. 
How You Can Make a Revocable Living Trust Using DoNotPay 
If you want to create a revocable living trust from the comfort of your home, then look no further than the DoNotPay!
Follow these easy steps and you'll have a well structure, concise and legally viable trust in just minutes: 
Log-in to

DoNotPay

and go to the Revocable Living Trust service
Let the chatbot know which state you live in
Name a trustee(s)
List all of your selected beneficiaries
Provide all the assets you wish to include within the trust
With this information, DoNotPay will be able to automatically create a revocable living trust that matches your specifications Print the document and be sure to sign it before a notary so that it becomes legally effective.
You're done! You have officially created your very own revocable living trust.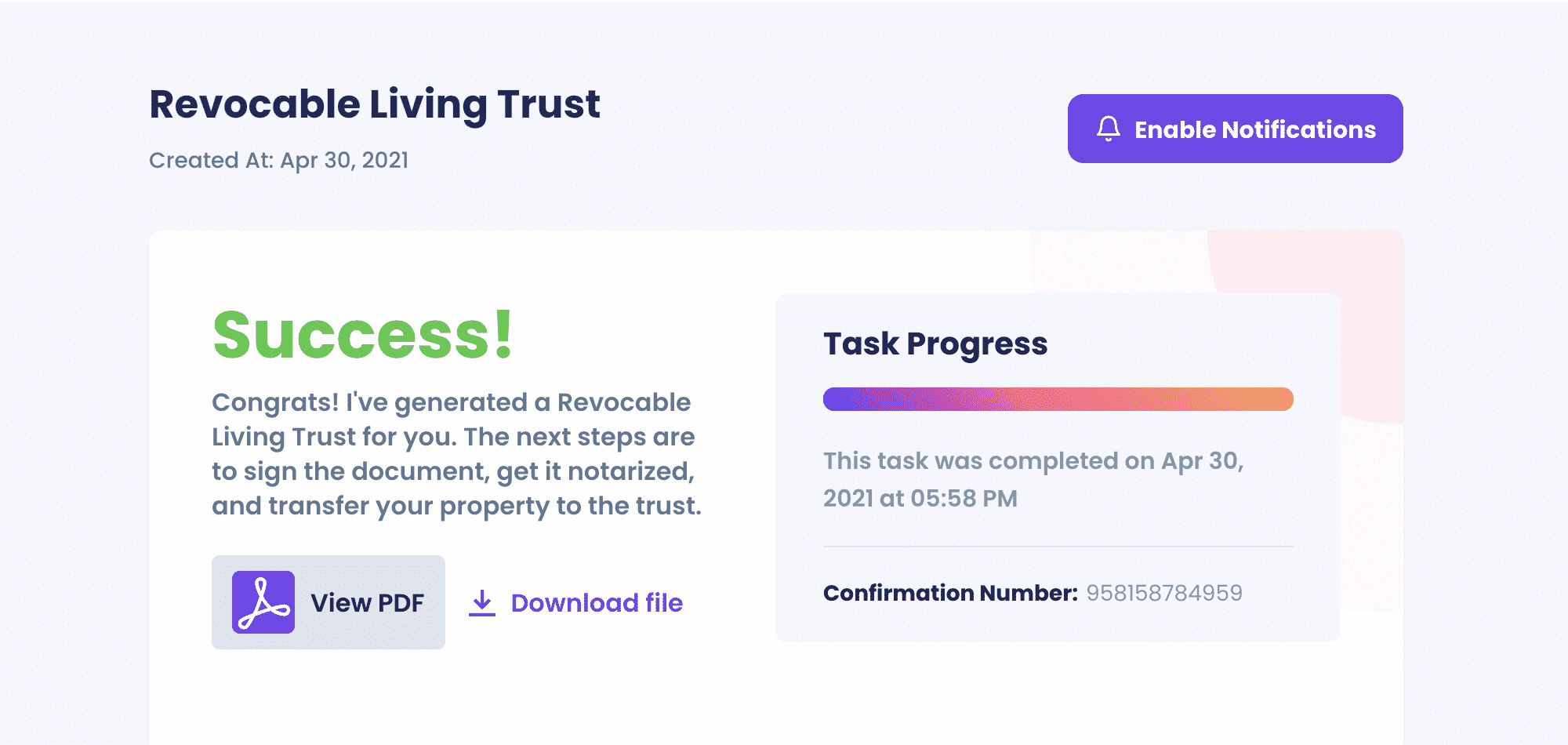 A Robot Lawyer and Assistant in One!
Here's a list of legal-related matters DoNotPay assists with:
Scan legal documents for hidden clauses

And more!
Here's a list of service-related things DoNotPay can help you with: