All About a Living Trust - Utah
Drawing up a living trust is an excellent way to guarantee that your assets are distributed according to your wishes. Having a trust can also be useful when it comes to avoiding probate and protecting the privacy of your estate planning. 
If you live in the state of Utah this article will help answer all your living trust questions. Whether you need help choosing a type of trust or finding out if estate taxes could affect your living trust, keep on reading to discover everything you need to know.
Understanding Utah's Uniform Probate Code
The Uniform Probate Code is a set of laws that have been adopted by 16 states. The code is meant to be implemented once a person passes away and the process of probate begins.

Utah is part of these sixteen states.

If you want to leave your family members or loved ones a particular asset, these laws can make things a little more complicated and interfere with things such as your

will

. 

Creating a trust is a more secure way to skip Utah's Uniform Probate Code so that you can guarantee that all of your assets will be handled and distributed according to your instructions. 
Revocable and Irrevocable Trusts in Utah 
Before choosing to create a living trust in Utah, it's very important to know the kind of trust which would best suit your needs. There are two main kinds of living trusts no matter which state you live in, revocable and irrevocable. 
Here is a table explaining the key differences between them: 
Irrevocable Living Trust
Revocable Living Trust
Making Changes To Your Trust

With an

irrevocable trust,

making changes to your beneficiaries, assets or trustee can be almost impossible. 

This type of legal document is very much set in stone once it has been notarized and signed. 

A revocable trust offers you quite a lot of

flexibility

when it comes to making adjustments. 

Throughout your life you can add or remove assets, and even change the beneficiaries or trustee you wish to appoint. In the event that you want to dissolve the living trust altogether, this is also possible.

Ownership of the assets within the living trust

With any living trust, your assets technically have to be transferred into the trust's ownership. 

However, with an irrevocable trust you lose complete authority over the assets that you choose to place in the trust. 

For example, any savings or property which you placed into the trust will no longer be yours to use or dispose of, and the decision will not be reversible.  

One of the biggest advantages to a revocable

living trust

is that it allows you to retain ownership of all of your assets, even after they are transferred into the trust. 

This means that you can still make decisions about your properties, business, finances, etc. 

If you're not ready for the finality of an irrevocable living trust then a revocable trust is a great option. 
Could Estate Taxes Hurt My Living Trust if I Live in Utah? 
Luckily, there is no need to worry about estate taxes when it comes to your living trust! Here's why: 
Estate tax usually comes in the form of a

state-imposed inheritance tax

, this is a tax which is calculated on a person's assets after they pass away. However, the state of Utah does not impose an inheritance tax on its residents.

The only other type of estate tax which exists is the federal kind, and the federal estate tax was cut in 2001 so as to only include estates valued at $11.7 million or higher- so most people don't actually have to worry about their living trust assets being taxed.
DoNotPay Can Help You Create A Revocable Living Trust
With the help of DoNotPay you can now create a revocable living trust faster than ever before. Instead of resorting to an expensive lawyer or cheap online templates, use DoNotPay! All you'll need is your phone or computer, and a couple minutes of your time. Follow these easy steps when you're ready:
Sign-in to your

DoNotPay

account

Start a Revocable Living Trust task
Provide information about your trustees, beneficiaries, and properties
Tell us where you're getting the document notarized
And you're done! You'll get a detailed and fool-proof living trust ready for download. Just take it to the notary to make it official!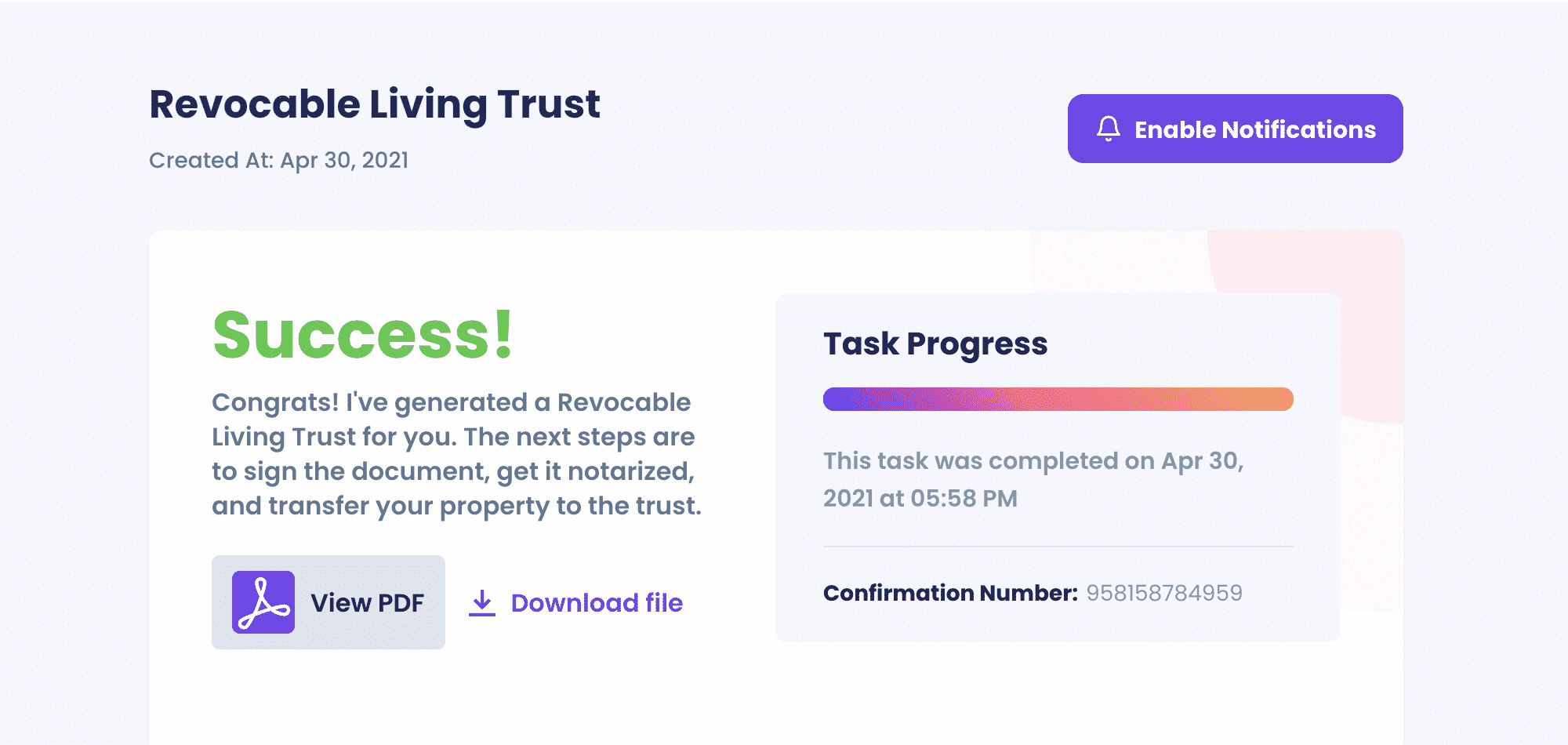 Use DoNotPay for More