The Essentials of a Living Trust
A living trust is a legal document that enables individuals to ensure the financial health of their family and loved ones after they pass away. A trust is an entity that is established by an individual, referred to as a grantor, for the benefit of others, referred to as beneficiaries. The rules of the trust are controlled or operated by a third party referred to as a trustee. 
Revocable vs. Irrevocable Living Trust
There are two core types of living trusts: a revocable trust and an irrevocable trust. Revocable Trust:
The

grantor

can designate themselves as the trustee so that they maintain control of their assets. In this case, the assets are in the grantor's estate and

remain taxable. 

In a revocable trust, you can change the rules, including the beneficiaries. 

You can also eliminate the trust altogether.
The grantor cannot be the trustee, therefore they relinquish their rights to control their assets. In this case, the assets are no longer in the grantor's estate and are no longer taxable.

The grantor will not be the legal owner of the assets and properties enlisted in the trust.

In an irrevocable trust, you cannot change the rules of the trust and the beneficiaries are set. 
Main Differences Between a Will and Living Trust
Both wills and trusts are estate planning tools that protect your assets and ensure that they are passed to the beneficiaries you appoint. It is recommended to have a will, even if you have a trust, so that you can ensure that all your properties are accounted for. Drawing up a trust is easier as a trust cannot be contested and does not go through probate after the grantor passes away.
Will

Living Trust

Only takes effect after you die

Must undergo probate court hearings

The terms of a will can be easily changed 

A will must name the guardianship of any children.

After you die, the transfer of assets to the beneficiaries takes time.

The terms of your will are public

The process of setting up a will is affordable.

You can set up a living trust that will take effect when you are alive.

Not required to go through probate.

An irrevocable trust can't be changed

A living trust does not name the guardianship of children

The transfer of assets is immediate. 

The terms of a living trust are private.

May be more expensive.
Trustees and their Role
Appointing a trustee is fundamental in every living trust. A trustee is a person, or institution, that will manage your trust property under the terms of the trust. They essentially administer the trust. 
Responsibilities of a Trustee
The most important factor to keep in mind as a trustee is that the assets you are managing are not your assets. You are safeguarding the assets for the grantor and the beneficiaries of the assets. As a trustee, you have a number of responsibilities, including the following:
You cannot mix trust assets you are protecting with your own.

Unless the trust authorizes otherwise, you are not allowed to use trust assets for your own benefit. 

You must treat the beneficiaries of the trust equally, you cannot favor one over the other.

Trust assets have to be invested in a conservative manner so that there will be reasonable growth with minimum risk. 

As a trustee, it is your responsibility to keep accurate records, file tax returns and report to the beneficiaries as the trust requires. 
Do Trustees Get Paid?
Trustees are entitled to reasonable compensation for their help and services. The trust should include guidelines. If it does not include any information about compensation, then an attorney will determine your compensation based on the case and the state's statutory laws.
How Much Does a Living Trust Cost?
There are numerous ways you can go when creating a living trust. If you want to hire a lawyer, then you should expect to pay $1,200 – $2,000.
It can be intimidating to draw up your own living trust as it must include legal jargon. Furthermore, the process of setting up your own living trust is a long process which is difficult to complete if you do not have free time. 
When it comes to hiring a lawyer, many believe that it might be worth spending a large amount of money as they will receive unmatchable service. However, the fact of the matter is that lawyers offer a standard living trust, so not only is it notoriously expensive to hire a lawyer, but it is also absolutely unnecessary. offers the same exact services as a lawyer for free, making it your best option!
Get Your Revocable Living Trust from DoNotPay
DoNotPay is revolutionizing the way people like you create estate planning documents. Use DoNotPay's Revocable Living Trust product to get a cost-efficient trust in minutes! Here's what you need to do:
Log-in to your

account and go to the Living Trust service
Tell us your state of residence
Select your trustees and beneficiaries
Allocate your assets to the appropriate parties
Tell us where you're getting the document notarized
That's it! You'll get a downloadable living trust that you can get notarized!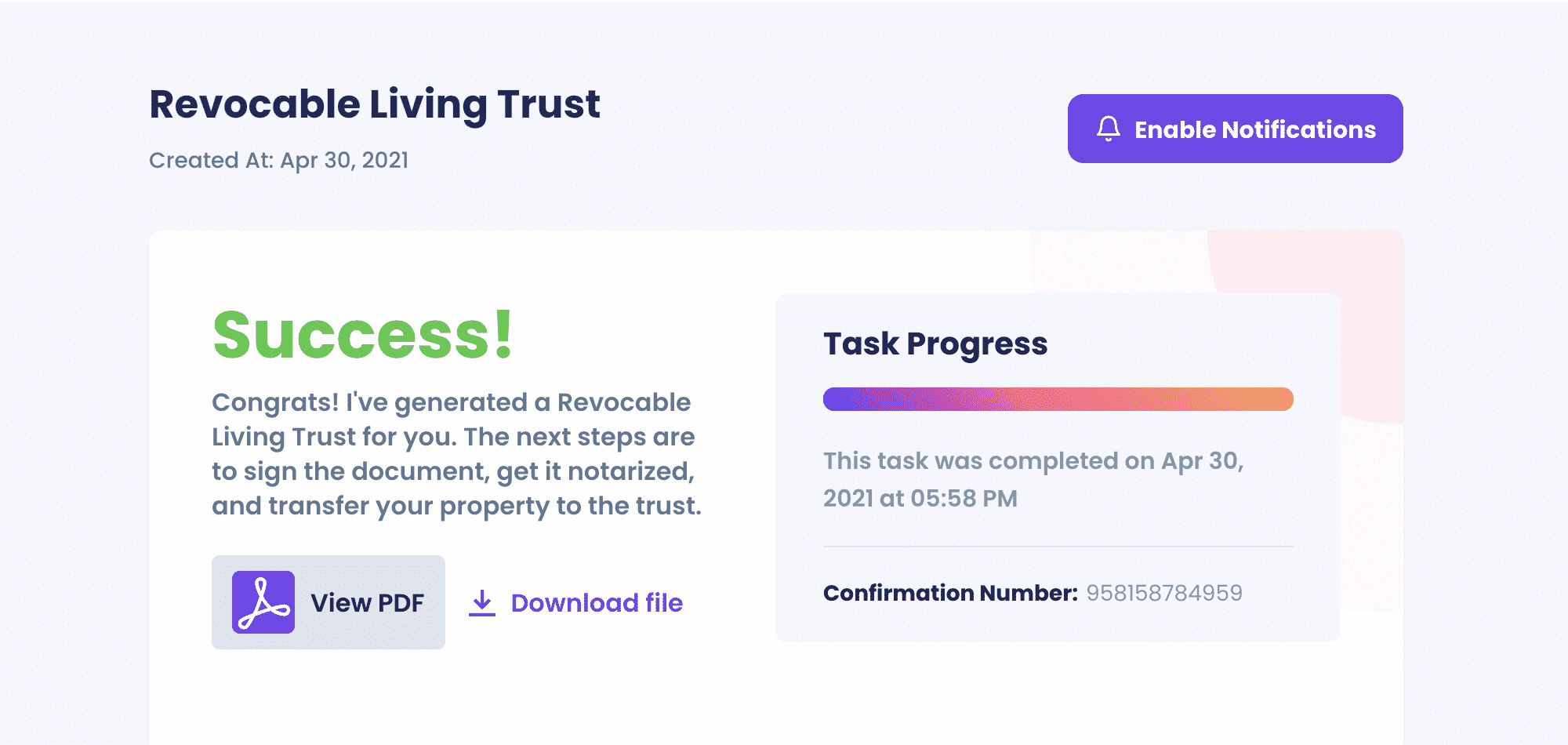 Other DoNotPay Perks