A Guide to Living Trusts in Texas
Depending on your unique estate planning goals —  managing assets, controlling the distribution of assets after death, or planning for mental or physical disability — living trusts can be of great help. This is because trusts are one of the most versatile estate planning tools.  There are many types and each is designed according to a specific goal. Although the trust law in Texas may be complex and setting up a trust requires legal expertise, getting yourself acquainted with the basics will be advantageous in the long run. In this article, we will walk you through the process of establishing living trusts in Texas. 
What is a Living Trust
A trust is a legal entity that serves as a container for the assets that will be passed down from the creator of the trustee to the beneficiaries. Depending on the goals of the estate planning, the grantor may fund any kind of valuable property into the trust such as cash, stocks, bonds, real estate, life insurance policies, artwork, and many others. The two types of living trusts are explained below:
Revocable trust

– Also known as revocable living trusts, these are trusts that can be amended or canceled at any time as long as the grantor still lives. Take note that a

revocable trust automatically becomes irrevocable

when the grantor passes away.

Irrevocable trust

– An irrevocable trust cannot be altered or dissolved once it has been created. The grantor cannot remove assets, add or remove beneficiaries, or rewrite any of the provisions of the trust. Despite its rigidity, an irrevocable trust can be helpful when it comes to tax benefits.
Benefits of Creating a Trust
There are a bevy of benefits that come with creating a trust as it can be used for many purposes. It Is one of the most popular estate planning tools in Texas. Setting up a trust lets you do the following:
Minimize

estate taxes

Protect the estate from potential creditors

Avoid probate and the expense and delay that it causes

Protect assets for minor children until they reach a mature age (in case grantor dies while they are still minors)

Create a pool of investments that can be managed by professional financial managers

Set up a fund to support the grantor in the event of incapacitation

Provide benefits for charity
Living Trusts vs Wills
Even if the grantor has a living trust, it is likely that he/she will also need a will. A trust can only plan for assets that are funded into it. If any assets are not moved to the living trust, a will can indicate how those assets will be managed. Additionally, a will has capabilities that a living trust does not have. The key differences between living trusts and wills are as follows: 
| | | |
| --- | --- | --- |
| | Living Trusts | Wills |
| Names a property beneficiary | Yes | Yes |
| Allows revisions to be made | Depends on type | Yes |
| Avoids probate court | Yes | No |
| Requires a notary | Yes | No |
| Names guardians for children | No | Yes |
| Names an executor | No | Yes |
| Requires witnesses | No | Yes |
Do You Need a Living Trust in Texas?
Setting up a Texas living trust does more than keep you out of probate court. It also allows you to maintain privacy as your records remain confidential. It is more difficult to challenge a trust than a will providing better security. Here's why you may need a living trust in Texas:
Texas does not use the

Uniform Probate Code

which would have simplified the complex probate process. 

Small estates below $75,000 use a simplified probate process which is more straightforward and relatively cheap.

Texas also allows the use of a transfer-on-death deed to transfer real estate and keep homes out of probate.
How to Get a Living Trust from DoNotPay
To draft a living trust,  you can either hire a legal expert or make use of online living trust forms that are ready to download. If you hire an attorney, expect to pay around $2,000 for an individual living trust and up to $8,000 for joint living trusts. Online forms are a cheaper option but the language that some of the forms use may be legally unacceptable. That is where DoNotPay can help. Our robot lawyer can help draft a living trust that is technically accurate and cost-efficient.  With DoNotPay, all you need to do is:
Log-in to

DoNotPay

and click on the revocable living trust icon

To begin, tell us your state of residence
Assign trustees and beneficiaries

Distribute your assets and properties 

Tell us where you are getting the trust notarized
How easy was that? In minutes, your document will be created and ready to be reviewed! Take it to a notary to make the trust official!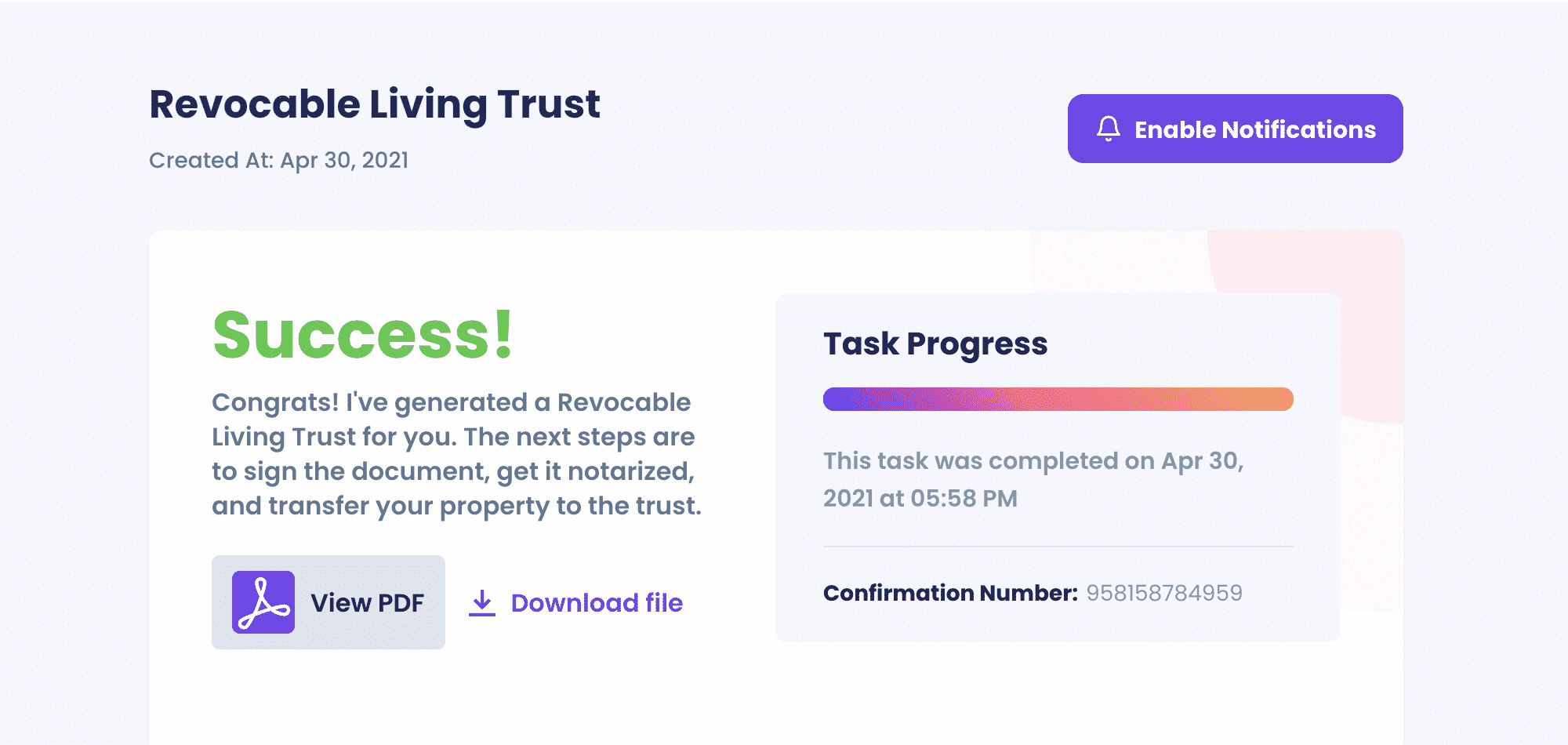 DoNotPay Does More For You!