Do You Need a Living Trust Successor Trustee?
One of the crucial aspects of setting up your living trust is finding someone to act in good faith and execute the instructions in your trust after your demise. 
This person is called a trustee. In the event this person dies or becomes incapacitated, the successor trustee takes over. In the rest of the article, you'll learn the qualities to look out for in a successor trustee. If you have been named a successor trustee, you'll learn what is expected of you.
Who Can Be a Successor Trustee?
A successor trustee is someone you equally trust to manage the trust when the original trustee passes away. While they may not have been your first choice, it's important to select a successor trustee you believe in. A successor trustee can be anyone who will carry out your instructions or act in your best interest regarding your living trust. They can be your:
Partner or Spouse

Children or grandchildren

Business partner

Close friend
You would need to choose a person to be a trustee and successor trustee when creating a living trust. If you plan to open a will, irrevocable trust, or ​​revocable trust, you can be the grantor and the trustee at the same time for as long as you are available. 
Responsibility is one of the top factors to consider when selecting a successor trustee, especially if you have minors named as beneficiaries of your trust. You do not want to appoint a person with the tendency to abandon their duties down the line. Over 75% of grantors pick a younger friend or relative as their successor trustee. 
Duties of a Successor Trustee
A successor trustee will have the same duties as the original trustee. The successor trustee will be instructed to maintain the living trust until all of the terms of the living trust are carried out. Other specific duties are:
Reevaluating your trust assets as at the time of your demise

Executing the declaration of the trust

Contacting and informing all beneficiaries of their position in the trust

Settling any accruing creditor debt

Filing

tax papers

, determining income tax, and getting a Tax Identification Number for the trust

Locating and safeguarding assets listed in the trust

Investing assets in the trust on behalf of minors until they are of legal age

Ending the trust and properly distributing assets to beneficiaries 
Individual vs Institutional Successor Trustees
Trustees do not always have to be human. They can also be corporate entities like banks and insurance companies with the capacity to manage trusts on behalf of an individual. When choosing between the two, there are some factors to consider that have been highlighted in the table below: 
| | | |
| --- | --- | --- |
| | Individual successor trustee | Institutional successor trustee |
| Trust | You'd typically choose an individual you and your beneficiaries can trust.  | The level of mutual trust is low. You hire such institutions to act in your best interest in your absence based on the contract. |
| Continuity | Humans have a finite amount of time to live. This may impact the execution and management of your trust. | Corporations are guaranteed to last longer and have the necessary resources to manage the trust. |
| Remuneration | You can pay a smaller amount of money as remuneration. | Institutions tend to charge relatively higher. The remuneration cost will depend on the value of estate and assets contained in your trust.  |
| Understanding | When your trustee is a family member or a friend, they tend to have a better knowledge of your family and how to ensure proper settlement. | Institutional trustees do not have the  in-depth knowledge of your family history.  |
| Decision making | An individual may try to make decisions out of respect for the grantor and in the interest of the benefactors, but they are limited by experience and expertise.  | Institutional trustees tend to have a broad range of experiences in investing, distributing, managing, and administering trusts.  |
Can a Successor Trustee Be a Beneficiary?
It is not uncommon to find a successor trustee being listed as part of the beneficiaries of a trust. For example, a mother can name her eldest son as a successor trustee and a beneficiary to the trust as well. In the event of her demise, he can use the trustee powers to allocate part of the inheritances to himself. 
What If I Don't Want to Be a Trustee?
To administer a trust, you need time, dedication, and commitment for months, if not years. If this sounds like too much work for you, you are under no obligation to continue as a trustee forever. You can opt to decline or resign.
Create a Living Trust Using DoNotPay
Whether you are creating an individual or a joint living trust, you no longer have to go through the rigors of setting up your living trust by yourself. You also don't need to pay large amounts of money for set-up costs. DoNotPay can assist you in getting your living trust up and running in record time:
Create a

DoNotPay

account and go to the "Revocable Living Trust" service
Enter the state you live in
Enter the names of your beneficiaries
Enter the names of your assigned trustees
Your revocable trust will be ready for download in minutes!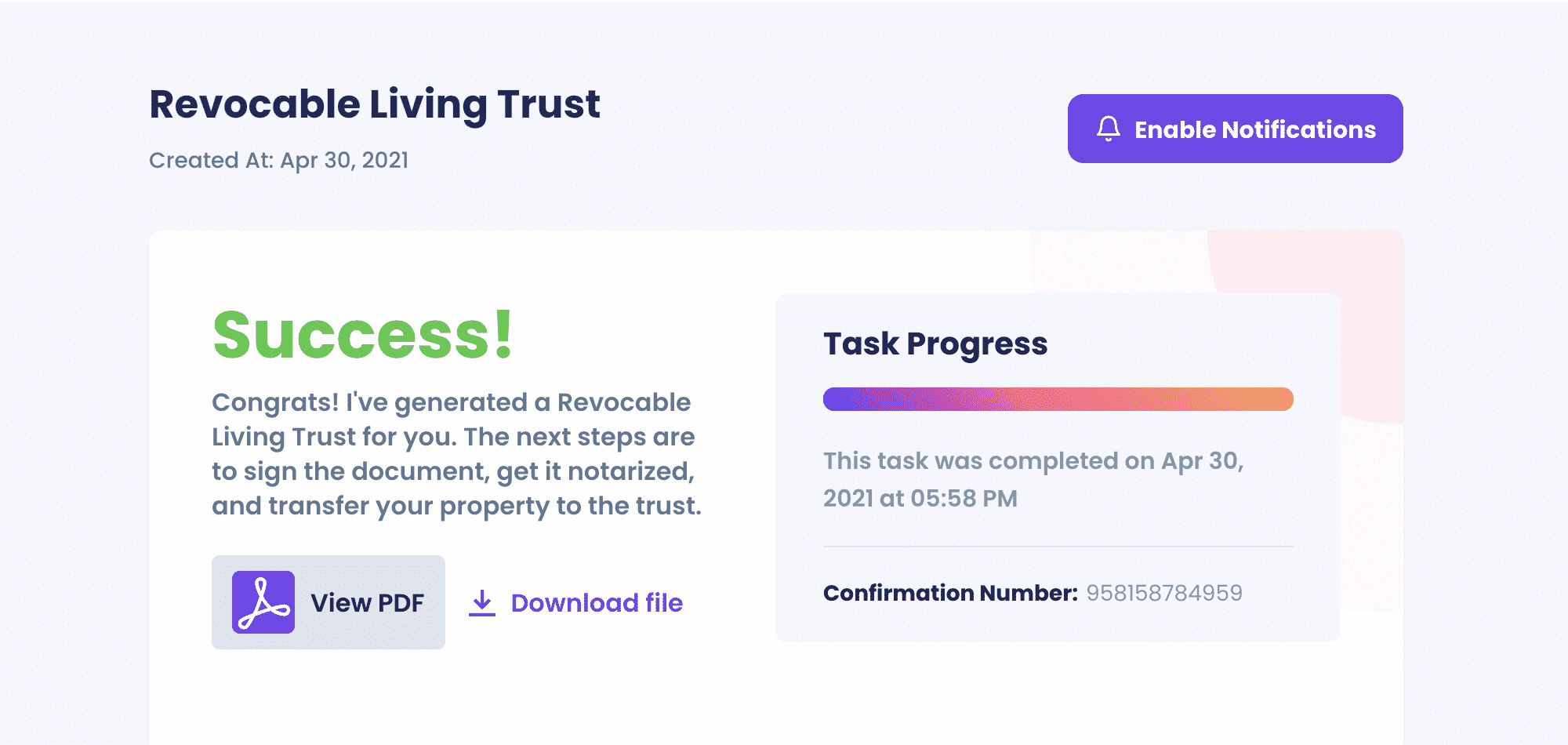 State living trust guides
Here are some helpful guides about living trusts by state:
DoNotPay Can Do More
 Sometimes, it sucks having to deal with small things yourself. Let DoNotPay work on your chores for you: