Living Trust SC - Guide
Managing your assets can be intimidating and confusing. When you are planning how to handle your estate through all stages of life, it is important to understand all of your legal options. One great option is to create a living trust. You might think that trusts are only for the rich, but you can make a trust no matter how much money you have using DoNotPay's easy process. Read more below about how you can make a living trust, what a trust can do for you, and how DoNotPay can help you create your own living trust in South Carolina with zero stress. 
What's a Living Trust?
Before you start making your own living trust, you should learn everything you need to know about living trusts and how they work. A living trust, also referred to as a revocable trust, is a legal way to manage your property through all stages of life. With a living trust, you can place your assets within the trust to be managed by a trustee, who can either be yourself or a third party. With your assets in a living revocable trust, you can:
Be sure that your estate is being handled in the way you want, even after your passing

Help your beneficiaries avoid any future fees

Help your beneficiaries avoid the probate process
Read more about living trusts and their legal process below. 
Living Trusts in South Carolina
The living trust process is common across the country, but it is always important to know the details of your state's laws and specifications. In South Carolina, the living revocable trust process can be easy and simple. South Carolina living trusts require that you:
Name at least one beneficiary

Name your trustee

Clearly outline how you wish your trust to be managed. 
One important detail to know is that a sole beneficiary and your trustee can not be the same person under South Carolina law. To learn more about the difference between a living trust and a will, keep reading. 
Difference Between a Living Trust and a Will
When you think of legally preparing for your passing, you might first think of a will. While a will is a common method of estate management, a living trust can help you prepare for your death in different ways. To better understand the difference between a will and a living trust, you can consult the table below. 
| | |
| --- | --- |
| Living Trust | Will |
| Avoid the probate process | Must go through probate |
| In effect when you are alive, even when you are alive and incapacitated, and after you pass | Only in effect after your death |
| Helps your beneficiaries avoid future costs and court disputes | Possible disputes in court and costs for your beneficiaries |
To read more about the difference between wills and living revocable trusts, click here. 
Revocable vs. Irrevocable Trusts
If you have decided to create your own trust, there are two major kinds of trusts that you can choose from. There are two types of trusts:
Revocable trusts

Irrevocable trusts
The most major difference between these two trusts is their ability to change once they have been created. With a revocable trust, you can easily adjust your assets, how they are managed, beneficiaries, and your trustee after you first create your trust. However, with an irrevocable trust, it is almost impossible to change any details of your trust once you have created it. With this in mind, a living revocable trust is always better to make sure that you can change your trust details whenever you need to. You can learn more about the differences between trust types here. 
How to Set Up Your Living Trust
If you are planning to use a living trust to manage your estate, you have a few different options to start the process. These are the options you have when creating a living trust:
An online template

A lawyer

DoNotPay
Because a trust is such an important legal document, it is not wise to try to make one on your own or using an online template. However, hiring a lawyer to help you create your living trust can be expensive and time consuming given how costly lawyers' fees are. Luckily, DoNotPay can help you draw up a living revocable trust document with all of the information you need without any of the fees or hassle of hiring a lawyer. You can read more about the process of creating a living trust in the articles below:
Get a Living Trust from DoNotPay!
Creating your own living revocable trust in South Carolina can be a simple, painless process with DoNotPay. To draw up your living trust with DoNotPay, all you have to do is:
Sign-in to

DoNotPay

and start a Revocable Living Trust task

Answer a few questions about:

Your trustees

Your beneficiaries

Properties and assets to be distributed

Percentage of assets going to be donated

Tell us where you are getting the trust notarized
After that, you're all set! Your revocable living trust will be ready for you in minutes.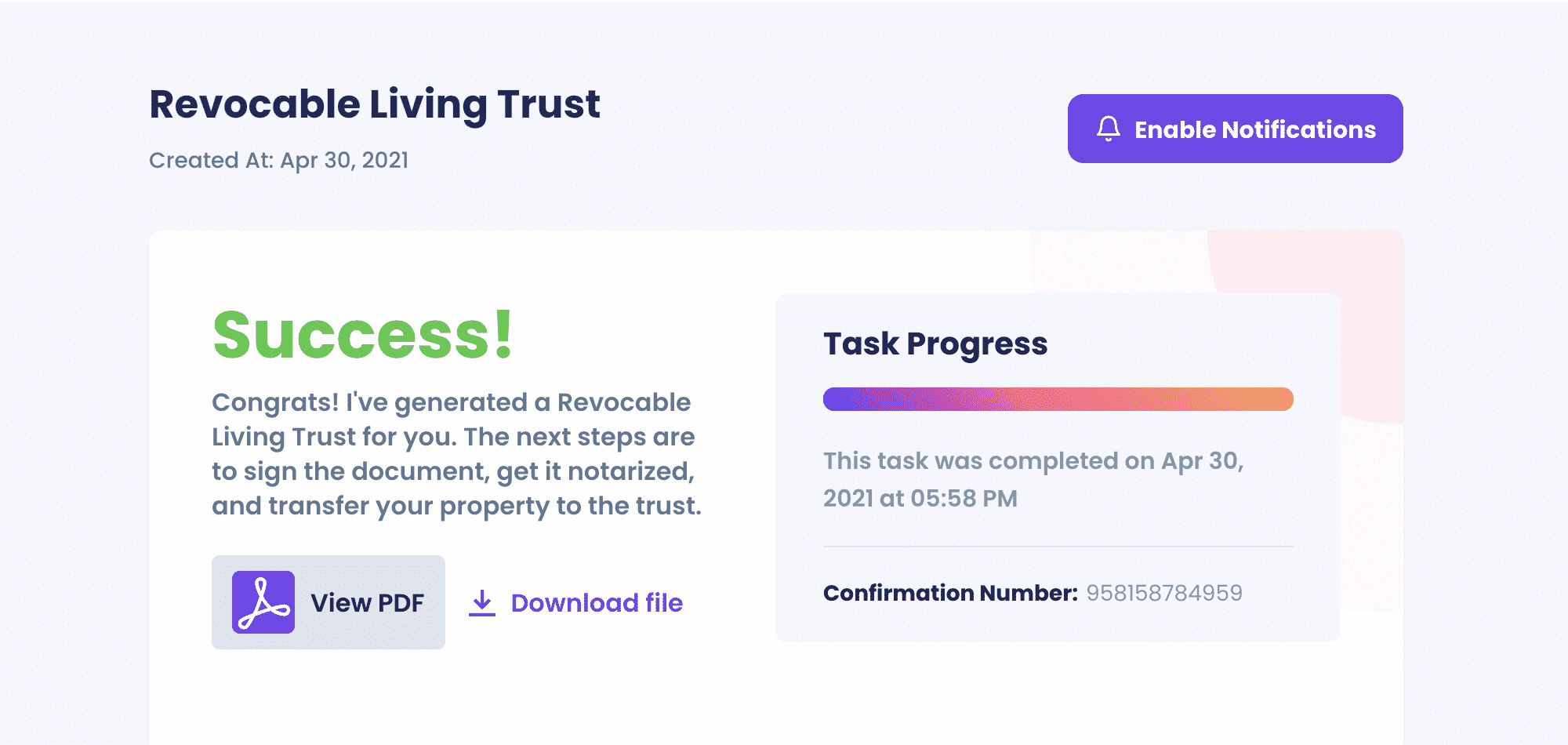 DoNotPay Can Help You…