Living Trust PA - Pennsylvania
No matter what stage of life you are in, it is always important to make sure your estate is managed well. One of the best methods for you to ensure that your property is protected is to make your own living trust. You might think that trusts are only for the super-rich, but anyone can create a trust to protect their assets. To learn more about living trusts, how you can make your own trust in Pennsylvania, and how DoNotPay can help you create a living trust, keep reading!
What is a Living Trust?
Before you consider making a living trust, it is essential to understand what exactly a trust is and how it can help you. A living trust is a legal method for you to manage your assets and ensure that they are handled responsibly. The property that you place within your trust are managed by a trustee according to the provisions outlined in your trust document. You can customize your living trust to choose:
Who your trustee is, whether it is yourself or a third party

Who your beneficiaries are

How your assets are managed 
Are There Different Types of Trusts?
There are two major types of trusts that you can choose from when creating your own trust. The most common kinds of trusts are known as:
A revocable trust is easily adjustable after it is first established, meaning you can change how your assets are handled, add or remove beneficiaries, and more as you see fit. On the other hand, an irrevocable trust is very difficult to adjust or change after it is first established. Because of this, a revocable trust is always better so you can have future flexibility. You can read more about the difference between trust types here. 
Living Trusts in Pennsylvania
A living trust in Pennsylvania is similar to living trusts in other states across the country. If you are looking to establish a living revocable trust in Pennsylvania, the process is simple. Your PA living trust will be a legal agreement granting management of certain assets to a trustee of your choice. This trustee can be either an individual or a corporation, and no matter who the trustee is they must abide by the directions written in the trust. 
Are Living Trusts and Wills Different?
The most well known legal document for estate management is a common will. You might think that a will is all you need to cover your estate after death, but a living revocable trust can help you manage your assets through all stages of life in ways that a will cannot. You can create a living trust in addition to a will to prepare your estate for all stages of life. To better understand the different ways a living trust can help you where a will cannot, read the table below. 
Wills

Living Trusts

Only effective after your death

In effect while you are alive, including if you are alive and incapacitated, as well as after your

death

Must go through the probate process

No need for any probate

Can cause potential future costs for your beneficiaries

Can help your beneficiaries avoid costs

Can create disputes in court

Helps you avoid court disputes
You can learn more about the differences between living trusts and wills here.
Creating Your Own Living Trust
If you are planning to create your own living revocable trust, there are many different ways for you to get started. To make a living revocable trust, you can:
Hire a lawyer

Use an online template

Do it on your own

Use DoNotPay
While you can make your trust on your own, this is not advisable given how important these legal documents are. However, hiring a lawyer can be a long and expensive process, costing you time and money. Luckily, DoNotPay can help you create your own living trust quickly and easily, saving you from paying any unnecessary fees. To read more about the living trust process, you can click on our articles below. 
DoNotPay Makes Living Trusts in Minutes
The trust process can be intimidating, but making your own living trust in Pennsylvania using DoNotPay is quick and stress-free. All you have to do is:
Sign-in to your

DoNotPay

account

Start a Revocable Living Trust task
Answer questions regarding your trustees, beneficiaries, and assets
Tell us where you're getting the trust notarized
After that, the living trust will be ready to be signed and made official!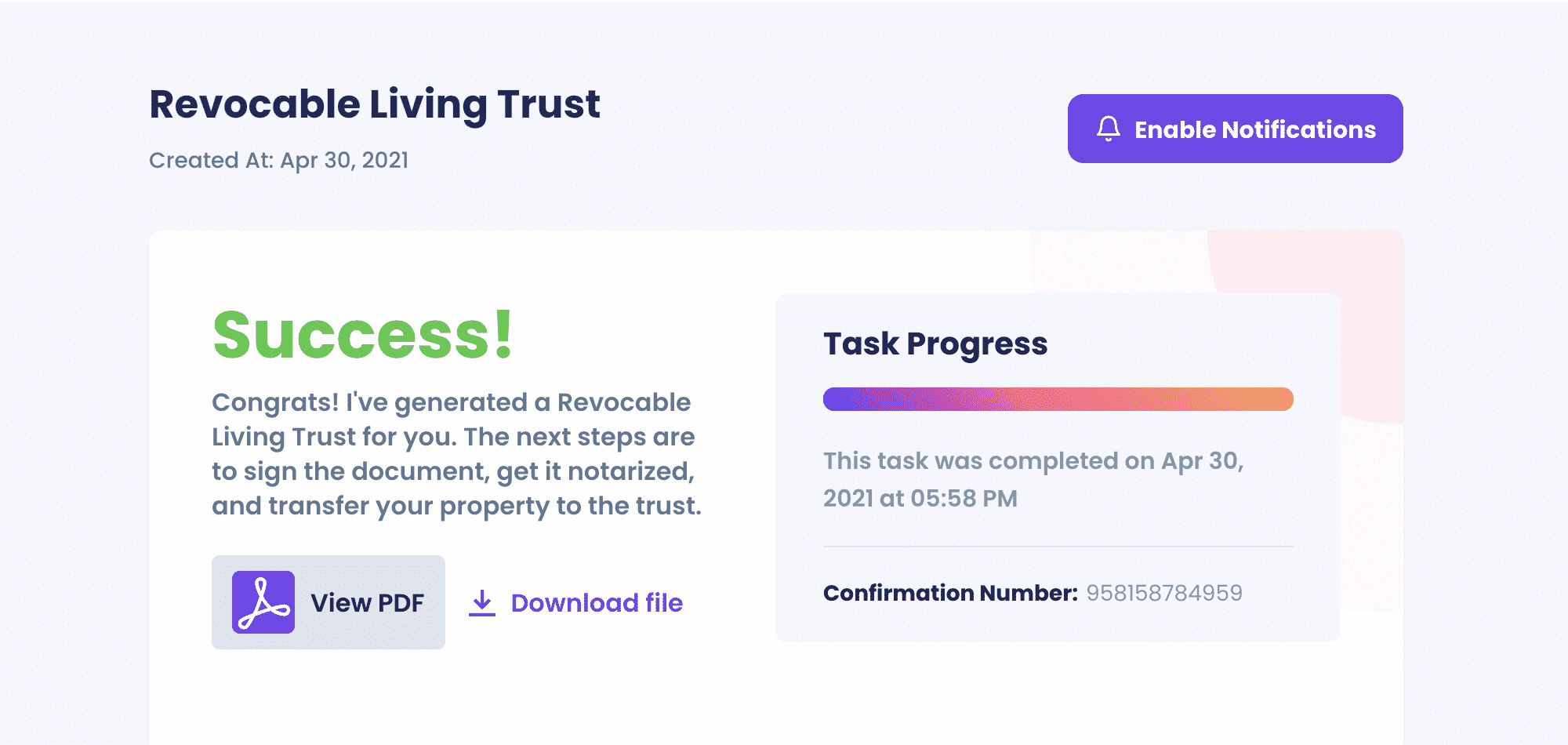 What Else Can DoNotPay Do?