Living Trust MN - Minnesota
Do you live in Minnesota and plan to create a living trust? This article will be for you! Learn more about living trusts, how it differs from a will, and the benefits of making one.
Estate planning can be hard - DoNotPay's robot lawyer makes it simple. Read to the end to find out how DoNotPay can help!
What Exactly Is a Living Trust?
You may have heard of a will but what exactly is a living trust? The difference between trusts and wills is primarily the process of activation and verification. A living trust becomes active as soon as it is signed, while a will has to go through a process called probate to become active and legally binding. Probate is why many choose to create a trust. It's extremely time consuming and the will can be challenged in court.
Trusts offer simplicity and privacy, and assets can be transferred as quickly or as slowly as the author of the trust wished for.
For trusts, a trustee is assigned to oversee the transfer of assets to the decided beneficiaries. There are two types of trusts:
Testamentary or "

after-death

" trusts

Created after the author's

death

through his or her will. The assets in the will are transferred to the trust.

Living or inter vivos trusts

Created during the author's lifetime and the assets are transferred to the trust.
Living trusts can be made revocable or irrevocable. The provisions set in a revocable trust can be changed while they cannot be changed in an irrevocable trust. An irrevocable trust can be chosen to reduce estate taxes.
Does Minnesota Follow the Uniform Probate Code?
Minnesota does utilize the Uniform Probate Code (UPC), which is a code used by some states to speed up the process of probate and standardize the process. Note that the state of Minnesota applies an estate tax to all estates above $1.2 million dollars USD. 
What Do I Need to Create a Living Trust?
If you feel ready to create your living trust, you'll need to have a fairly strong idea as to which assets you wish to give away, which beneficiaries will receive these assets, and who you want to be the executor (trustee) of your trust. 
The most important role here is the executor, who bears the most responsibility within the trust. Their job is to make sure that all of the beneficiaries receive the assets as per the trust agreement, to document everything that happens with the trust, to treat each beneficiary fairly, and to manage the assets. As they bear this responsibility, they cannot receive assets from you or have vested interests in the trust. 
Should I Create a Living Trust?
A living trust comes with many benefits. Some of the pros of creating a living trust include:
You can hire a trustee with expertise in financial planning. Usually, a trustee with experience charges a fee, but the management they provide can be of benefit.

A revocable living trust can provide privacy. The transfer of the assets to the beneficiary is not made public and doesn't go through probate.

If you have property in a different state, a revocable trust can help you avoid probate in that state.
DoNotPay can help you create a revocable trust without spending big bucks on a probate lawyer! Keep on reading to find out how!
Get a Revocable Living Trust from DoNotPay!
It's incredibly easy to create a revocable living trust with DoNotPay. Our tool is designed to make the process as simple as possible. You can have your trust ready to go in just three easy steps!
Log-in to

DoNotPay

Select the Revocable Living Trust product
Enter your state of residence
Assign trustees and beneficiaries
Assign the properties and assets that will go in the trust
That's it! We'll go ahead and draft a revocable trust for you. All you need to do is get it notarized.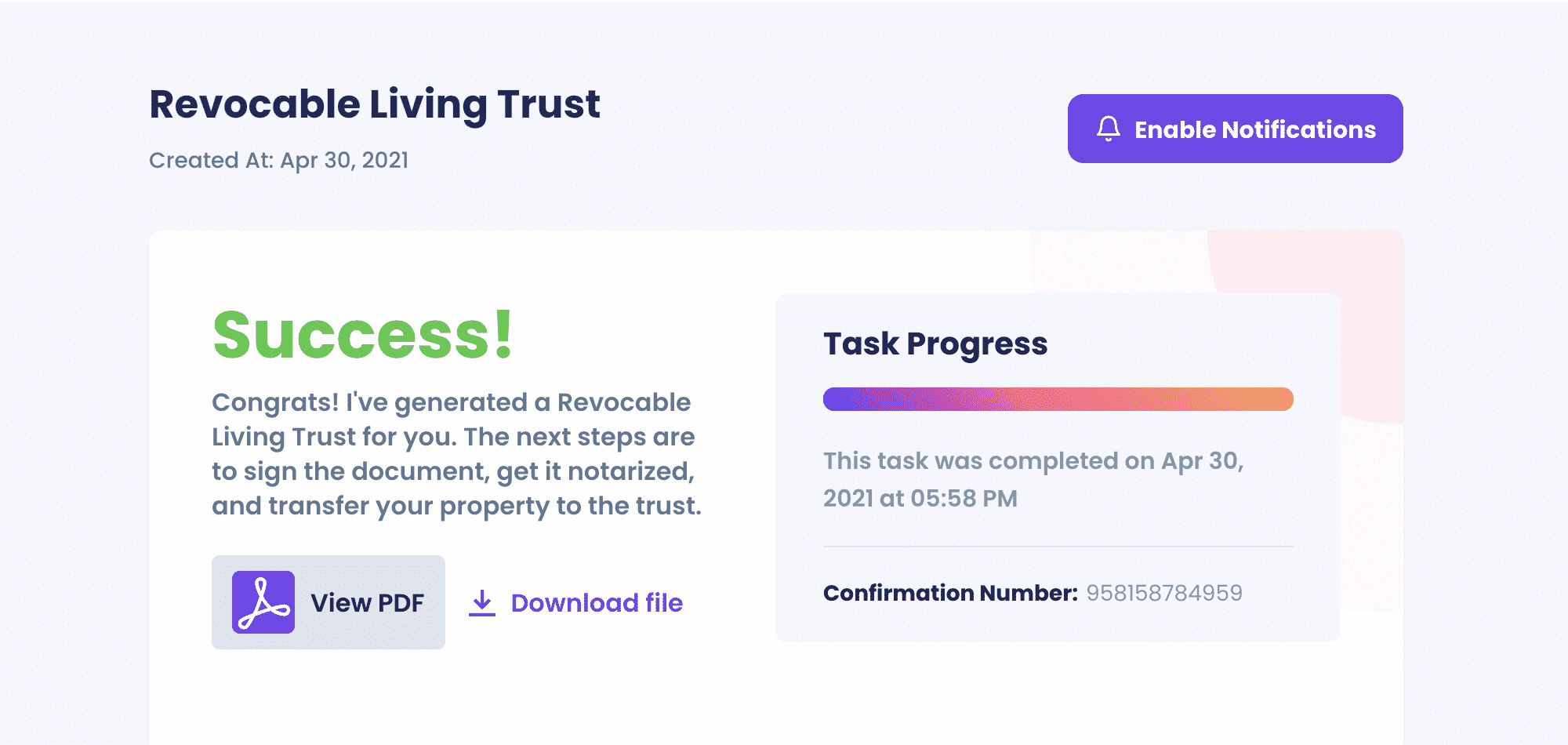 What Else Can DoNotPay Do?
DoNotPay's AI-powered robot lawyer can help you with daily tasks! Cancel subscriptions, look for tax exemptions, and appeal parking tickets with just a few clicks! 
Take a look at what else we can offer: