Living Trust Maryland
Not sure whether to write a will or create a living revocable trust in Maryland? Check out the details of Maryland's procedures and codes, and find out which option is best for you. Creating living trusts has never been easier with DoNotPay - find out how to set one up at the end of the article!
How Are Wills Different Than Trusts?
Why would you choose a living trust over a will? Oftentimes the upside of choosing a trust is its simplicity - wills have to go through probate. If you own property in more than one state, you will have to go through individual probate procedures for each state in which you own property. A trust can bypass these complicated processes. 
What is the function of probate?
To verify that the will's author has indeed passed away

To verify that the author in question did write the will

To verify that the will is valid, up to date, and the newest possible version

To address any contestations to the will

To make the will available for contestation
What Is a Living Trust?
A living (or inter vivos, latin for 'between the living') trust is a trust that is created while the author or owner of the assets is still alive. These trusts can be revocable or irrevocable living trusts: revocable trusts can be changed at any point while the author is still alive, while irrevocable trusts are essentially non-alterable, except for extreme extenuating circumstances. 
For irrevocable trusts, it is important to consult a lawyer, as they are binding, permanent and difficult to change. 
What Is Probate Like in Maryland?
Maryland, along with many other states, uses the Uniform Probate Code, which simplifies the process of probate. In the state of Maryland, estates of less than $30,000 qualify for a small estate proceeding. The process is also simplified for those who's residuary beneficiaries are the spouse or children.
A trust, on the other hand, has more immediacy and can be enacted at any time. There is no need to go through probate.
Trust vs. Will Comparison
Pros

Cons

Trust

Active immediately 

Revocable trusts can be easily changed

Good for people that have property in multiple states

Requires extensive paperwork if transferring property with titles

Will

Maryland uses the Uniform Probate Code (can speed up the process)

Faster processes for smaller estates 

Must go through probate

Can be challenged more easily

Larger estates may still face lengthy probate processes
Elements of a Living Trust
You'll need to keep a list of all of the elements of your living trust, as well as all of the appropriate documentation. 
Trustee: called the executor

Assets: to be given to beneficiaries.

Note:

some assets do not belong in a revocable living trust such as Health and Medical Savings Accounts, Retirement Accounts (IRAs), Life Insurance, and Uniform Transfers or Uniform Gifts to Minors Accounts (UTMA or UGMA). For more information on which assets to keep out of your trust, check out

this article. 

Documentation of assets: property deeds

Beneficiaries: recipients of the assets

Residuary beneficiaries: beneficiaries that receive what's left after specific assets have been given out.
Create a Revocable Living Trust in Maryland With DoNotPay
Ready to get started with your estate planning? DoNotPay makes the process easy as 1, 2, 3! Get your information together - once you've done all the brainstorming, the process is simple:
Log-in to

DoNotPay

and select the Revocable Living Trust product
Tell us which state you reside in
Assign your trustees
Assign your beneficiaries
Allocate the assets and properties that will go into the trust
Once you've finished inputting your information, DoNotPay will create a revocable living trust for you! All that's left is to get the document notarized by an official notary public.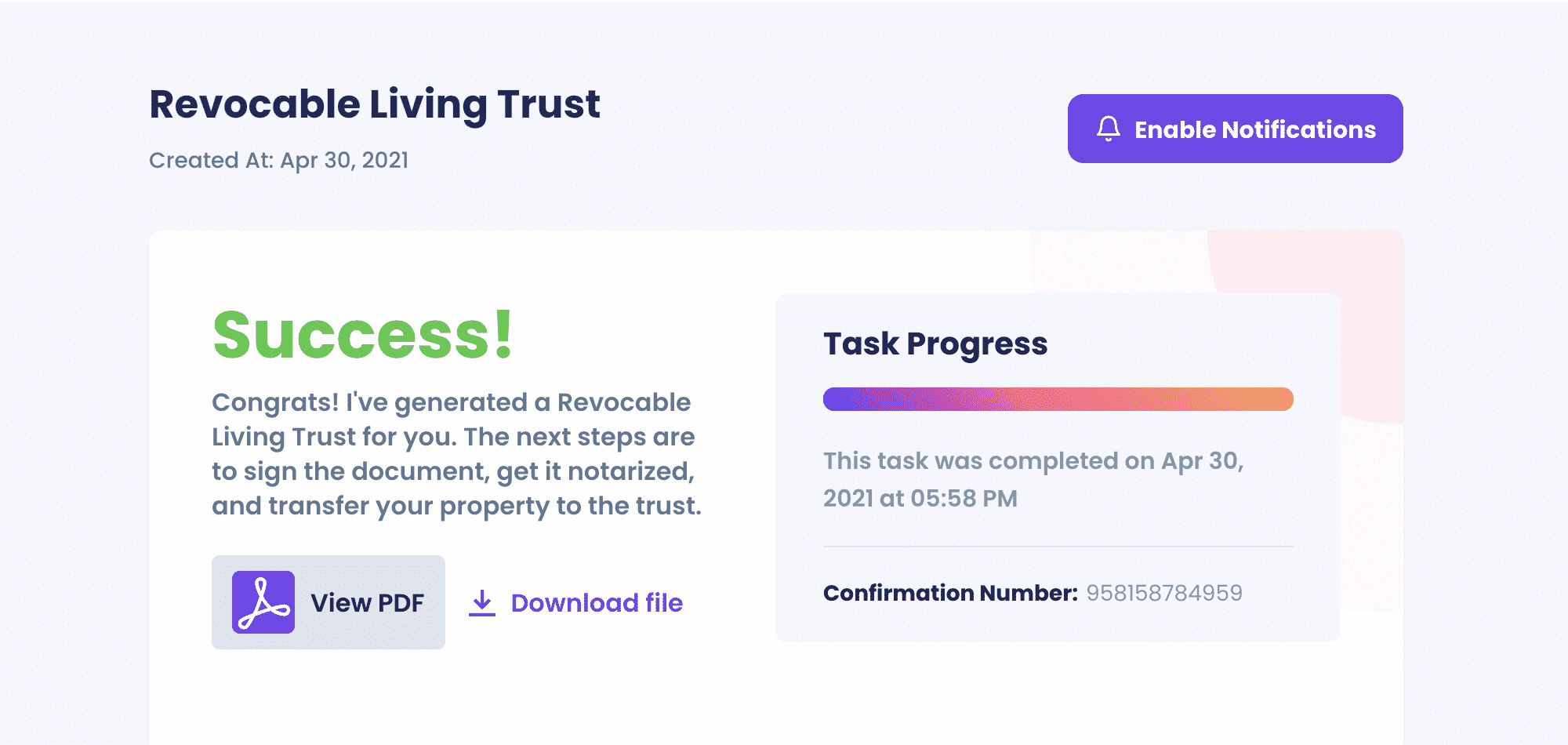 DoNotPay Makes It Easy
DoNotPay is designed to make your life easier and help you beat bureaucracy. We're expanding our products all of the time. Get help with: