Set-Up a Living Trust Louisiana
Did you know Louisiana is one of the few states that do not charge an inheritance and estate tax? With this, it becomes easier and affordable to set up your living trust and secure your assets for the future. Read the rest of the article to see how you can set up a living trust here in Louisiana instantly. 
Understanding a Living Trust
A living trust is an estate and asset planning document that takes care of your property's inheritance arrangements while you are alive and after your death.  A living trust is one of the best options to make definite plans for your assets.
Another popular option to estate planning is a will, but it requires you to go through the time-consuming process of probate. Many states have the arrangement to make the probate process easy, but Louisiana is not one of them.
Living Trust vs Will in Louisiana
To better understand the range of benefits a will and a trust offer, here's a comparison chart:
| | |
| --- | --- |
| A will... | A trust... |
| Involves probate | Does not involve probate |
| Does not guarantee privacy | Guarantees privacy |
| Can be amended | Can be amended (revocable trusts) |
| Has no provision for minor guardians | Has provision for minor guardians |
| Requires witness | Requires no witnesses |
| Needs no notarization process | Need proper notarization process |
Types of Living Trusts in Louisiana
In Louisiana, there are two major types of living trusts — revocable living trusts and irrevocable living trusts.
A revocable living trust is a type of living trust that gives you the utmost flexibility and control of your trust throughout the period of your life. With a revocable trust, you can add/remove assets, change beneficiaries, change trustees, and even appoint yourself to oversee your trust. 
Irrevocable trusts do not guarantee flexibility like a revocable trust does. You may not make changes to the trust. The establishment of one relinquishes the grantor's ownership of the assets in the trust. The trust becomes its own entity, and even gains a separate tax ID. On the upside, an irrevocable trust can prove useful to help prevent nursing home deductions and many other tax implications associated with real estate.
Besides the two main types of trusts, you also have the option of creating a single-person trust or a joint trust with your partner or someone you own assets with. 
Benefits of Creating a Living Trust in Louisiana
For people who live in Louisiana and many parts of the US, there are a few significant advantages to setting up your trust. Some of them are:
Easy process
Opening a living trust in Louisiana is very easy. Once you evaluate your assets and arrange the necessary title changes for transfer, you can complete the rest of the process in record time. At the beginning of the process, you'd need to fill a living trust form. You can get generic living trust templates online or have DoNotPay generate a detailed one specifically tailored to meet your needs.
Probate fees
In Louisiana, most people who opt for a will as their most preferred estate plan will subject their beneficiaries with the probate process — which is a tedious court process — at some point. With living trusts, your beneficiaries do not have to worry about probate.
Estate and inheritance taxes
The third and crucial benefit to setting up a living trust in Louisiana is the ability to avoid estate taxes. The state of Louisiana does not require state estate taxes for properties in a living trust. You'd only have to pay the federal estate tax if the value of your estate is over $5 million. You can also contact a legal professional to explain how you can avoid such taxes.
Privacy
Not everyone wants the transfer of property to become public and living trusts help ensure that. Louisiana allows you to sue anyone who discloses information about your estate arrangement.
How to Get Started on Your Living Trust
If you live in Louisiana, these are some steps you can take to create a living trust:
First, choose your beneficiaries

Then select your trustee and successor trustee.

Make a list of assets to be added to the trust

Get a living trust form and fill it out

Present your living trust form in court or a public notary for notarization.

Complete the transfer of assets process and get a taxpayer ID for your trust
Use DoNotPay to Create a Revocable Trust
You can choose to create a living trust on your own or with a lawyer - but DoNotPay is a better option. Create a revocable trust in minutes without the high fees using DoNotPay by:
Going to the Revocable Living Trust product on

DoNotPay

Inputting your desired trustees and beneficiaries
Entering the assets and properties that will go into the trust
After that, DoNotPay will generate a downloadable copy of your living trust. You can edit the final document if you would like. We include both a PDF and DOCX file for you!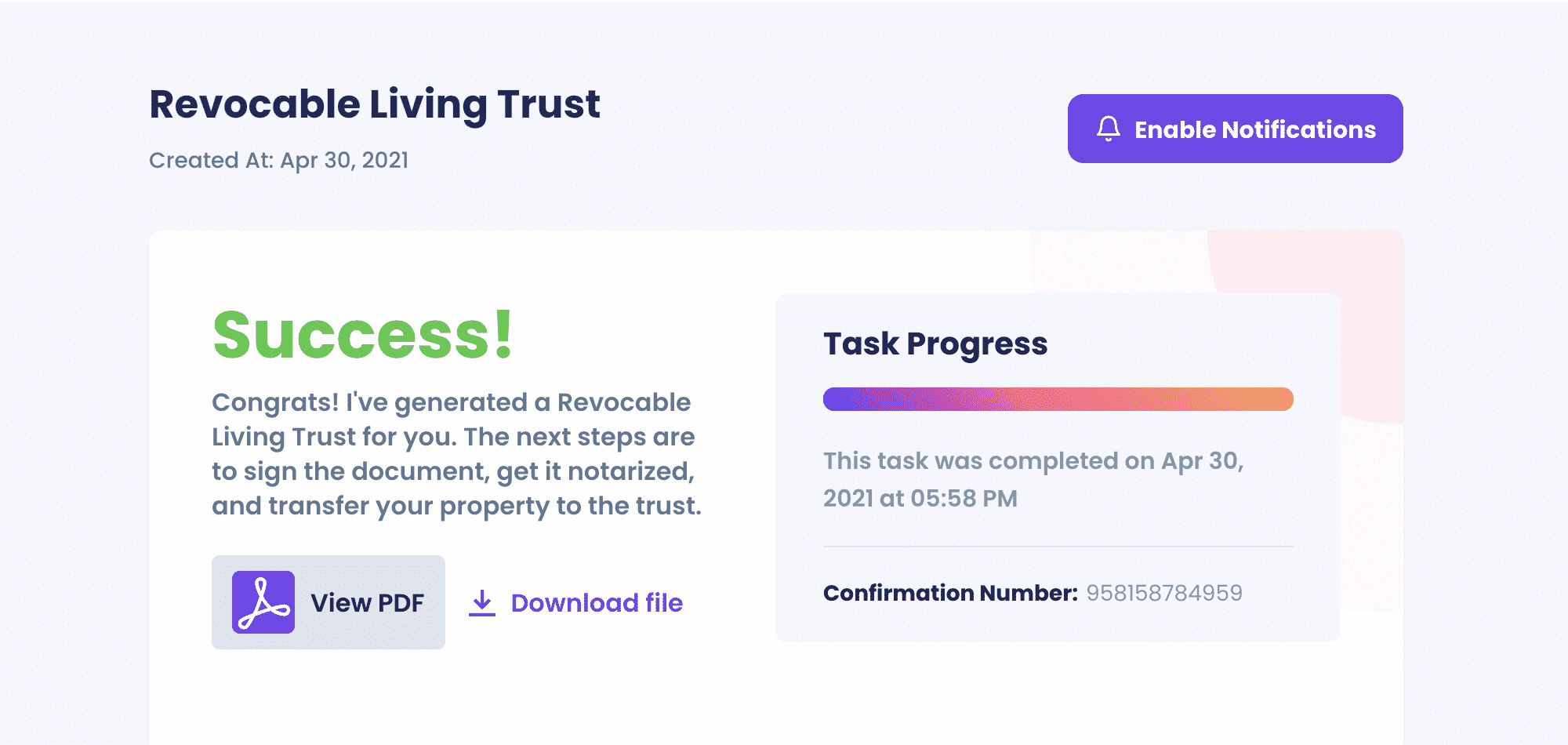 DoNotPay Does More
DoNotPay's AI-powered robot lawyer can help you with daily tasks! Cancel subscriptions, look for tax exemptions, and appeal parking tickets with just a few clicks! 
Take a look at what else we can offer:
Here's a list of service-related things DoNotPay can help you with: