Living Trust Indiana
If you are living in Indiana, you might be wondering how you can manage your estate throughout your life. The trust process can be intimidating, but DoNotPay can help you create your own living revocable trust to make sure your assets are properly handled. To learn more about living trusts, how to establish a trust in Indiana, and how DoNotPay can help you make a living trust in minutes, keep reading below. 
More About Living Trusts 
A living trust can be a great way for you to ensure that your assets are well-managed through all stages of life. A living trust, also known as a revocable trust, is a legal agreement granting control over certain assets to a trustee. This trustee can be either yourself or a third party, and they must abide by the terms outlined in the trust document. A living trust can help you:
Avoid probate

Keep your information private

Avoid future fees and disputes for your beneficiaries 
Living Trusts in Indiana
Creating a living trust in Indiana can be a good way to begin your estate planning process. In Indiana, a living trust can be established relatively easily. All you have to do is:
Be living in or own property in Indiana

Transfer assets into the trust

Choose a trustee

Choose beneficiaries

Outline your trust management wishes
A living trust in Indiana can help you be sure that your estate is taken care of during your lifetime and beyond. 
Living Trusts Versus Wills
You might be familiar with a will as a form of estate planning. But, a living trust can help you cover areas of your assets that a will cannot. The table below describes the differences between wills and living trusts. 
Living Trust

Will

In effect when you are alive, even when you are alive and incapacitated, and after you pass

Only in effect after your

death

Avoids the probate process

Must go through the probate process

Helps your beneficiaries avoid future costs and court disputes

Possible disputes in court and costs for your beneficiaries

Keeps your documents private

Makes your information public record
You can create both a will and a living trust to make sure your estate is well-managed during your life and after your death. Read more about wills and living trusts here. 
Revocable and Irrevocable Trusts - What's the Difference?
You may have heard the terms revocable and irrevocable when researching different trust types. These are the two most common types of trusts, so it is important to understand their differences. The definitive characteristics of each trust type are:
Revocable trusts: can be adjusted and changed by the settlor easily after the trust is first established

Irrevocable trusts: virtually impossible to adjust once the trust is established
Because of these differences, a revocable living trust is much better to create so you can adjust your asset management as life goes on. Learn more about trust types here. 
How to Make a Living Trust On Your Own
You have many options when it comes to creating a living revocable trust, whether you are living in Indiana or elsewhere. You can use a number of different methods, including:
Hiring a lawyer

Using an online template

Doing it yourself

Using DoNotPay
Hiring a lawyer can be expensive and time consuming, making the trust process less accessible and more stressful. But, doing it yourself is risky considering how important trust documents are. DoNotPay can help you create your own living revocable trust without any lawyers' fees or wasted time, making the process quick and painless. 
Draw Up a Living Trust with DoNotPay
Creating your living revocable trust can be an easy and quick process when you are using DoNotPay. To start establishing your own trust with DoNotPay, all you have to do is:
Sign-in to

DoNotPay

Click the Revocable Living Trust service
Choose your trustees and beneficiaries
Tell us about the properties and assets you are distributing
Once you click "Solved", your very own revocable living trust will be ready in minutes!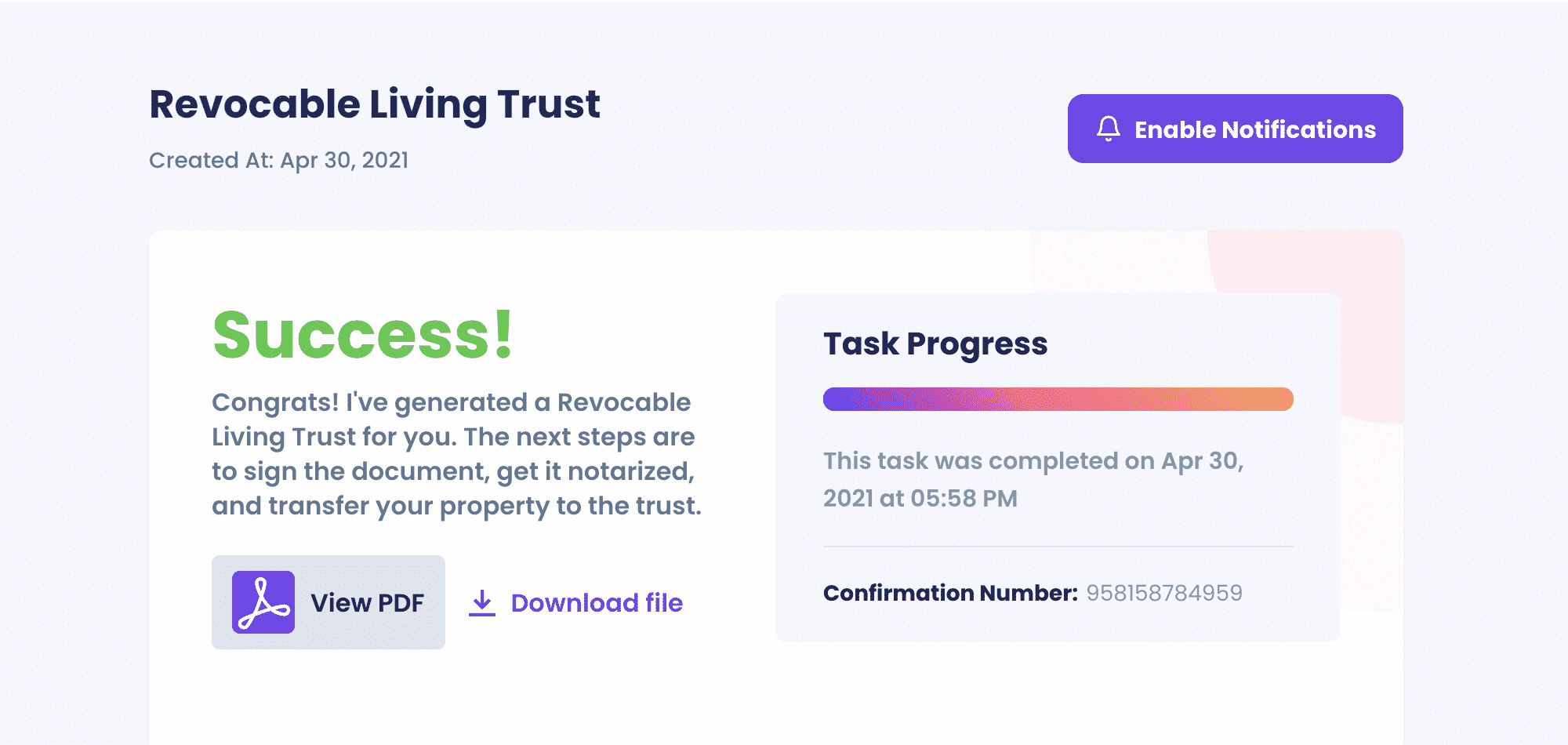 Read More About Living Trusts
DoNotPay Can Help With…