Getting a Living Trust in Oklahoma
Here in Oklahoma, over 50% of the population are between the ages of 25 to 64. Generally, the people in this age range can start estate planning if they wish.
A good way to start is to look into living trusts and the benefits of setting one up for yourself or along with your partner. You can avoid certain estate taxes by putting your assets in a living trust in Oklahoma. Find out more about living trusts in Oklahoma and have DoNotPay quickly set up one for you once you decide. 
About Living Trusts
A living trust is a great estate planning tool. Though there are others like a will, a living trust helps you manage your assets during your lifetime and distribute them to a beneficiary without the need for probate. Most people believe living trusts are a replacement for wills, but in fact, they can both complement each other for more expansive coverage. 
A person who sets up a living trust is known as a grantor. To make a complete living trust, you'll also need to assign a trustee and a beneficiary. The trustee is the person put in charge of the trust after you die and the beneficiary is the person who has been designated to receive the assets. You can choose more than one trustee and beneficiary.
Types of Living Trusts
In Oklahoma, the two common types of living trusts are revocable and irrevocable living trusts.  A revocable living trust offers you more ownership control and flexibility while an irrevocable trust cannot be changed. An irrevocable trust offers greater tax protection because the trust becomes its own tax entity. More ownership control and right to modification comes with more tax responsibility.
Trust vs Wills
Here are some of the major differences between trust and a will:
Living trust
Will

A living trust guarantees you the privacy of inheritance records.

A will does not guarantee the privacy of inheritance records. It will always remain accessible to the public because transfer of assets is handled by court.

A living trust becomes active the moment it is signed and notarized. 

A will does not take effect

until after you die

.

When properly done, a living trust is immune to court litigation. 

A will is easily contestable in court. 
Benefits of a Getting a Living Trust in Oklahoma
As an Oklahoma resident, you can enjoy the following benefits when you set up your living trust:
Avoid estate taxes

: Oklahoma is one state in the US that inputs no

state estate taxes

on living trusts. This means you'll only have to grapple with taxes from the federal government if the valuation of your assets is worth over $12 million. 

Nursing home protection

: If you're placed in nursing home care, the institution cannot touch the assets in a living trust.

Adding new assets

: Another remarkable benefit to getting a revocable living trust is the option to remove new assets as you gain them. 

Cater for minor beneficiaries

: With a living trust, you are able to name a minor as a beneficiary. The trustee will guarantee the minor's assets are protected until they are of age to receive them.
How to Set Up a Living Trust
You can choose to set your living trust up by yourself, get a lawyer to do it for you, or use DoNotPay to get it done in minutes for incredibly less. A lawyer will help you create a tailor-made living trust, but you should expect to pay a good amount for it. Here are the steps you'll encounter when creating a living trust:
Choose your trustee. This can be an individual or a licensed institution.

Make a list of your beneficiaries and allot their benefits.

Write all the instructions for the trustee to follow.

Define assets to be added to the trust.

Get a

living trust form

and fill in all the above information in it.

Notarize your living trust form at a state court.

Effect quitclaim deed for all assets and transfer to trust.

Safely keep your completed trust document.
Create a Living Trust With DoNotPay
DoNotPay can help you set up your revocable living trust in minutes. Here's what you'll need to do:
Sign up to the

DoNotPay

app or website and click on the Revocable Living Trust product
Make a list of trustees and beneficiaries
Select assets to add to trust

Choose which state you intend to notarize

your revocable trust

in
The completed living trust will contain the appropriate clauses required by your state. You can download it and review it before getting it notarized!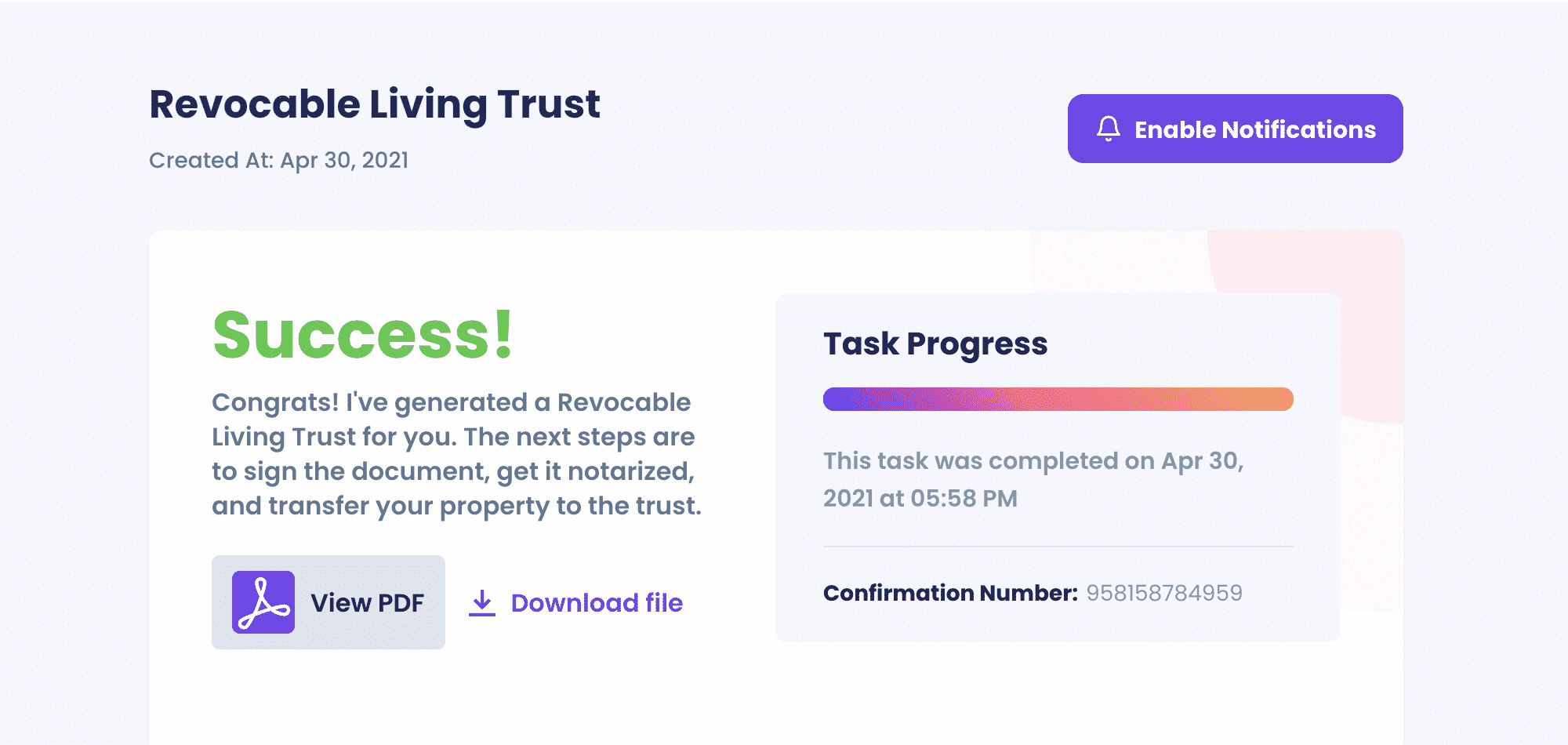 A Robot Lawyer and Assistant in One!
Here's a list of legal-related matters DoNotPay assists with:
Scan legal documents for hidden clauses

And more!