Your Living Trust Illinois Guide
A living trust is created by a grantor while they are still alive, allocating beneficiaries ownership of their assets. This article will elaborately explain what a living trust is and how to set up one in Illinois. It will also introduce you to DoNotPay, a reliable service that can help you set up a living trust in minutes without any errors!
The Essentials of a Living Trust
A living trust is a legal document that is created by an individual, referred to as the grantor, during their lifetime where they designate a person, referred to as a trustee, the responsibility for managing their assets. A living trust is essentially designed to allow for a smooth transfer of the trust's assets without going through a complex and expensive probate legal process. 
The Two Types of Trusts Examined
Amongst living trusts, there are two types: revocable and irrevocable trusts. 
Revocable Trust

Irrevocable Trust

The grantor can make themself a trustee.

The grantor cannot be the trustee.

You can still control the assets

Lose control over the assets in the trust

You are still

taxed on the assets

You are not taxed on the assets as all property in trust is transferred out of your taxable estate. This: 

Reduces estate tax liability 

Avoid Medicaid spend-down provisions

You reserve the right to change or cancel the trust at any time before death

The trust cannot be changed or altered until the terms completed

The trust is not a legal entity

Trust is a legal entity 

You are not protected from creditors or lawsuits since the trust is not a legal entity

You have better protection from creditors and lawsuits as an irrevocable trust is a legal entity

Income appears on your tax returns

Trust files its own tax returns so that income does not appear on them
The Difference Between a Trust and a Will
Wills and trusts are both tools that are used to distribute your estate to your chosen ones. You can have both a will and a trust.
Living Trust

Will

Takes effect while you are still

alive

Skips probate court

It can be harder to alter

Does not involve guardianship

Immediate transfer of assets

Stays private so that no one knows what assets were transferred and who the beneficiaries are

Is more costly and expensive

Takes effect after death

Has to go through probate court

Can be easily altered

Must name guardianship of children

The transfer of assets takes time

All information in the will becomes accessible to the public

The process of drawing up a will is more affordable
Drawing up a trust is considered a better option than creating a will since trusts cannot be contested and do not go through probate once the grantor passes away. 
Living Trusts in Illinois
An Illinois living trust is created during the grantor's life. 

The goal of the trust is to transfer as many assets as possible.  

In Illinois, it is most common for the grantor to name themselves a trustee, and place a successor trustee who distributes the assets to the beneficiaries after the death of the grantor. 

In Illinois, it is recommended to draw up a revocable living trust so that the trust can be changed or altered and even eliminated after it is signed. 

In Illinois, you always need a will, as it is a backup plan for any property that is not included in the trust. 

If you do not have a will, a property that is not enlisted in your trust will go to your closest relative, which is determined by the

Illinois state law

.
How to Create a Living Trust in Illinois
The process of making a living trust differs according to state. If you live in Illinois and want to draw up a living trust, follow these steps in the beginning:
First, you must decide whether you want to make an individual or a shared trust.

An individual trust only includes your properties, while

a shared trust

contains properties you owned jointly with someone else.

Decide which properties and assets you want to include in the trust.

Choose a successor trustee, which is the person that will manage and distribute your assets when you are no longer able to do so. 

Decide who the trust's beneficiaries will be, i.e. who will get the property.

Create the trust document.

Lastly, a trust must be signed in front of a notary public. 
When creating a trust document, you can either contact a lawyer, write it on your own or follow an online template. None of these options are the best.
Lawyers are known for being

notoriously expensive

and are not affordable for the majority of the population

Writing your own trust is not recommended as you might need advice on how to allocate your assets, and you need help drawing up a legal document.

Online templates are not reliable as they might not include all relevant information you need.
DoNotPay offers the same services for free!
Get a Living Trust in Minutes Using DoNotPay
Sign-in to your

DoNotPay

account

Search for the Revocable Living Trust and click to begin
Tell us which state you reside in (in this case, Illinois)
Assign trustees and beneficiaries
Allocate your assets and properties to the desired beneficiaries
How easy was that? All you need to do is get it notarized from an official notary.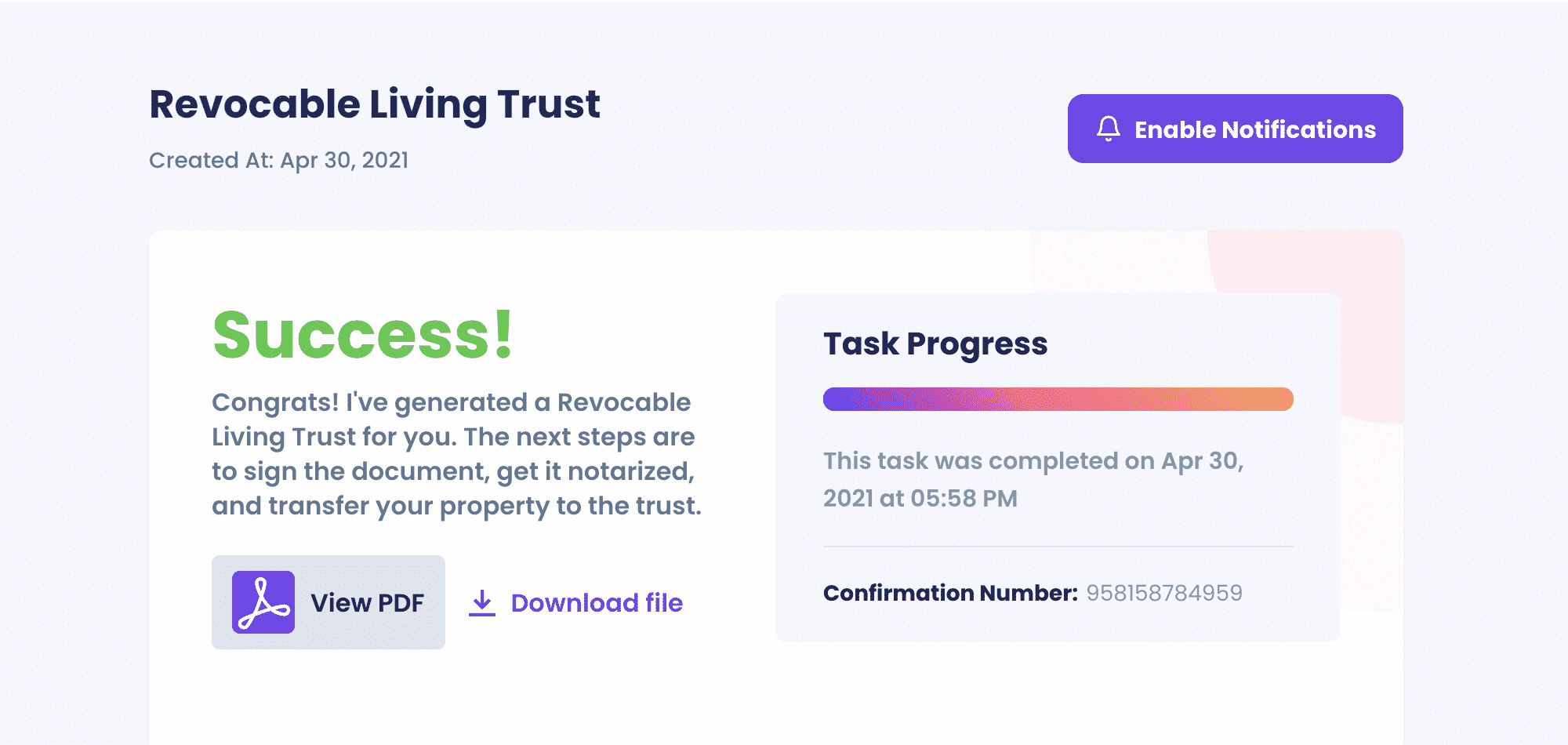 DoNotPay Can Help With More